Without fail when we would ask guides and tour operators "Where's the best place to snorkel in the Galapagos?" we always received the same response – Kicker Rock.
Situated off the northeast coast of Isla San Cristobal, the iconic half-submerged obelisks of Kicker Rock (locally known as Leon Dormido) have become an underwater playground for sharks, mata rays, turtles, and sea lions.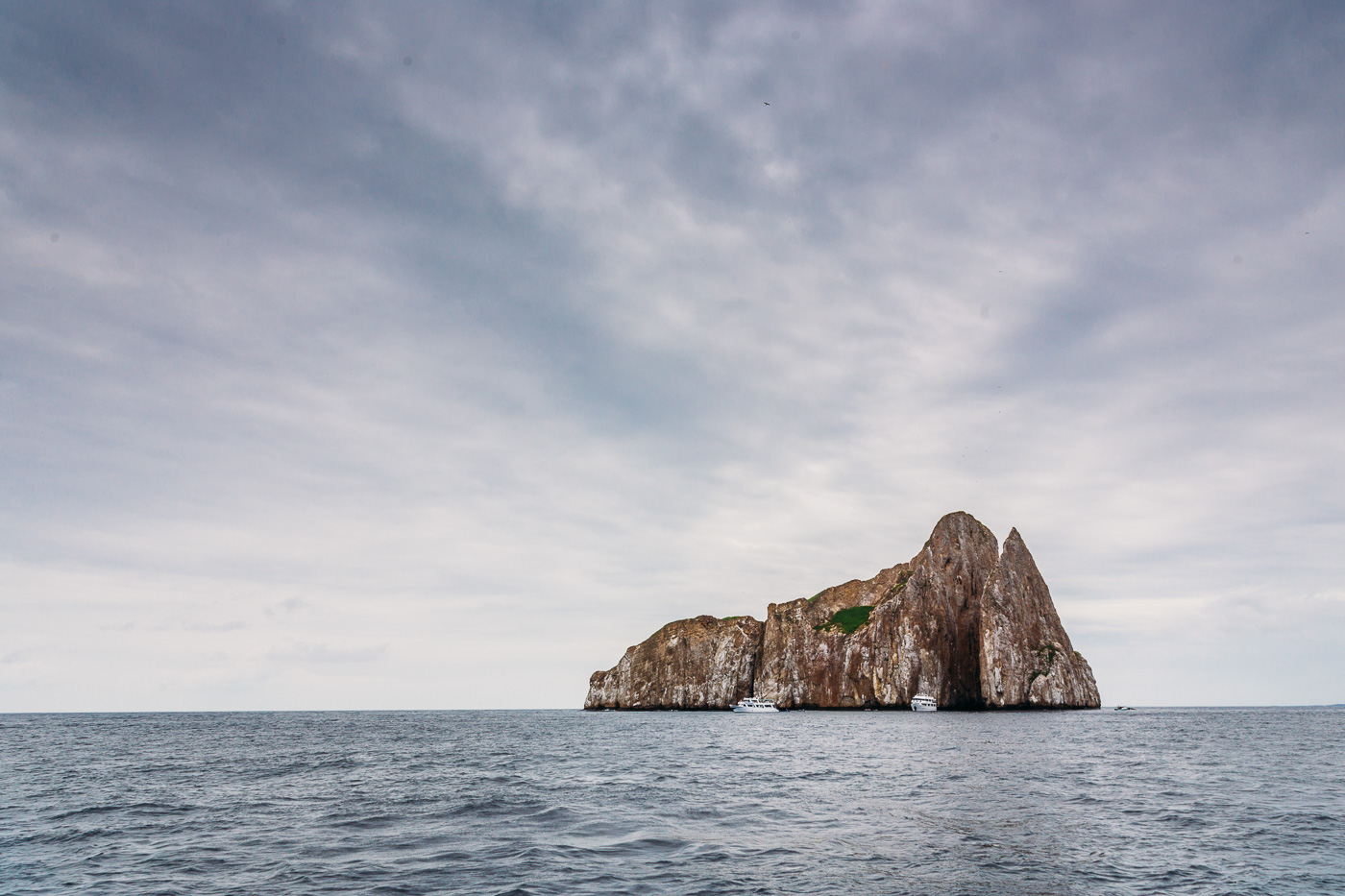 SETTING COURSE FOR KICKER ROCK

With only the weekend left on Isla San Cristobal before returning to the mainland, we were lucky to be able to book a last minute excursion to Kicker Rock. The weekends in South America have proven a difficult time to do much of anything with many tour operators closing shop or running fewer trips. So we were thrilled that Sunday to be able to catch a ride with a scuba diving outfitter to snorkel with the sharks at Kicker Rock.
Our boat was meant to depart that morning around 8:30am but it took some time before the crew had loaded and checked up all of the diving equipment. We were voyaging to Kicker Rock on a catamaran, which we had been told was a smoother ride than other cruise ships although it would take us a bit longer to get there.
We were so distracted listening to the instructions and watching the preparations of the divers that we barely noticed how much time had passed. An hour and a half later, the iconic protruding rocks of Leon Dormido loomed large on the horizon.
SHARK SNORKELING IN THE DEEP BLUE

The Kicker Rock that exists today is all that remains of a submerged volcanic cone, eroded over thousands of years by the sea. Towering above the water at over 500 feet, Kicker Rock is now home to a number of animal species both above and below water. Most exciting for us, and the reason we were there, was to see white-tip reef sharks, spotted eagle rays, the Galapagos sharks and, if we were extremely lucky, hammerheads.
Our first snorkel adventure was to cross through the channel between the rocks. This channel, reaching all the way to the ocean floor 130 feet below, had been formed by natural erosion and today serves as an ideal habitat for marine life to swim.
We jumped into the water after the scuba divers to allow them time to descend to the ocean floor. Then our small group of four snorkelers followed them in. With one look through our masks into the water below, it became apparent just how deep the water was. At times the ocean floor was barely visible through the murky aquamarine blue water.
As we made our way through the channel we could see schools of pelagic fish, white-tip reef sharks and Galapagos sharks swimming cooly and slowly in the depths far below. In all there were more than a hundred sharks swimming beneath us. For the most part they stayed relatively close to the ocean floor granting us snorkelers a beautiful birds eye view. (That was until they started to be chased away by the divers, driving them slightly closer to us at the water's surface.)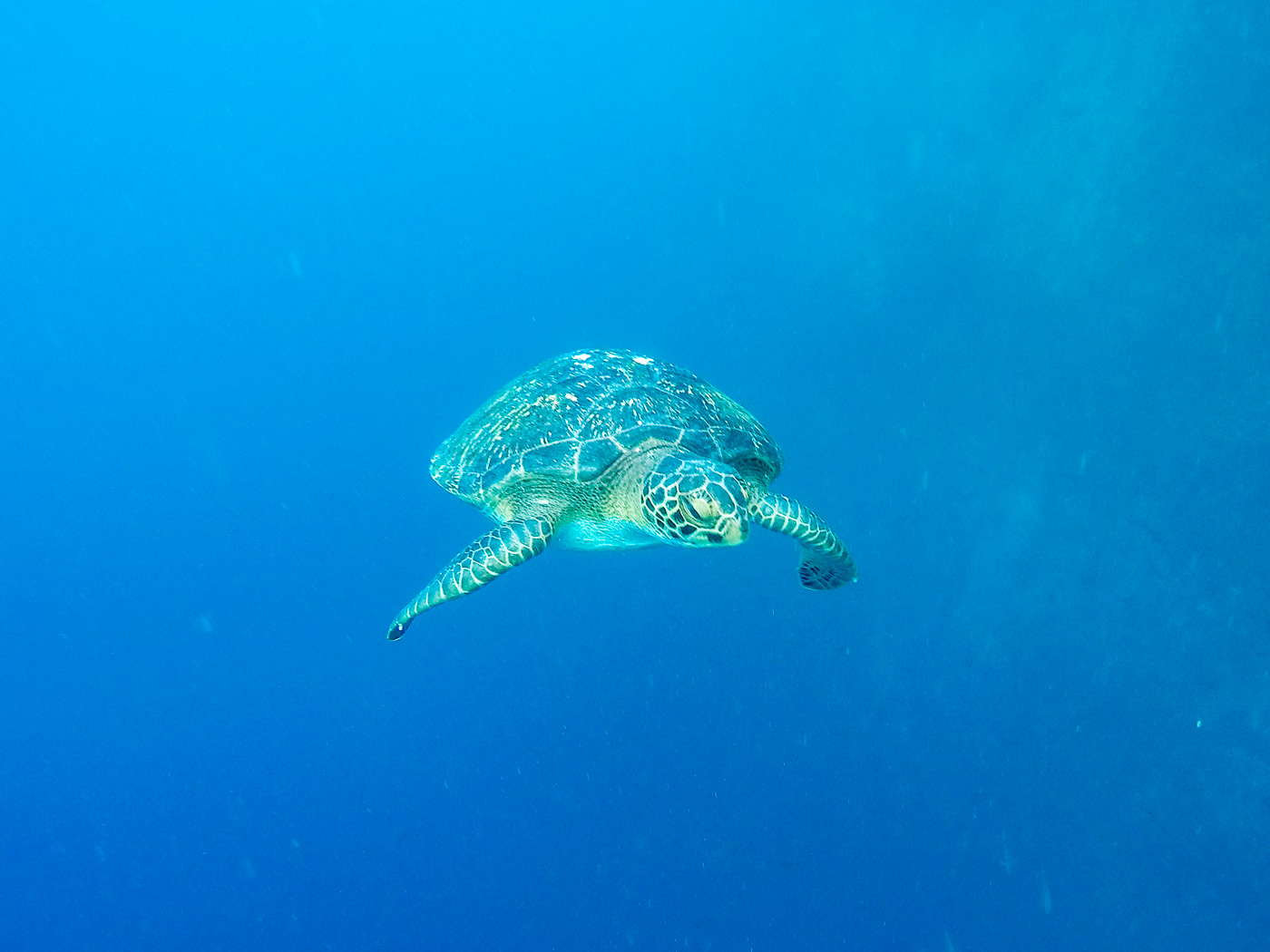 SERENE SEA TURTLES

For our second snorkel drop we swam around the perimeter of Leon Dormido, scaling its great vertical walls. Here the schools of sharks were replaced with dozens of small sea turtles. Through the deep, dark, murky water we could see at least one sea turtle dashing this way or that at any given time.
Though much faster than us to maneuver the strong currents surrounding Kicker Rock, the sea turtles were gentle and patient and let us swim quite close in proximity before propelling their way past us to their next destination. Although we had ventured to Kicker Rock with the express purpose of seeing sharks, we were once again thrilled with the beautiful experience we had swimming for 30 minutes with the sea turtles.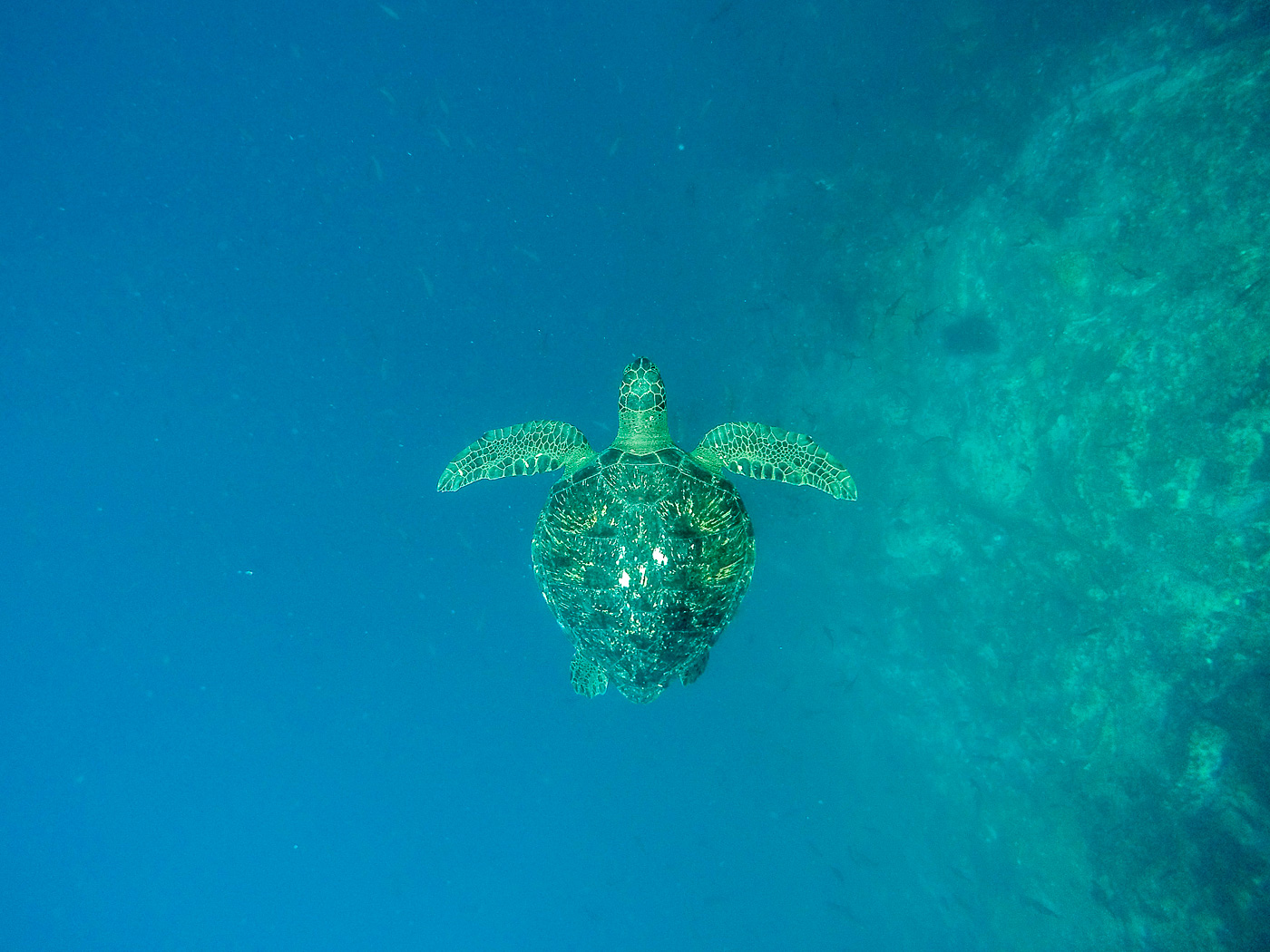 TALES OF HAMMERHEAD SIGHTINGS
Once we were all safely back aboard the catamaran, drying out our pruned fingers from the morning's snorkel, we were regaled with the divers' stories of witnessing a school of hammerhead sharks swim gracefully by (pictured above). This experience, more than any other, solidified our desire to get scuba or free dive certified (and soon). To be so close to the action but confined to the surface of the water when there was so much happening below was torture.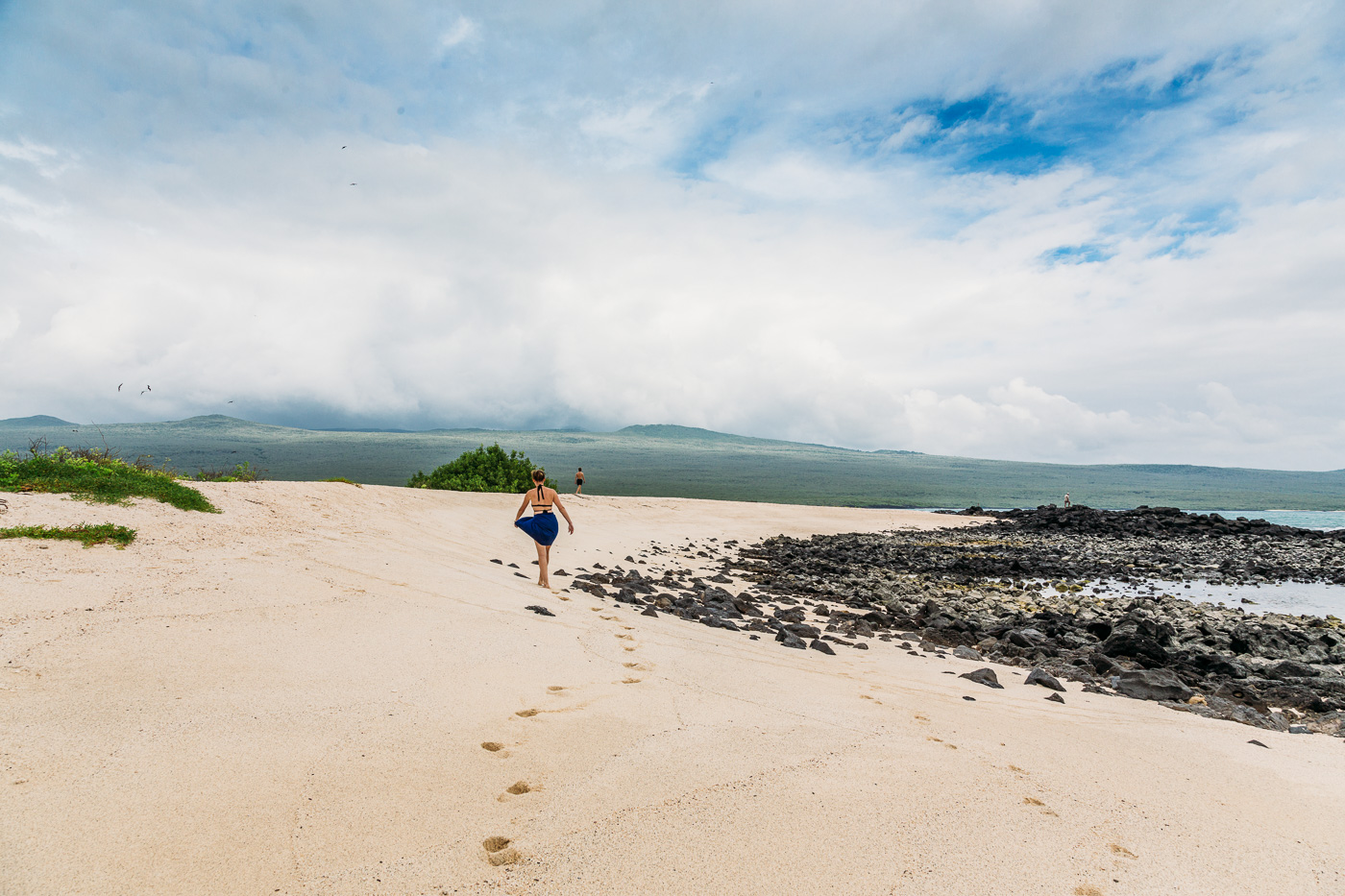 BEACH BUMS
To end the day's excursion, we wet landed on Playa Lobos beach allowing us time to explore and relax before heading back to Puerto Baquerizo Moreno.
---
DAY TRIP LOGISTICS
Departure point: Puerto Baquerizo Moreno, Isla Santa Cruz / Galapagos Islands, Ecuador
Departure time: 8am
Duration: 7 hours including 1.5 hours of snorkeling
Method of Transport: Catamaran or speed boat, snorkeling
Included: Snorkel gear, lunch and snacks, water transport, snorkel guide
Cost: $100 – $110USD per person
TIPS & TRICKS
Avoid booking this excursion on a weekend (or book farther than one day in advance). Santa Cruz outfitters rent their boats to larger outfitters for day excursions or close shop for the weekend making it difficult to find a seat.
If possible, try to go with a designated snorkel boat. We were happy to be able to even book this trip, but the snorkelers were a second thought to the scuba divers and we got less time in the water since we were always navigating the boat for the diver drops and pick-ups.
Or better yet, dive rather than snorkel for this excursion. Comparing notes with the divers, it sounded way cooler to be swimming with the white-tip sharks, Galapagos sharks and hammerheads, rather than viewing them from a distance above.