In Part 3 of our Namibia Self Drive Guide we lay out our suggested 10-day Namibia self drive itinerary taking you from the scorched grasslands and wildlife rich areas of Namibia's North to the dunes and dead forests of the South with a stopover along the foggy adventure coast in between. 
This was probably the most challenging task of planning our self drive – having to choose from among the multitude of cool and diverse attractions in Namibia. Ultimately, our budget and timeline forced us to narrow it down to a select few regions that we could fit into a one- to two-week timeframe. In 10 days we covered a lot of ground from north to south. Of course now that we've been we would have liked to have had at least 5 more days to allow for a more leisurely pace and see a bit more of the country.
Where to Start
As you're mapping out your own self drive itinerary we'd suggest looking at the itineraries of other self-drive and guided safari companies to give you a rough idea of how much time to spend in each location. We used SafariBookings.com and Trip Advisor Namibia forums a lot initially to get an idea of the popular tourist routes. This helped us to narrow down the main regions we wanted to visit. Then we found other bloggers like Traveling 9to5 who had completed their own self-drive itinerary through Namibia and Botswana to get an idea of realistic travel timeframes and personal experiences in different places.
Here are a few of the main regions you might consider on your Namibia self drive safari:
Northern Namibia Highlights
Waterberg Plaeau: This 400+ square kilometer reserve is home to rare and endangered species of birds, antelope, rhinoceros, and buffaloes.
Africat Okonjima Day Center: Wildlife conservation center focused on the long-term survival of Namibia's predators in their natural habitat. The Okonjima Day Center is one of the world's foremost rehabilitation centers for large predators.
Cheetah Conservation Fund: Dedicated to saving cheetahs in the wild. On a day visit to CCF, see cheetahs up close and personal on a cheetah safari.
Etosha National Park: Namibia's biggest game reserve which includes the massive Etosha salt pan. This barren grassland is home to lions, zebras, rhinos, giraffes, elephants and springbok, among other animals.
Damaraland: One of Namibia's most scenic backdrops, this rugged and dramatic landscape is home to the desert-adapated elephant and the stone age petroglyphs of Twyfelfontein. Due to its remoteness, this region offers more of a challenge for those on self-drive safaris.
Kaokoland: Plenty of adventure on offer here water rafting, canoeing and bird watching. Kaokoland is also home to the famous Himba tribes.
Southern Namibia Highlights
Namib-Naukluft National Park: One of  the largest national parks in Africa covering 50,000 square kilometers. The park includes the famous Sossusvlei sand dunes and Deadvlei petrified tree forest.
Kolmanskop: An eerie post-WWI deserted mining town in the Southern Namib desert south of Lüderitz.
Fish River Canyon: Africa's largest canyon at 160 kilometers long, 27 kilometers wide and 550 meters deep. Epic multi-day treks through this stunning canyon are possible between May and September but get your permit early.
Namibian Coastline Highlights
Swakopmund: A German colonial outpost set amongst the world's oldest desert and the crashing Atlantic coast. Come here seeking adventure activities like sky diving, kayaking and dune boarding.
Cape Cross: Home to Namibia's Cape Cross seal colony located 130 kilometers from Swakopmund.
Skeleton Coast Park: Dense mist, scattered shipwrecks and majestic surroundings make the Skeleton Coast one mysterious place.
Our 10-Day Namibia Self Drive Itinerary
As a starting point, we've included our original 10-day self-drive itinerary. This being our first African self-drive and self-catered safari we had a healthy dose of fear and uncertainty going in about what parts of the experience we were going to like the most. This uncertainty ultimately guided many of our decisions around length of our trip as well as amount of time in different regions.
Were we to plan this trip all over again we would have increased our time by at least 4 or 5 days, perhaps more. We felt like we rushed through Waterberg Plateau, Etosha and Onguma game reserves and would have like to explore the Skeleton Coast north of Swakopmund as well as the far south of Namibia to Luderitz, Kolmanskip and Fish River Canyon.
Overview of Our Namibia Self Drive Itinerary
Day 1: Cape Town > Windhoek > Otjiwarongo
Day 2: Otjiwaronogo > Etosha
Day 3: Etosha
Day 4: Etosha
Day 5: Etosha > Uis
Day 6: Uis > Swakopmund
Day 7: Swakopmund
Day 8: Swakopmund > Sesriem
Day 9: Sesriem
Day 10: Sesriem > Windhoek
Day 11: Windhoek > Johannesburg
Our Detailed Namibia Self Drive Itinerary
Here is our actual 10-day Namibia self drive itinerary. Also see our related post on Namibia self drive costs.
Namibia Drive Distances & Navigation
We'd also suggest padding your anticipated driving time each day with a buffer for bathroom breaks, food pitstops, gas fill-ups, necessary stretching, etc. As a starting point we've provided our estimated drive times below. When it comes to rental cars in Namibia, it is strongly advised that you don't speed. The roads are often gravel or sand so in case anything were to happen (and the black box recorded you as speeding) your insurance would be nullified and you'd have to cover the full extent of damages.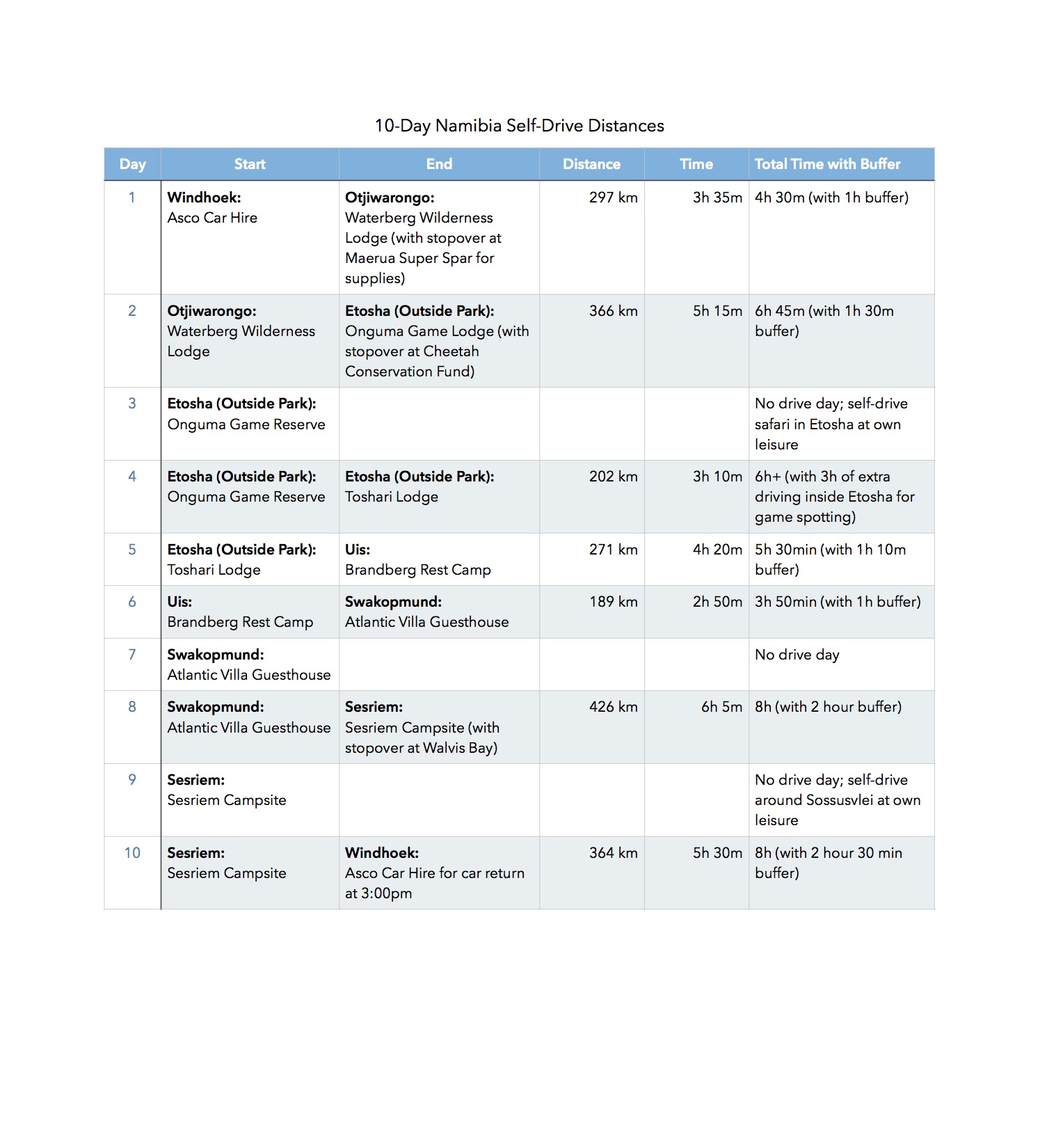 Navigation Tools
In terms of navigation tools, we did not end up purchasing the Tracks4Africa GPS maps which are supposedly excellent. Instead we purchased an MTN sim card in Windhoek (less than US$10 all in) and used Google Maps navigation (though not their specific driving directions) to get us from one point to the next. We also cross referenced with our downloaded Namibia City Maps2Go in case we were unsure or got lost. The only time we ended up off track and had to turn around was on the stretch of road between Waterburg and Etosha trying to take a short cut to the Cheetah Conservation Fund.

---
SEE ALSO:
Namibia Self Drive Guide: Our Game, Our Rules
Namibia Self Drive Guide 1: How Much Does it Cost?
Namibia Self Drive Guide 2: Choosing Between Self Drives and Guided Tours
15 Photos That Prove Namibia Has to be Your Next Travel Destination
Sunset Safari at Onguma Game Reserve