Dreamy Dalat, located in the heart of Vietnam's Central Highlands, is unlike anywhere else you will visit in Vietnam. Its cool rolling hills, colorful flower gardens and European-styled chalets make it the go-to destination for local honeymooners and families seeking an escape. But for those of us on the backpacker trail, Dalat offers the promise of adventure as well. We too had come to visit this small city on the lake to try our hand at canyoning. Also known as canyoneering, our day of canyoning Dalat would involve jumping, rappelling, slipping, sliding, and crawling our way down a series of waterfalls. After checking out different tour agencies offering more of less the same canyoning package for similar prices we opted to spend our day with energetic Mango and his sidekick Bamboo of Viet Challenge Tours for a trip to the Datanla Falls.
Canyoning Dalat, Vietnam
We were picked up from our hostel around 9am by an already full van of eager canyoning adventurists. Adam and I were among the oldest of the group of 12 which made me a little nervous about what I was getting myself into. But as Adam always says, "Be young at heart." On the 20-minute drive over our guide Mango prepped us for what was in store for the day and had us sign some indemnity waivers.
Once we had arranged our Datanla park fees and geared up with life vest, helmets, harnesses and gloves we had a quick hike into the forest to a steep practice hill. Here Mango and Bamboo showed us how to rappel, both by walking and jumping. Everyone had the chance to practice two or three times to get comfortable with leaning back and learning to trust our feet and the rope before we set off for the real deal.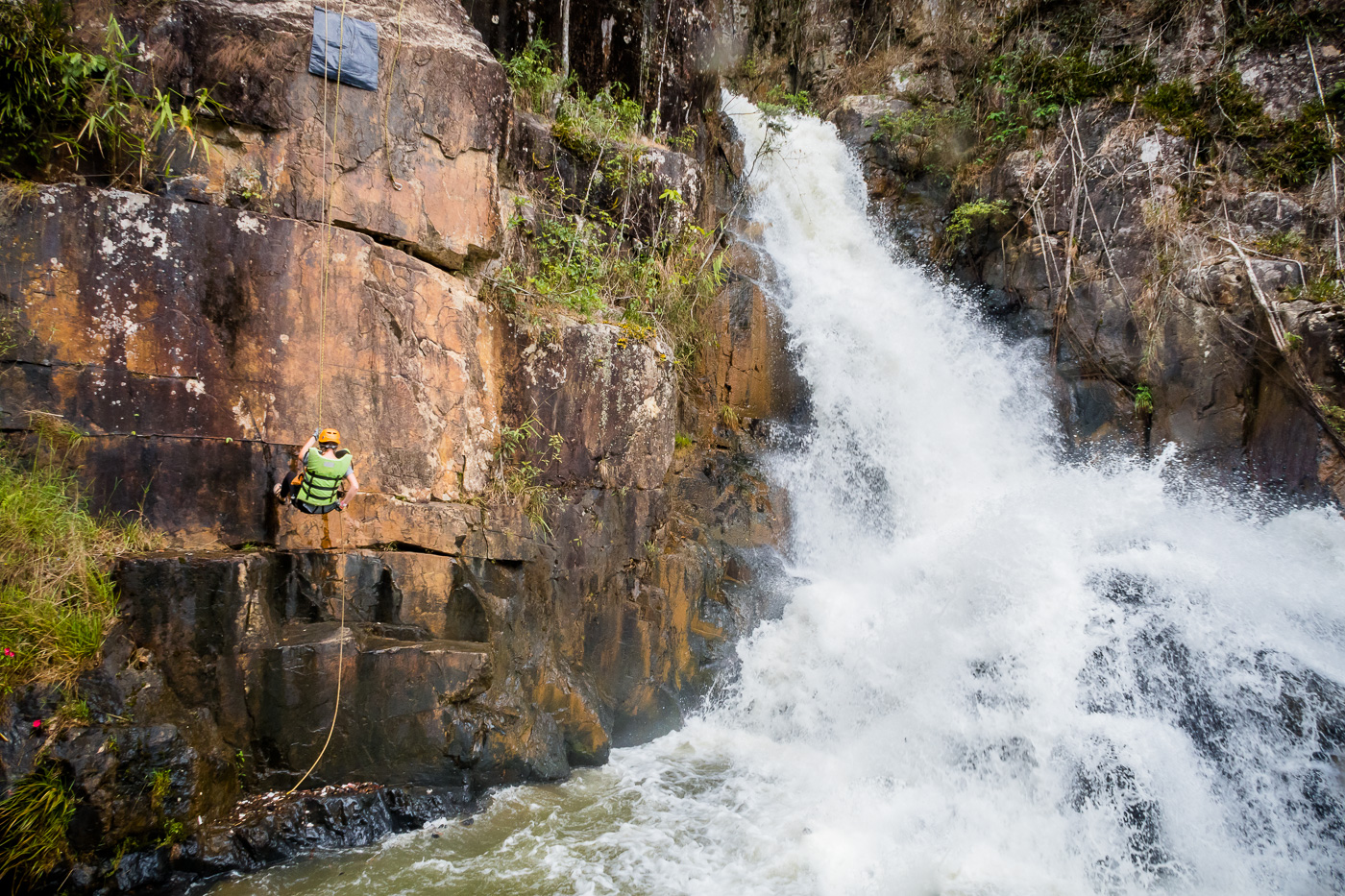 From our practice point it was an easy 10 minute walk (through hoards of local tourists visiting the rather unimpressive Datanla Falls) to our first rappel. This one was a whopping 15-meter dry rappel down a vertical rock face. Way to start us off easy! Another canyoning group was still finishing up before us so we sat and observed them before it was our turn. It was just long enough to let the nerves set in.
Just like canyoning Bali, those first few steps were the most nerve racking as you lean back, learn to trust the rope and step yourself over the ledge. But by mid-way down the rappel I felt like I had found my stride. About 3 meters before the water, we were told to let go, throw our hands up and fall back into the water. Whew, was it a shock plunging into the bitter cold water.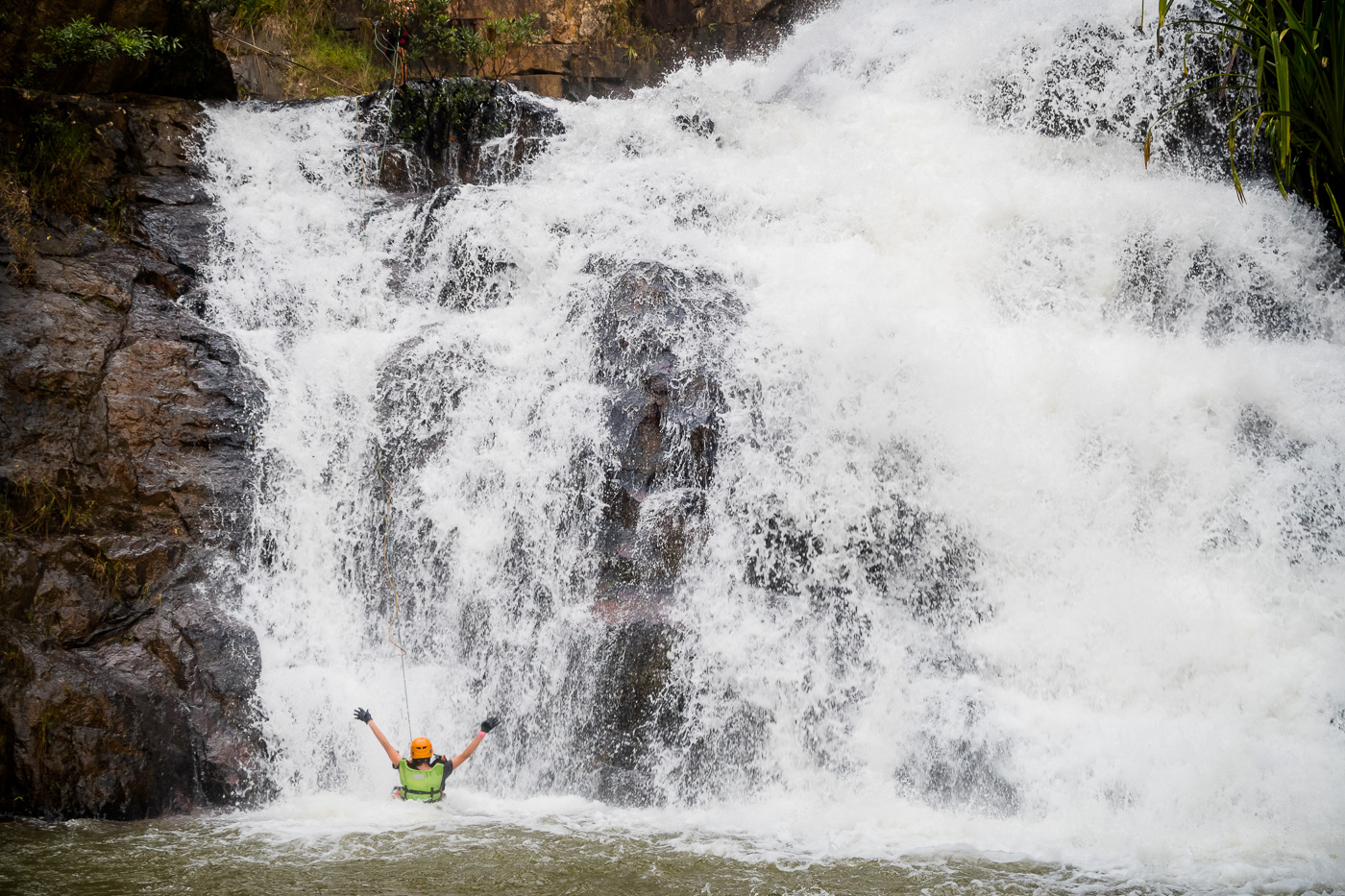 Next up was an even bigger rappel than the first at 25 meters high. And on this one we had to traverse against the rushing flow of the falls too! The water added an additional challenge of trying to keep a steady foothold while going down. Luckily, it wasn't so slippery that you could still step your way backwards without falling.
We had lunch up next – a delicious assemble your own banh mi picnic along with tons of fresh fruit and cookies. It wasn't quite the same as the banh mi sandwiches we sampled on our Hanoi motorbike street food tour, but they definitely hit the spot.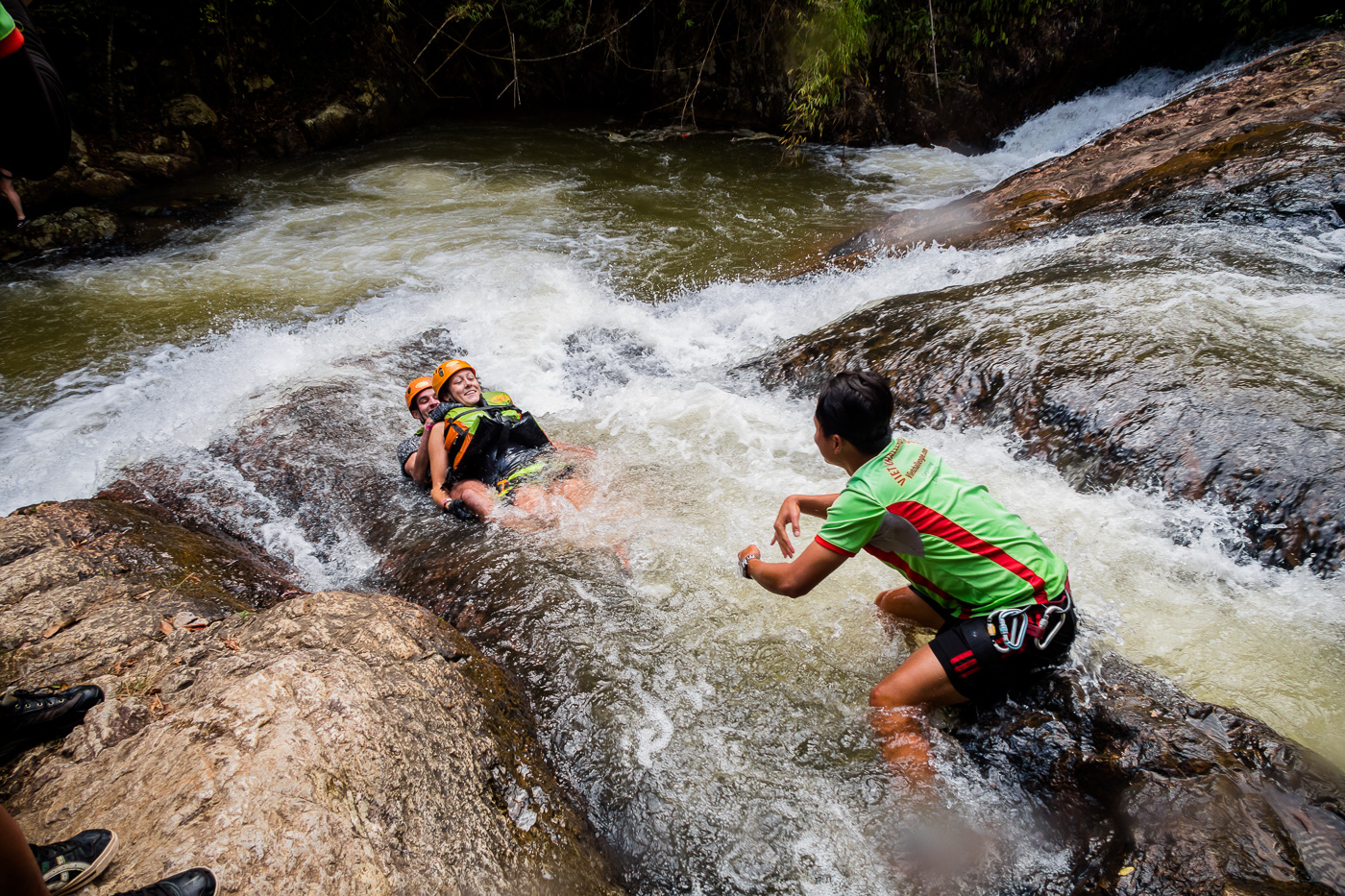 With bellies full we were ready for the next set of slides and jumps. When it comes to the slides I am not shy about saying that they are not my favorite part of the canyoning experience. Both Adam and I ended up with big welts on our bums and backs from this particular activity. But I suppose no pain, no gain or something like that, right? I was happy that I gave it a go, both solo and in pairs, but am not going to rush out to do it again.
Onwards on to a more carefree activity – cliff jumping! Cliff jumping happens to be one of Adam's favorite past times (well jumping and climbing off of anything really). In fact whether it is jumping across boulders in Salar de Uyuni or daring the world's highest bridge jump at Bloukrans Bridge Bungee Adam is always up for a challenge. I, on the other hand, like to be a bit more cautious, especially with jumps that require zero hesitation and a lot of push off to avoid the rocks below. So I went for the gentler 7-meter (23 feet) jump while Adam and a handful of others took turns on the higher 11-meter (36 feet). We had some impressive jumpers in our bunch!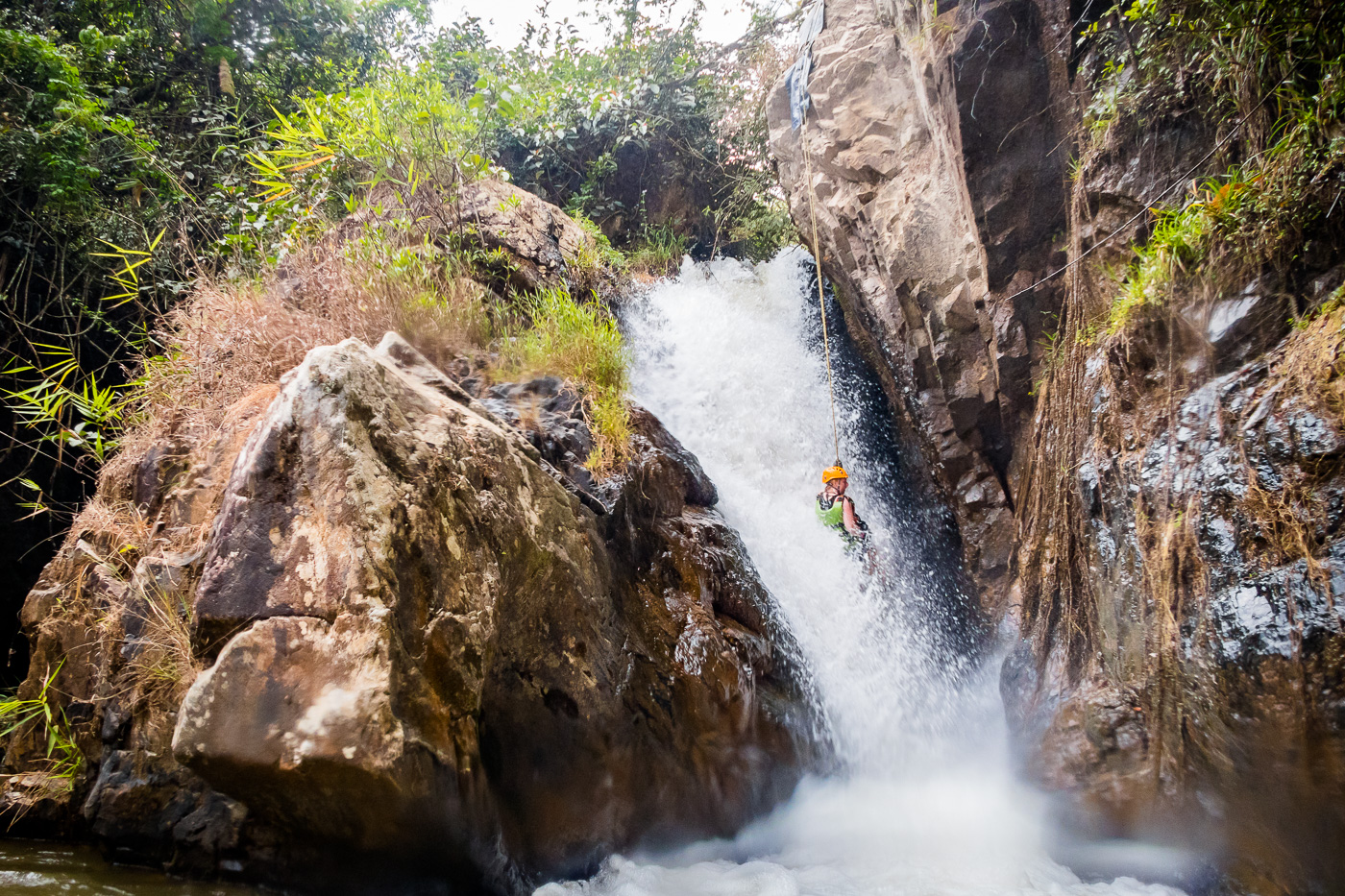 But wait! There was one final rappel left – the infamous "Washing Machine." I had heard whispers back at our hostel and now having gone into it myself and been spit out the other side, I truly believe it is one rappel you have to experience for yourself to fully appreciate its name.
The height isn't the concerning factor on this particular rappel. No, instead it is the free fall drop you have to make about half way down as the power of the gushing water is crashing over your head. As soon as you let go of your rope you are taken by the power of the current and swept away so fast you don't don't know which way is up. I was tossed and turned around a good two or three times before resurfacing out the other side. It is full on intense and I'm sure the expression on my face proved it.
After ending with a bang, we had a 20 minute hike straight uphill to get to the van that was waiting for us.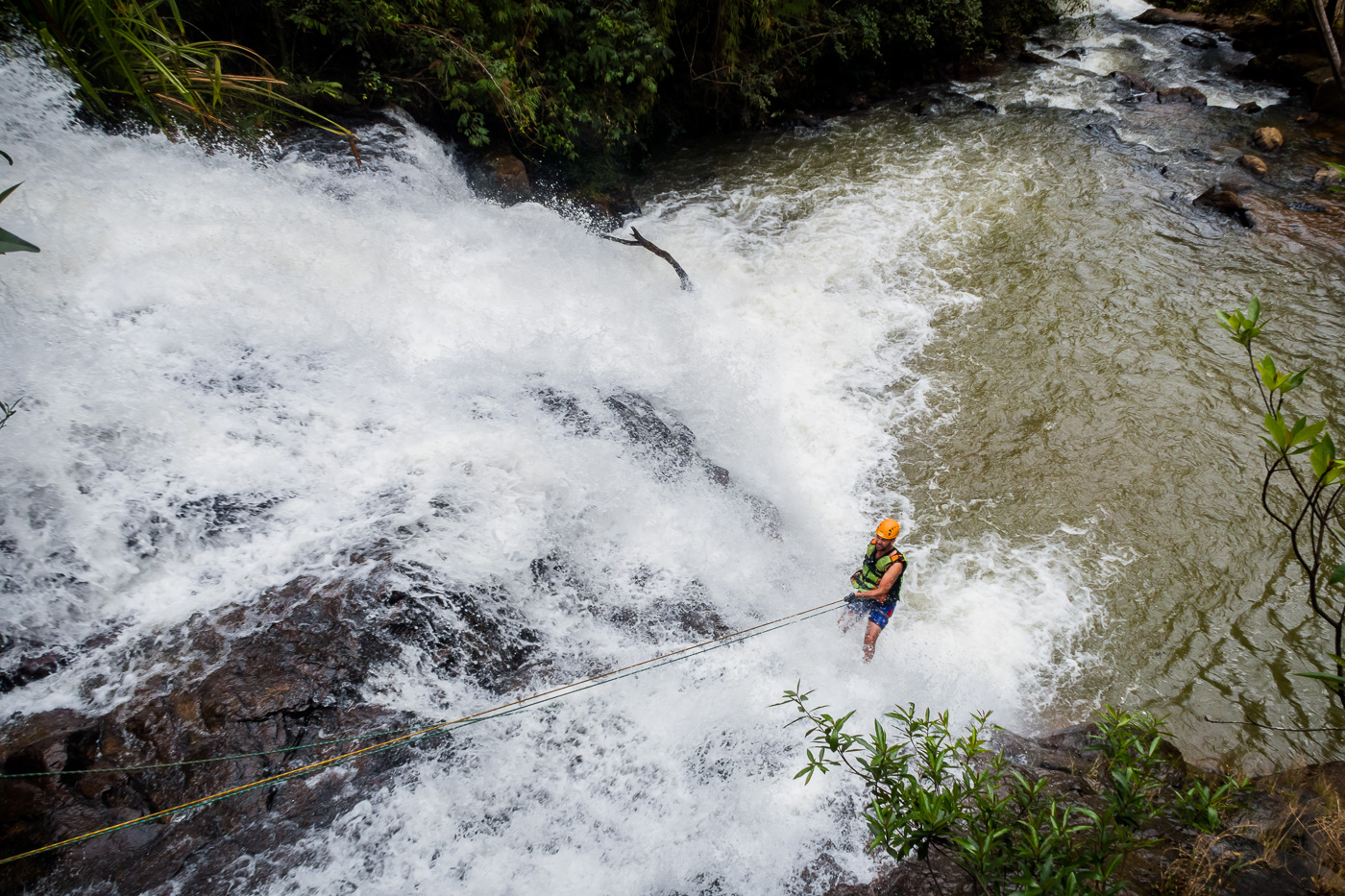 If You Go: Canyoning Dalat
What: Take the plunge, both figuratively and literally, on this day of heart-pumping activity in Dalat. Canyoning here offers adventure seekers a chance at 11-meter jumps and 25-meter rappels, along with some slipping, sliding and trekking.
Where: Dalat is located 300 kilometers north of Ho Chi Minh City and 120 kilometers south of Nha Trang in Vietnam's central highlands region. The Datanla Falls is a 20 minute drive outside of Dalat city.
When: Dalat can be visited year-round, though the highlands temperatures are cooler than the rest of Vietnam so be prepared with jackets.
Cost: Half day canyoning packages with Viet Challenge Tours cost US$40. Full day tours cost US$65 which includes lunch, all equipment and set of photos taken by one of the guides during the activity.
Disclaimer: Our canyoning tour of Datanla Falls was sponsored by Viet Challenge Tours, but as with everything on our blog, our opinions above are an honest account of what we experienced. As you consider your options for outdoor activities in Dalat, contact Viet Challenge Tours to speak about canyoning, rafting, biking, trekking and camping options (+84 90 1234 339, vietchallengedl@gmail.com, www.vietchallenge.com).