In Part 1 of our Namibia Self Drive Guide we explore the costs associated with embarking on an independent self-guided adventure across Namibia. The information below is based on our own 10-day self drive safari across Namibia's Northern and Southern territories in September 2015. 
Cost is undoubtedly something you've been thinking about as you plan for an independent self drive safari in Namibia. It certainly was for us as we try to stretch our dollars to keep us on the road.
The reality is African safaris aren't exactly a budget holiday. When you compare our average daily spending for two people in Namibia (roughly US$260 per day) to how much we spend on average each day in South America (US$100 per day for two people) or Southeast Asia (US$60), an African safari was a big (albeit worthwhile) investment for us.
But believe me when I say our Namibian safari left us with memories we will never forget at a price tag we likely will. And we were able to do everything we wanted for the same or less than the cost of an organized guided tour of a similar length. If this is part of a longer trip it will be a hard hit to your budget so work it into your plans early and we're confident you'll be happy with the experience you get. With so much of Namibia left to explore, we cannot wait to plan our return trip.
Breaking Down Costs of a Namibia Self Drive Safari
During our research we were grateful to have stumbled upon a fellow travel bloggers' budget for their own self drive through Namibia and Botswana which we used to give us a better idea of overall costs.
In an effort to do the same for others researching this type of adventure we've provided our full spending breakdown below.
High Level Categories to Budget:
Car Hire

Petrol

Lodging & Campsites

National Park Fees & Activities

Food, Water & Supplies

Other (Phone, Souvenirs, Laundry)
Exchange Rates Matter:
It is always worth a look at current exchange to see how much they have changed (and subsequently self drive safari prices have changed). Here are the exchange rates for Namibian dollar to US dollar at the time of our visit in September 2015 and today: 
September 2015: 12.54 NAD to US $1
January 2015: 15.25 NAD to US $1 
Looks like now is an even better time to be visiting!
Overall 2015 Self Drive Namibia Budget
All in, our 10 day independent self drive around Namibia cost USD $2,673. All of our costs are for two people.
| EXPENSE | USD ($) |
| --- | --- |
| 4×4 Car Hire | $1,400 |
| Petrol | $351 |
| Lodging and Campsites | $336 |
| National Park Fees and Activities | $209 |
| Food, Water & Supplies | $321 |
| Activities | $209 |
| Other (Phone, Souvenirs, Laundry) | $19 |
| | |
| Total Self Drive Safari Cost | $2,637 |
| NAMIBIA TOUR EXPENSE SUMMARY | USD ($) |
| --- | --- |
| Total Expense | $2,637 |
| | |
| Daily Average | $264 |
ASCO 4×4 Car Hire
Average Daily Spend (for 2 People): US $140
Percentage of Total Budget: 53%
Your 4×4 car hire will likely be your most expensive budget item. We hired a Toyota Hilux Double Cab 4×4 with pop-up tent from ASCO Car Hire based out of Windhoek. Our rental came with a turn-key, fully equipped camper which we slept in all but 2 nights in the bigger cities and cooked out of most days. Our rental suited us really well and definitely added to our overall experience in Namibia. However if you are not as keen on the camping lifestyle, you could just as easily ditch the tent and stay in lodges along the way.
With 4×4 hires be aware of add-ons that cause increases in price such as:
Adding a second driver

Renting an automatic rather than manual transmission

Purchasing the car company's insurance coverage 
Partner Disclaimer: 
Please note, while Bold Travel did receive a discounted car hire rate from ASCO all prices listed on this blog are market-rate prices in order to provide an accurate budget for a self drive safari. As with everything on Bold Travel, no matter who foots the bill our opinions are our own.
A Note About Car Insurance:
Be aware that insurance can add significantly to your daily rental costs if you purchase even basic protection from your rental company (which you may feel encouraged to do given that any incidents will have to be paid for out of pocket). We declined the car rental company's additional insurance so that we could use the free supplemental coverage offered by our credit card (Chase Sapphire). This has been an excellent travel credit card for us anyway as you can receive up to 50,000 bonus airline miles for opening an account.  No affliate links here, just Google it.
One of the reasons you'll stumble across a number of poor reviews of different 4×4 vehicle car rental companies is the trouble customers had with insurance coverage (or the lack there of). It is important to know that there is a blackbox installed on each car that will track all your vehicle data (ie. speed) for review in case there is an accident. In any event where you were speeding and rolled, crashed or caused damage to the car your insurance through the rental company is nullified and you become responsible for all repairs. However, purchasing even the highest level of a car company's insurance won't change this. So the bottom line here is don't speed and you'll be fine! While this doesn't exactly give you a warm and fuzzy feeling as you drive off the lot we didn't have a single issue and our rental company (ASCO Car Hire) was great when we returned the 4×4.  
Petrol
Average Daily Spend (for 2 People): US $35
Percentage of Total Budget: 13%
Our second biggest expense was fuel for our 4×4 car hire. At the time of our safari we were paying approximately 10 NAD/liter of diesel for an 140 liter double tank. Rentals should come with full tanks of gas but you are expected to be return them full. We took very little down time and covered a lot of ground in 10 days so this daily gas cost could be reduced by taking it at a slower pace.
Campsites & Lodging
Average Daily Spend (for 2 People): US $34
Percentage of Total Budget: 13%
On top of your car hire, you will have to reserve your space at a campsite each night. We were quite surprised to discover how expensive campsites were in Namibia. They ranged in price from 200NAD per night (US$15) in Uis to 380NAD per night (US$28) in the national park campsites in Sesriem and Etosha. This same amount of money could buy us an upscale hotel in Southeast Asia!
Reactions on Campsites:
In general we found the private campsites like Waterberg Wilderness Private Nature Reserve in Waterberg Plateau, Onguma Private Game Reserve outside of Etosha and Brandberg Rest Camp in Uis to be much nicer and a far better deal than the National Park campsites. Many offer a private bathroom and your own barbebque area or kitchen.
Having said that there are benefits to staying directly within the national parks including access to sites beyond normal daylight operating hours. We enjoyed the Sesriem campsite which gave us early morning and sunset access to the Namib desert and Sossusvlei. Etosha's Okaukuejo campsite is one we really wish we had had the opportunity to stay at for its famous nighttime watering hole. However, this fills up well in advance during high season so inquire about availability early.
Reactions on Hotels & Guesthouses:
Our hotels in Swakopmund and Windhoek were our more expensive lodging expenses at an average of US$ XX per night making campsites the economical way to go. Were we to do the trip again, we would opt to sleep in our 4×4 rather than rent a room in Swakopmund as we really enjoyed the glamping experience. However you can find a range of lodging accommodations in Namibia on booking sites like Booking.com and Agoda.com.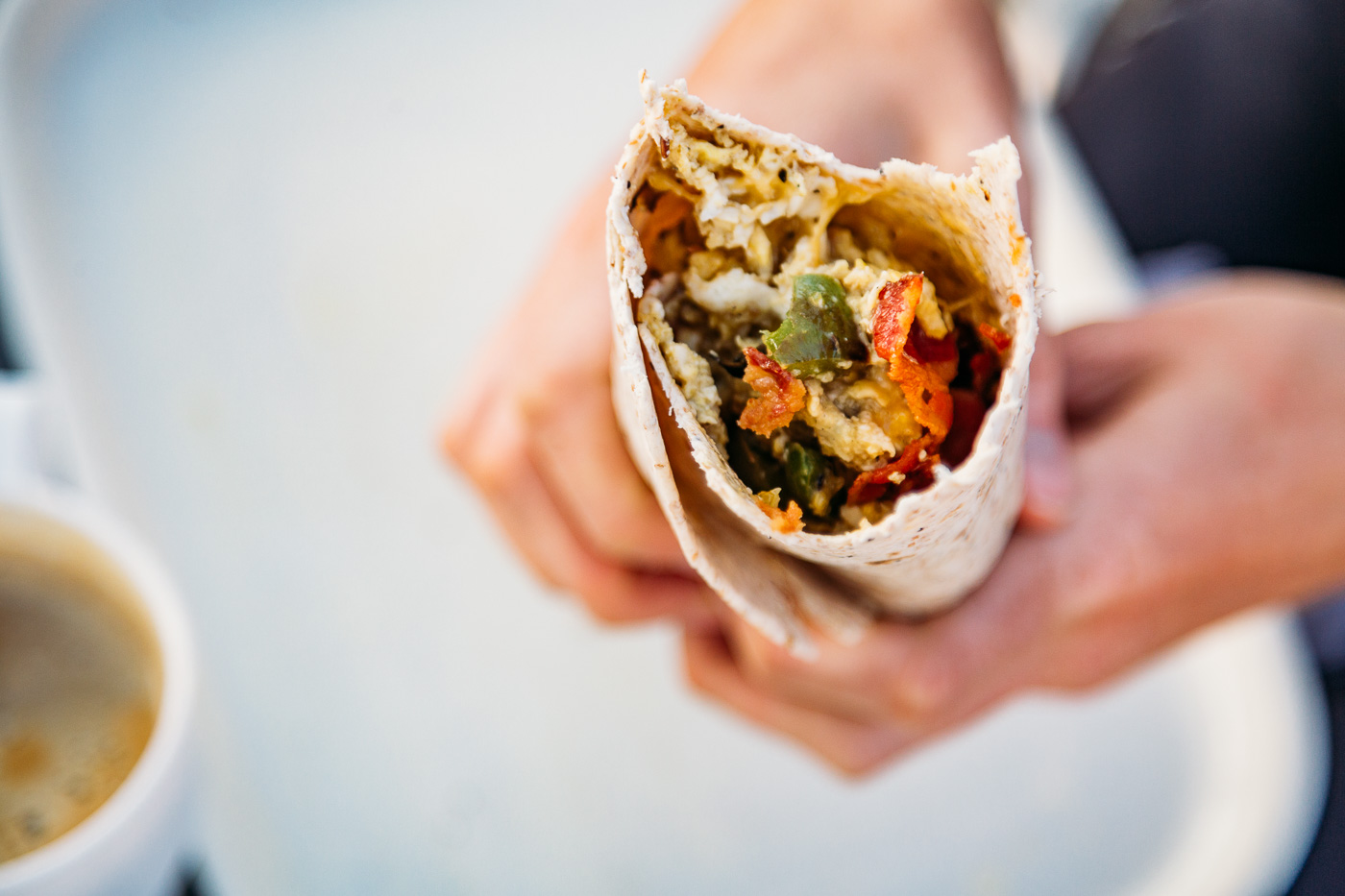 Food, Water & Supplies
Average Daily Spend (for 2 People): US $32
Percentage of Total Budget: 12%
We didn't do a great job tracking our spend on food versus water and other necessary supplies (paper towels, matches, soap) but overall we spent a total of US$321 for this category all in with the largest outlay of cash being on the first day when we stocked and outfitted our 4×4 in Windhoek. Cooking your own food certainly will help to keep costs down. Though it was time intensive and more work we really enjoyed getting to make our own meals each night after a day of adventure and pack lunches for the next day's journey.
In the bigger city grocery stores (Woolsworth, Superspar, Checkers)  you can find almost anything you'd want so don't fret about going without. We did have better luck purchasing meat in the bigger city markets or at the commissary stores of our campsites (though options are more limited). If you don't feel like cooking most campsites have a restaurant you can eat at.
National Park Fees & Activities
Average Daily Spend (for 2 People): US $21
Percentage of Total Budget: 8%
Both Etosha National Park and Namib-Naukluft National Park charge 80NAD per person per day (US$6) plus 10NAD per car per day (US$0.75).
On top of the national park entrance fees, you may also want to consider taking a break from driving yourself around and sign-up for a guided safari drive similar to our Onguma sunset safari (380NAD per person). Adventure activity capital Swakopmund is another place where you may decide to splurge on some extra activities. We opted for a fat tire bike ride around the world's oldest dunes and wish we had made time for a visit to the Pelican Point seal and dolphin colony via kayak.
Other Expenses
Average Daily Spend (for 2 People): US $2
Percentage of Total Budget: 1%
There were a few smaller budget items that didn't fall neatly into the other categories which we lumped together including a cell phone plan, a few small souvenirs, a load of laundry and a speeding fine.
Cell Phone Plan:
We would highly recommend while you are in Windhoek buying supplies that you pick up a sim card for your unlocked smart phone. For only US $8, we had data and minutes for the duration of our trip. This helped tremendously to be able to use Google Maps to check our directions although the best option for navigation support is Tracks4Africa.
Contingency Budget: 
Then of course there's the chance you run into some minor trouble. We hate planning for the worst case scenario but when driving long distances in mixed terrain around a foreign country, things can go array resulting in unanticipated costs. For us, it was a 500NAD fine (US$37) for a middle of nowhere speed trap we fell right into. It is better to err on the safe side and budget a little extra padding for that which can't be helped later (be it a flat tire, chipped windshield or running out of gas).
Other Pre-Trip Costs to Account For
Flights
Obviously, the cost of a safari also has to take into the major expense of getting to Namibia in the first place. Unfortunately flights from the United States to southern Africa are costly. We'd suggest looking into credit cards (United Explorer or Chase Sapphire Preferred) offering opening bonuses of 40,000 – 50,000 miles. Building up StarAlliance miles prior to our departure has saved us literally thousands of dollars on airline flights and we've been able to cover almost all of our longer international flights thus far with miles. For inspiration and tips on frequent flyer mile travel hacking check out The Points Guy.
Camera and Lens Rental
Having a decent camera and lens pays off in spades when it comes to capturing your safari memories. A good zoom lens is especially important on game drives where animals can be anywhere from 10 to 200 feet away from your truck. We definitely thought this was a worthwhile investment.
Due to lack of options in Windhoek, we had to look to South African camera and lens rental companies and stumbled upon Peter from A Lens for Hire. We were able to rent the exact zoom lens we were looking for (Canon EF 100-400 f4.5-5.6L IS II USM) for Adam's Canon 6D for 180 ZAR per day (US$11.80). Though located in Johannesburg, A Lens for Hire was super accommodating in having the lens shipped to our hotel in Cape Town prior to our flight to Windhoek and allowed us to return it on our way back though JoBurg.
Travel Insurance
Our initial instinct is to avoid package travel insurance everyone should go through the exercise of comparing plans and making similar calculations for themselves . For our own coverage, we purchase long-term travel insurance through Patriot Travel Medical Insurance and have in the past looked at packages offered by World Nomads, a popular and well-regarded company that provides travel insurance plans online. (If you are buying insurance, try them — or examine the options at insuremytrip.com, a travel insurance search site.)

Ways to Save on Your Namibian Self Drive
If you are still looking at that daily price tag and thinking it just isn't doable, you can get creative with ways to cut costs. Here are a few ideas to start: 
Make Some Friends and Share Expenses
This one is a no brainer. Our Toyota Hilux 4×4 Double Cab could have comfortably fit two more people and accommodated an additional rooftop tent. Had we had another couple to travel and split car hire and fuel costs (and drive time) with, our average daily spend would have been greatly reduced.
Limit Guided Activities
To mix it up a bit, we signed up for some guided activities including a sunset and night game drive and a tour of the oldest dunes in the world on fat tire bikes. Stick to a purely DIY itinerary to shave some extra unnecessary costs.
Camp Outside National Parks
This won't save you much but the National Park campsites in Namibia were the most expensive we came across. Camp outside and save a few bucks on the private (and generally nicer) campsites. 
Stick to Food Basics
We like to go all out when it comes to food and our camping adventure was no difference. You can eat far more simply than we did – think cereal and sandwiches instead of breakfast burritos and steaks. 
Spend More Time in Fewer Places
In our 10 days we covered a lot of ground (and miles) in our 4×4. To reduce fuel spending, focus your safari on one region rather than two or three. By going at a more leisurely pace and spending more time in one area you won't need to go through as much gas.
Visit During Low Season
As with anywhere, prices during low season (November to March) are typically lower in Namibia for expenses such as campsites, activities and even car hire. If you have the flexibility in your travel schedule and are really trying to shave costs, consider visiting when the rest of the crowds avoid.
Have you embarked on your own Namibia self drive safari? If so how do your costs compare? What are your concerns as you plan your own self drive adventure? 
---
SEE ALSO:
Namibia Self Drive Guide: Our Game, Our Rules
Namibia Self Drive Guide 2: Choosing Between Self Drives and Guided Tours
Namibia Self Drive Guide 3: Our 10-Day Itinerary
15 Photos That Prove Namibia Has to be Your Next Travel Destination
Sunset Safari at Onguma Game Reserve