We reach our campsite in the early evening as the brilliant glow of the sinking Namibian sun softens on the horizon. A lone flowering camel thorn tree marks our campsite. As we force ourselves out of our 4×4 for the first time in hours and stretch our cramped leg muscles, we notice that we've got company. An inquisitive oryx scavenges the ground for roots and tubers, occasionally tangling his long, pointy horns on the branches of the tree above. Nearby a family of warthogs scurries along the grassy plains in search of safety for the night. And we can just make out the faint hoot of the African scops-owl somewhere in the distance. This is only our third night in the Namibia bush but we have already developed a serious love for Namibian self drive safaris.
Losing the last of the day's light we have to move quickly to setup camp. Adam strikes up the fire while I unpack the rooftop tent above our Windhoek 4×4 car hire. Under the spotlight of our headlamps we hungrily prepare a barbecued dinner of pork chops, vegetables and rice. After a long day of safari we've worked up an appetite. 
By dessert we are more relaxed. Over a pot of deliciously steamy campfire cinnamon apple strudel we reminisce about our epic day of game spotting in Etosha National Park and neighboring private Onguma Game Reserve.
An encounter with the breathtaking two-horned black rhino who made our hearts stop when he wandered so close to the side of our truck we thought we might have to start her up and speed away. The herd of 30 elephants frolicking playfully with each other in the mud of the man-made watering hole. The pride of lionesses lazily relaxing the day away beneath the shadows of the thicketed bush as packs of tasty springbok and dik-dik wander past. The clever jackal lurking behind the downed tree stump as she plans her route closer to the action. The lanky giraffes who have to awkwardly spread their front legs at the water's edge to ensure that they can bend their necks low enough to take a sip. 
Etosha National Park is known for the massive barren salt pan dominating its scorched landscape which drives animals to travel long distances in search of water. So our daily game drives focus on the busiest times at the watering holes early in the morning and around sunset when the African temperatures are still manageable. That said, our whole journey in Northern Namibia is a big game drive. There are no rules when it comes to wild game spotting, except not to get out of the car!
With dishes washed we pack away the gear into the back of the truck and douse the sizzling embers of our fire with the soapy water. We make the quick climb up the ladder to our rooftop tent and find comfortable positions side by side on the mattress. Despite our exhaustion, our minds are still alert to the sounds of the Namibian wilderness wrestling in the bushes and trees around us. It is at this moment that I am thankful to be laying six feet above the ground. The thin sheet of canvas that separates us from the hunting grounds of some of Namibia's greatest predators provides just enough of an illusion of safety for me to fall into a comfortable state of sleep until the next morning when we get to wake up and do it all over again!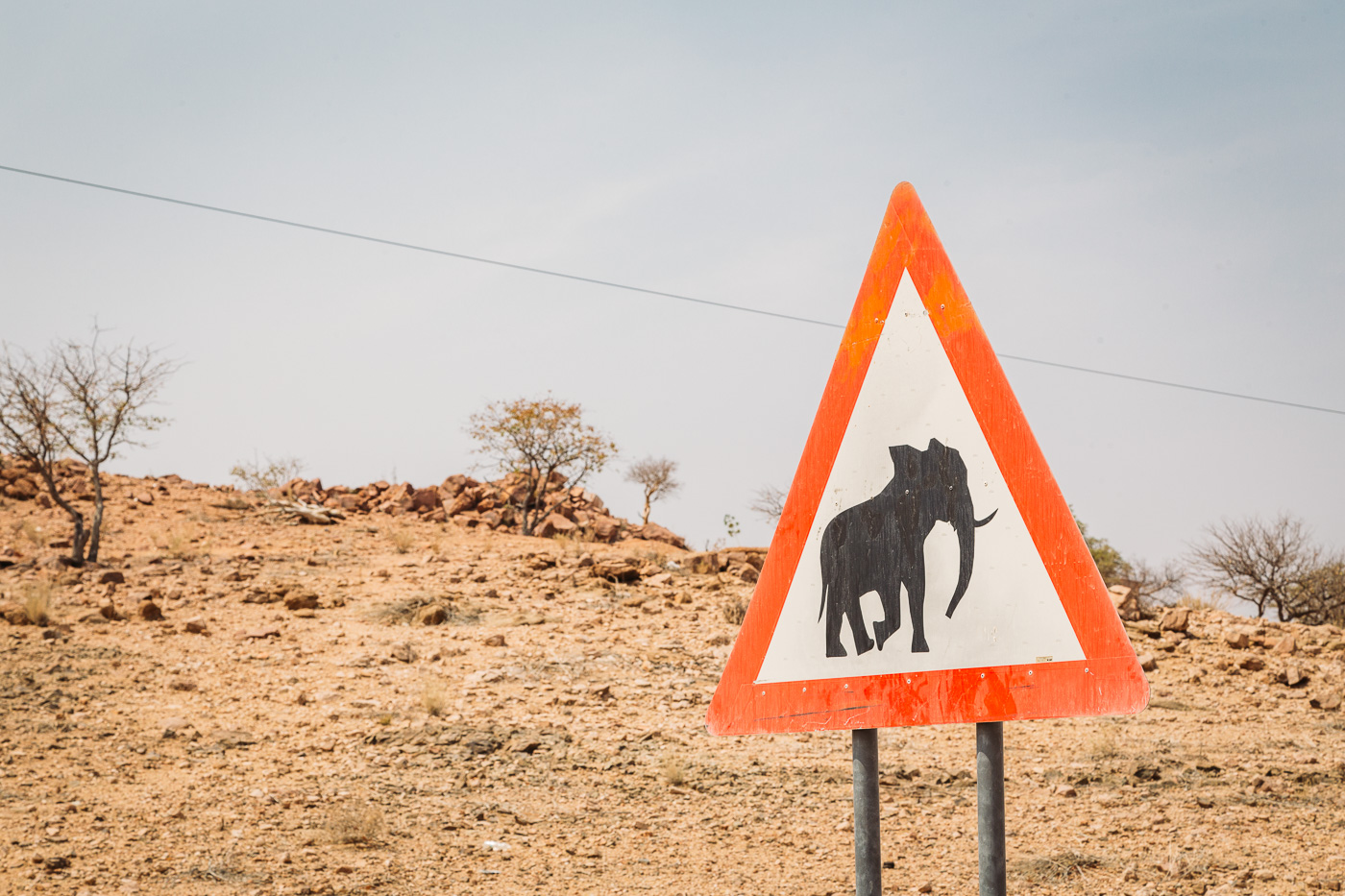 Our visit to Namibia falls on a big birthday for the nation – 25 years of independence from South Africa. Despite being a relatively young country, Namibia has worked tremendously hard to make it a go-to destination for awesome African self drive itineraries with its solid road infrastructure and safety. Not to mention the country is rich with wildlife adventures, unique culture and stunning landscapes.
A good option is to fly to Windhoek (from Cape Town or Johannesburg) and rent your safari vehicle from there. We opted for a turnkey Toyota Hilux 4×4 from ASCO Car Hire that came packed and ready with all the essentials we would need for the next 10 days of exploring and camping. Food and supplies are easy to stock up on in Windhoek at the central Merua Mall. There are a handful of large Western supermarkets here including Woolworths, Checkers, and Superspar where you can get anything from pancake mix to proscuitto (we stocked up on both!). Then it's only a 4-5 hour drive due north to Waterberg Plateau and the cheetah conservation centers (Cheetah Conservation Fund or AfriCat).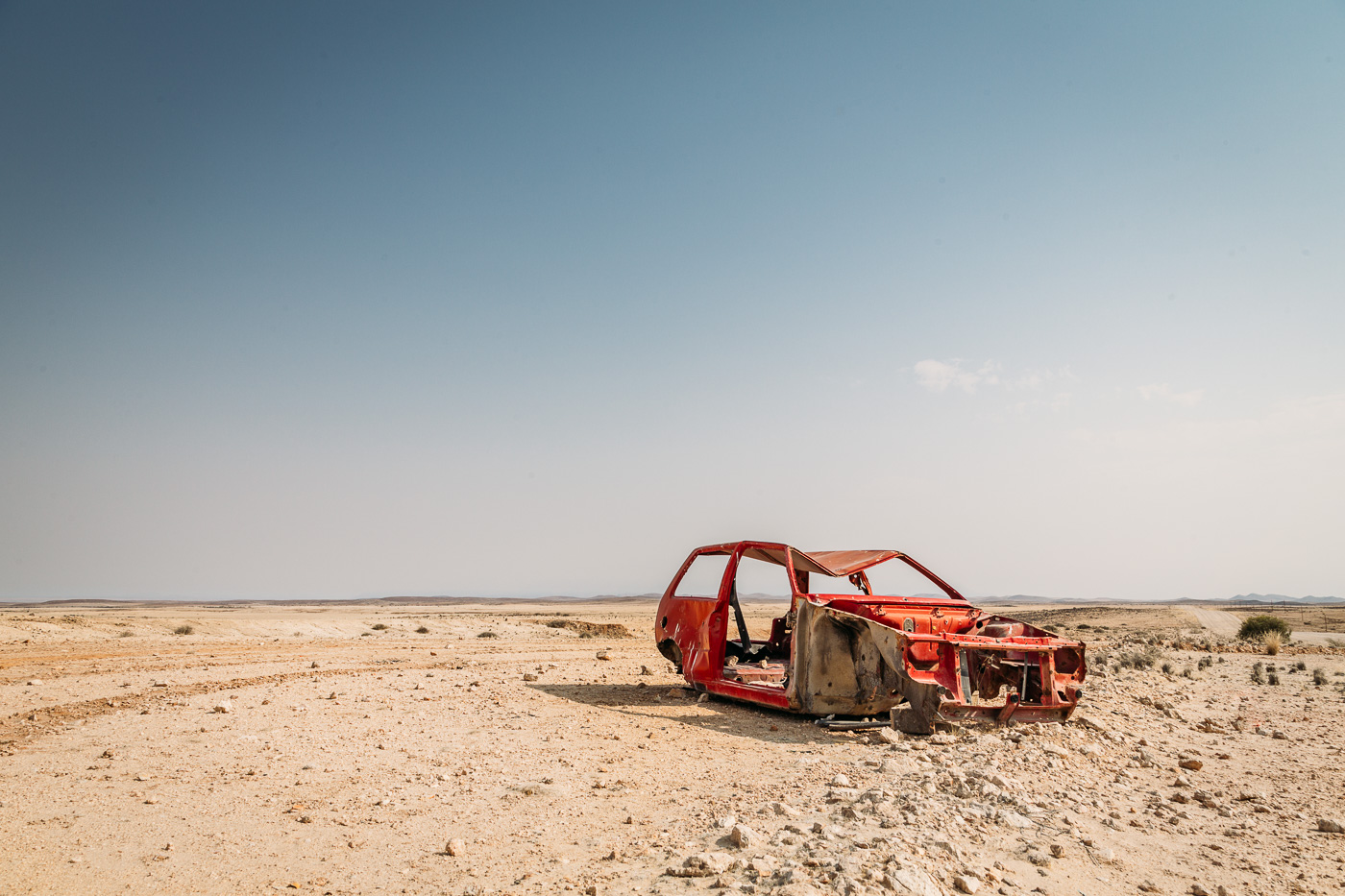 Our plan is to make our way from the Northern Namibian grasslands to the rolling dunes of the barren Skeleton Coast then on south to the orange sun kissed sands of the Namib-Naukluft National Park. Driving time and distance varies significantly from day to day depending on road quality, what we hope to see and how long we linger. But we love that we are setting our own schedule each day. There are the occasional missteps where we end up on a private dirt road we can't navigate our way through to the other side but generally we stay on track always making sure we arrive at or before sundown to our next campsite.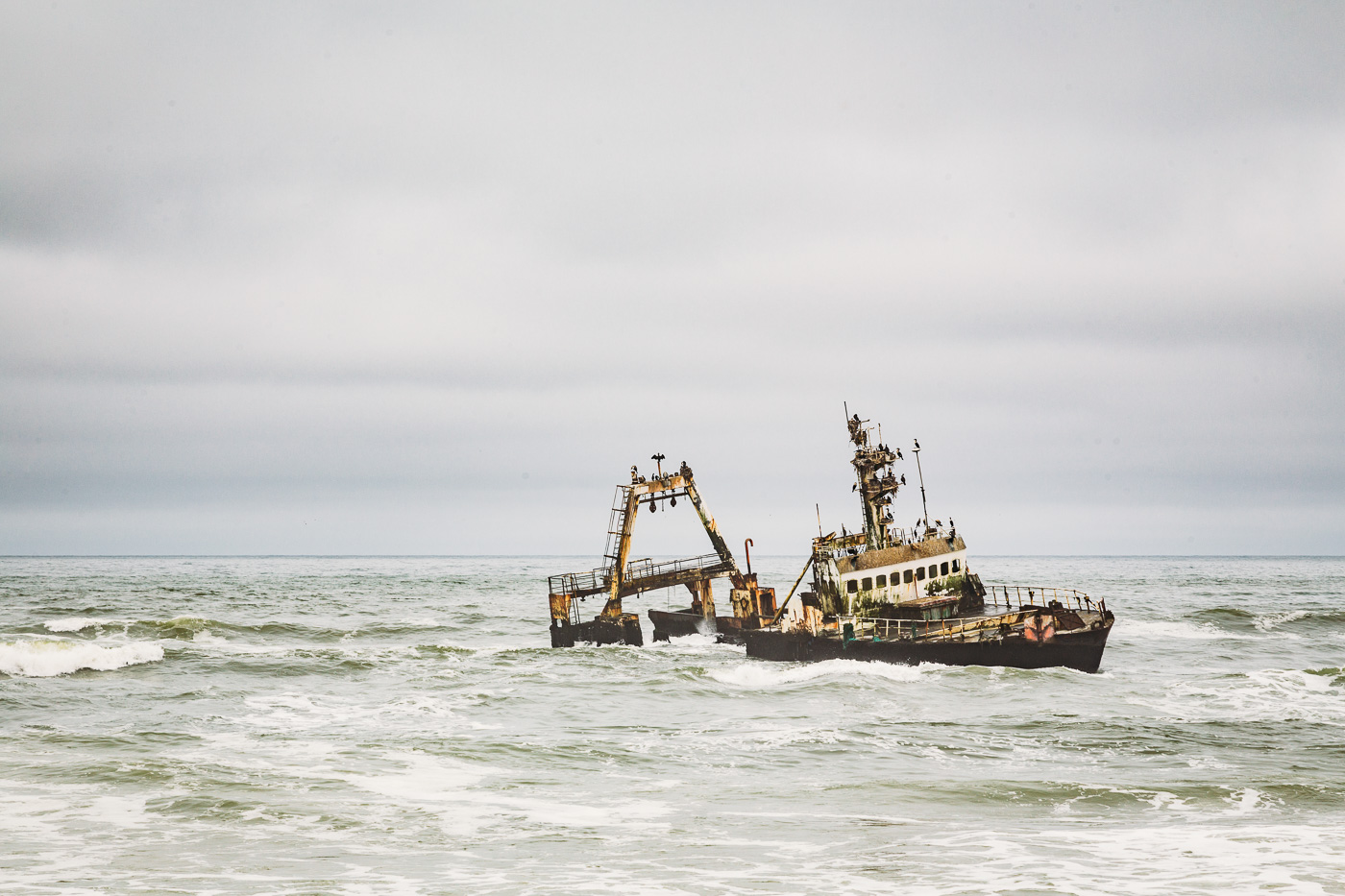 We are greeted to Namibia's coast by a heavy blanket of fog and drizzle which looms over Swakopmund and Walvis Bay for days. Despite the crappy weather we indulge ourselves with frothy lattes from Slowtown Coffee Roasters and sneak in a day of exhausting fun exploring the world's oldest desert on fat tire bikes. 
Soon enough we leave the gloomy coast behind and turn south. We are sure not to miss a mandatory pitstop at the ever so quirky Moose McGregor's Bakery in Solitaire for a slice of delicious apple strudel before forging on to our campsite in Sesriem. 
For two days we explore the breathtaking dunes of the Namib desert. We sweat and sink our way to the top of Big Daddy under the glaring mid-day sun then opt for the thrilling shortcut run straight over the edge to get back down. We examine the petrified trees of Deadvlei and eat lunch among shifting sands and falcons. And we enjoy our final Savannah Light sundowners from the top of Elim dune. The breathtaking dunes of Namibia's South are a perfect complement to our animal spotting Northern tour. 
There are a few concerning moments. Like getting caught in a speed trap that subsequently requires a long conversation with Namibian highway patrol and the handing over of 500NAD. Or momentarily losing our truck to the quick sinking sands on the drive to Sossusvlei and having to be pushed out by a kind pair of passerbys. And nervously awaiting a noisy herd of kudu to pass through our campsite in the middle of the night, keeping our fingers crossed that the car remains unscathed from their spiky horns. But these are the moments that make a self drive all the more of an adventure. 
In ten days, we ate extremely well by cooking for ourselves, got the full glamping experience at a range of well appointed campsites and explored several of Namibia's classics. I'd say we pulled off one heck of a successful Namibia self drive safari for first-timers!
How To Plan an Independent Namibia Self-Drive Safari
Embarking on an independent Namibian self-drive safari can be daunting for those of us who have never done something like it before. However, to be honest, the most challenging thing about our 10-day adventure wasn't the safari itself but the planning of it from abroad ahead of time given how little we knew about safaris or Namibia. Our hope is that our hours of research and planning can be turned into an actionable guide for you as you look at planning your own Namibia self-drive safari.
Here are a few of the topics we'll highlight in our coming posts:
Complete Packing List for a Self Drive, Self Catered Safari
Selecting Your Safari Vehicle
A Namibia self-drive isn't the cheapest holiday by a long shot, but touring independently offers more options, more freedoms and more adventure. It was a true adventure of a lifetime and we can't wait to journey back to this part of the world again soon.
Have you embarked on your own Namibia self drive safari? If so we'd love to hear about it. Or shoot us any questions you have about planning your own adventure. We promise once you work out the details the rest is cake.
If You Go: Namibia Self Drive Safari
What: Independent travel across Africa can be tremendously rewarding and offer great freedom and opportunity to explore off-the-beaten path destinations. Namibia is an ideal starting point for self drive safaris as it is safe, has good road infrastructure and diverse points of interest.
Where: Namibia is located on the southwest coast of the African continent above South Africa. Our short 10-day self drive safari originating in Windhoek took us from Etosha National Park in northern Namibia to Swakopmund and Walvis Bay on the Coast and south to Sossusvlei in the Namib-Naukluft National Park.
When: The best time to visit Namibia is between the months of April and October with peak season being June, July and August when dry weather forces animals to congregate around the watering holes making for better game viewing. That said, Namibia has pleasant weather and can be visited throughout the year.
How: You have plenty of options when it comes to exploring Namibia. For those who prefer independent travel, a self drive safari can be a a lot of fun. We drove for 10 days in a full equipped 4×4 Toyota Hilux with rooftop tent from ASCO Car Hire, camped at sites in national and private parks and cooked most of our own meals.
Cost: All in, our 10-day Namibia self drive safari cost US$2,600 for two people. Check our other post for a breakdown of our spending.
Our 10-day self guided, self catered Namibia safari was supported by ASCO Car Hire (+264 61 377200, info@ascocarhire.com, www.ascocarhire.com). As you start exploring options for own Namibia 4×4 vehicle rental check out their fleet of turnkey safari vehicles for hire. As with everything on Bold Travel, our opinions remain our own!