According to Inca mythology Lake Titicaca is the site from which god Viracoca rose to create the first humans, along with the sun, moon and stars. And after seeing Lake Titicaca shimmering in all its glory beneath the high altitude sun, you'll have no questions why the Inca people revered this lake so much. As the highest navigable lake in world, Lake Titicaca covers an impressive 3,200 square meters. At this magnitude, you'll be quick to get lost in the vastness and beauty of this ancient inland sea.
Straddling the Peruvian and Bolivian borders, the venerated lake is a natural wonder best experienced from multiple angles. Here are three uniquely different ways to explore Lake Titicaca: The Uros Floating Reed Islands, Copacabana and Isla del Sol.
Whether crossing overland from Peru to Bolivia, Bolivia to Peru or simply exploring one side of the Inca birthplace of the world, Lake Titicaca is worth the time and effort it takes to visit.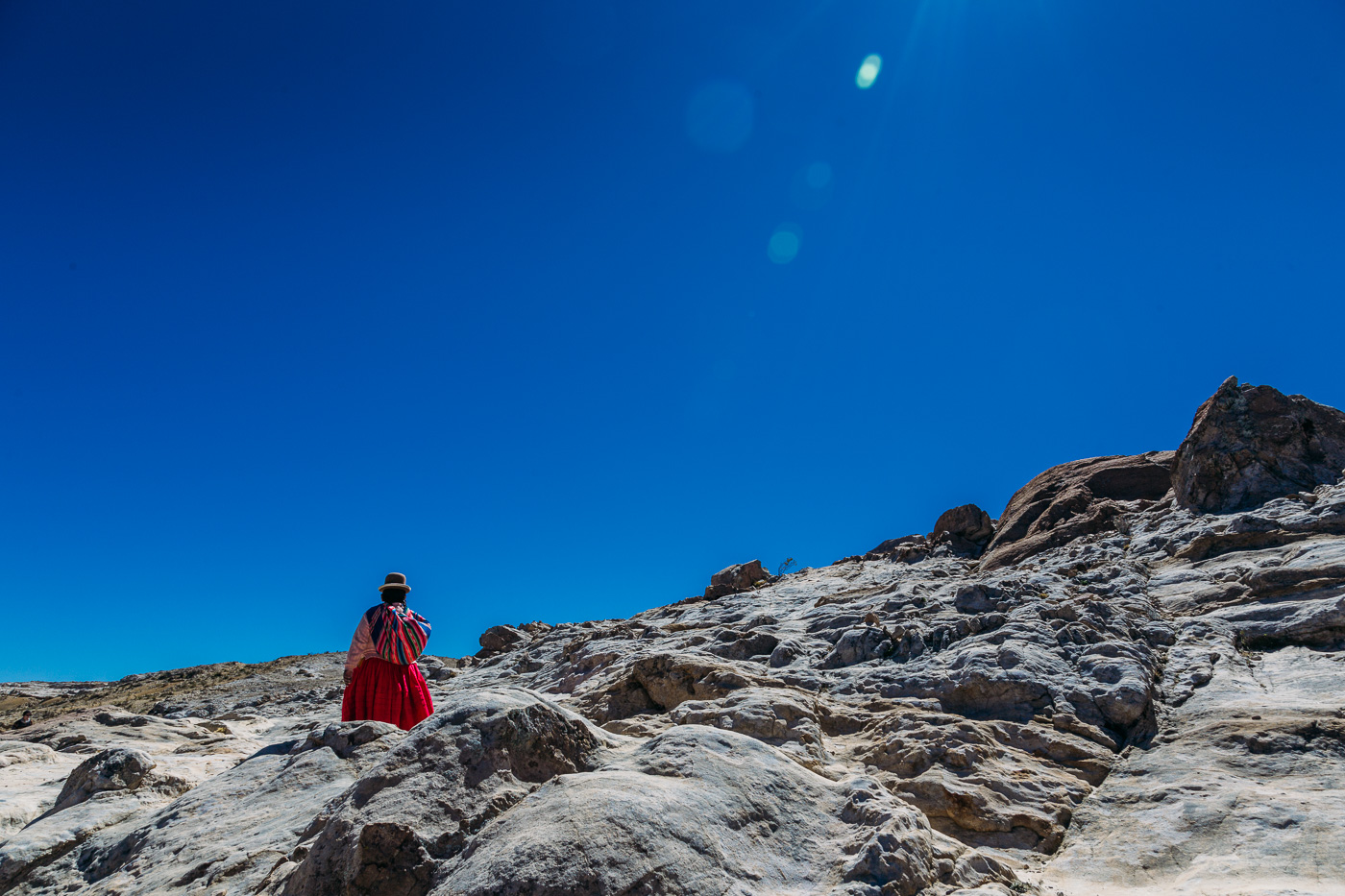 Uros Floating Reed Islands
While we can't personally recommend a visit to the Floating Reed Islands of the Uros people based on our experience, this cultural tour is often what draws travelers away from Machu Picchu and the Sacred Valley to Peru's southern border. The inhabited islands are constructed entirely of reeds growing off the banks of Lake Titicaca and are fascinating to experience first hand. Unfortunately it was the rest of the tour we had mixed feelings about.
In addition to the Floating Reed Islands, there are other cultural tours you can embark on, including overnight stays on Isla Taquile and Suasi.
If you do decide to visit one of the indigenous communities, learn from our mistakes and consider carefully which tour operator you go with and their reputation for working in partnership with the people.
Puno
The Uros Floating Islands as well as Taquile, Suasi and X are all accessed from Puno, Peru's small and unimpressive port city on Lake Titicaca. There isn't much to boast about Puno, except some excellent local Chinese eats, so don't bother planning to spend much of your time except as a necessary transit hub to other places.
Copacabana
Copacabana, on the Bolivian side of the Peru/Bolivia border, is the gateway city for those wishing to visit Isla del Sol and Isla de la Luna. We think it is worth an evening stopover en route to Isla del Sol if you have time to spare. For spectacular views over the harbor and city, climb the hill to the Stations of the Cross (Cerro Calvario).
Isla del Sol
By far our favorite destination on Lake Titicaca, Bolivia's Isla del Sol is a wonderfully peaceful respite from the hustle of Copacabana and La Paz. Today, Isla del Sol is home to some 87 Incan ruin sites (though far less impressive than those in Peru) and approximately 800 families. It is also the revered birthplace of the Inca gold Inti. More than that, it affords incredible 360 degree views of Lake Titicaca, Isla de la Luna, and the Bolivian Cordillera Real.
It's worth the effort getting there to spend a few nights on Isla del Sol – we promise you won't regret it. Plan to be dropped off in the north at Challapampa by ferry and hike your way south to Yumani. Don't forget to bring a good book, warm hat and gloves and a few bricks of chocolate for your peaceful afternoons overlooking the deep blue shimmering waters with Bolivia's Cordillera Reals looming in the background.