"It is just so good!" exclaimed Taciser as she spooned a dollop of the thick tahini and pomegranate molasses mixture into her mouth and passed the jar around the circle for all to try.
Her enthusiasm was infectious. We couldn't help but smile and dig into the delectable treat ourselves.
"We give a spoonful of this to children when they are sick," she explained.
"Surprisingly good!" I thought to myself. "For something that is meant as a remedy for colds."
It tasted like candy. I would definitely eat a dose of that every day.
This local treat was just one of the many unique flavors of Turkey we had the opportunity to experience during our food walk on our first day in Istanbul. 
As avid food lovers, one of the first things we want to know when coming to a new country is what dishes do we have to try before we leave? Being new to authentic Turkish foods, we were thrilled to find Turkish Flavour's Spice Bazaar & Kadıkoy Market tour with Gourmet lunch at Çiya Restaurant and spend our first day in this new country being exposed to the smells, textures and flavors of a deeply rich and varied cuisine.
Experiencing Turkish Food at the Spice Bazaar
Turkey's cuisine reflects the cultural diversity and legacy of this burgeoning nation, blending together flavors of near and far from centuries of vast Ottoman empire rule across Anatolia, Northern Africa, Eastern Europe and the Middle East.
The first part of our Istanbul food tour at the Egyptian Spice Bazaar (Mısır Çarşısı) next to the New Mosque (Yeni Cami) exposed us to many of the traditional ingredients found in Turkish cuisine. Expertly winding us through the crowds, Taciser pointed out and explained the uses for ingredients, from the fresh catch of the local fishmongers to the shriveled strings of dried peppers and eggplant hanging from stall ceilings. All along the way we stuffed ourselves with samples – an assortment of nuts from one vendor, olives and mixed fruit juices from another.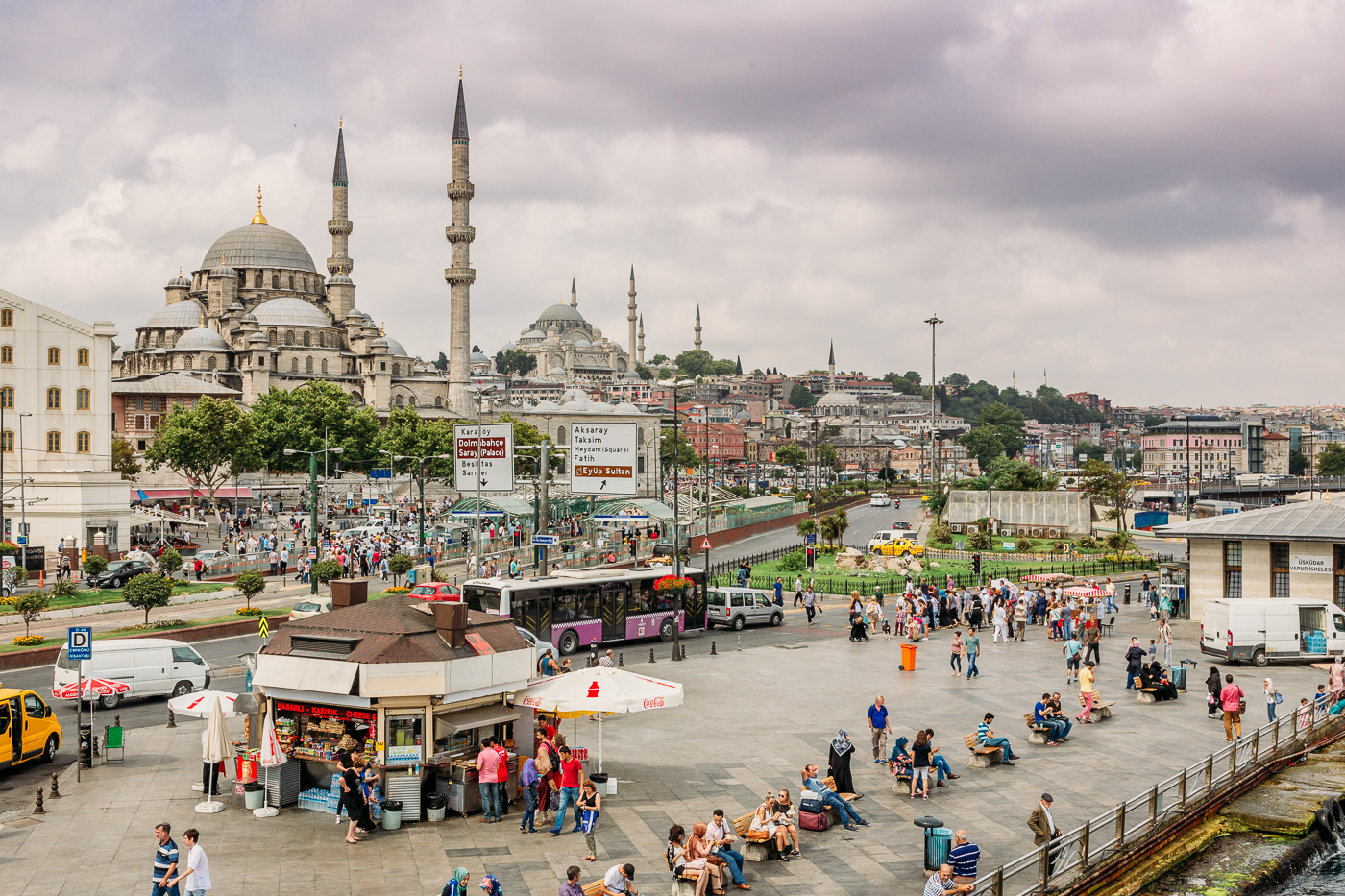 At a pide vendor we circled around the flour dusted workstation of the head chef as he effortlessly flattened and molded the dough into perfect boat-shaped pizza pockets before placing them into the flaming domed oven to bake.
At a dessert shop we popped gooey fried donut balls (lokmas) and green pistachio filo pastries (erzurum dolmas) into our mouths as we admired the selection of delectable flaky nut deserts of every shape and size.
And at Ucuzcular Baharat we awakened our tastebuds with a multi-course sampling of different spice blends. From the saffron filled Ottoman's mix to the rare cat mint mix of the Janissary spice we tested spice blends until we could barely decipher the difference between them anymore. Between tastes we'd wash the flavor away with some Turkish tea. In the end it was the Ottoman's blend, a robust mix of saffron, sumac, tumeric, garlic and thyme, that we kept coming back to and eventually purchased a bag to bring with us for our onward travels.
An Authentic Local Istanbul Experience
Boarding the ferry and crossing the Bosphorus to Kadıköy market on the Asian side of Istanbul gave us a whole new taste of the city. Here, in a market almost exclusively amongst locals, we got to experience an Istanbul we most likely would not have known to visit otherwise.
Istanbul Street Food
As Taciser chatted with the stall owners and pointed out her favorite eats and cheap finds we happily continued to stuff ourselves, this time with deliciously juicy fried muscles dipped in a creamy lemon and bread crumb sauce and a very traditional, no-frills double roasted pistachio Turkish Delight.
Best Food in Istanbul
Our food tour ended with a filling lunch of traditional Turkish meze plates at Çiya. Well-deserved fame came to the Çiya restaurant after being featured by a food critic in the New Yorker. Today, the restaurant has expanded to three different neighboring spaces busy throughout the day.
Already full from our hours wandering the markets, I wondered how I could possibly eat any more. Turns out it was pretty easy with the smattering of delectable eats laid in front of us.
By the time our Turkish coffee and chai tea had been served, signaling the end of our meal, our bellies have been stretched with a diverse array of flavors from red lentil soup to Turkish pizza, swiss chard dolmas and bulgar-based dumplings. However my favorite, the one I saved room for seconds for, was the meatballs in sour cherry reduction over pita bread. To top it all off we finished with a dessert of homemade lemon goats milk ice cream, oregano chai tea and turkish coffees.
This was by far one of our best food days while traveling the world.
The People Behind the Food
However, beyond eating delicious cuisine so much of the day was about the people behind the food – the food stall vendors, the bakers, the picklers, the candy makers and chefs. At every stop, we were invited to explore, ask questions and give it a try. Getting to go into shops and speak with passionate locals gave us a real feel for Turkish life while also allowing us to explore such a rich and culturally important side of this country.
This same passion and love for food was shared by Taciser, a former food shop owner turned Turkish Flavours food guide and cooking class teacher. Taciser befriended the owner of Turkish Flavours, Selin Rozanes, over their shared love of food and ever since has been helping expose curious travelers to the world behind Turkey's delicious cuisine.
"For me, food is the most important thing," explained Taciser as we finished up our ice cream at Çiya.
"It's a lifestyle. It brings diverse people together."
We couldn't agree with more!
Istanbul Food Tour Logistics
This Gourmet Food Walking Tour was provided by Turkish Flavours (+90 532 218 06 53, turkishflavours.com). When you find yourself in Istanbul next, contact Taciser, Selin and the Turkish Flavors team.  They offer a wide variety of food tours and cooking classes every day of the week so your most difficult decision while in Istanbul will be picking which one to participate in.