What most excited me about visiting Cappadocia, a unique region in Turkey's central Anatolia, other than hot air ballooning over fairy chimneys with a hundred other balloons littering the sky, was the prospect of staying in a cave hotel.
Yes, that's right, we were itching at the opportunity to sleep in a cave…though it's probably not the type of cave you are picturing in your head. Cappadocia's landscape is covered in surreal volcanic rock towers and gorges which over centuries the local communities here carved and weilded into fully functioning cave villages. Today these fascinating dwellings have been converted into tourist accommodations to fit all range of budgets.
We were thrilled on our recent visit to Cappadocia to call one such luxury cave hotel our home – Esbelli Evi.
Esbelli Evi Cappadocia Cave Hotel
We would move to Urgup tomorrow if it meant we could live in one of Esbelli Evi's cave suites. As one of the original cave hotels in Cappadocia, Esbelli Evi expertly blends the heritage of this unique region with simple yet luxurious style that makes you feel right at home. Can we talk about how gorgeous our suite was? Take me back please!
With a beautiful living area featuring gorgeous rugs and antiques to a covered patio with a view where you take breakfast each morning to the labyrinth of vine-covered courtyards, we had a hard time leaving the hotel each day for our scheduled activities around Cappadocia.
The managers and staff are fantastically helpful, attentive and knowledgeable; Muge gave us a full tour of the grounds on arrival and Tarik helped us to navigate a car rental and self-guided tour of Cappadocia complete with hand drawn maps and descriptions of each of the attractions.
But what we loved about Esbelli Evi the most were the small, special touches that made us feel like we were staying at a friend's beautiful Turkish home rather than a hotel. From the self-service laundry to the honesty drink bar stocked full of tea, coffee, beer, wine and soda to the made to order eggs at breakfast, Esbelli Evi Cave Hotel makes your guest experience one to remember.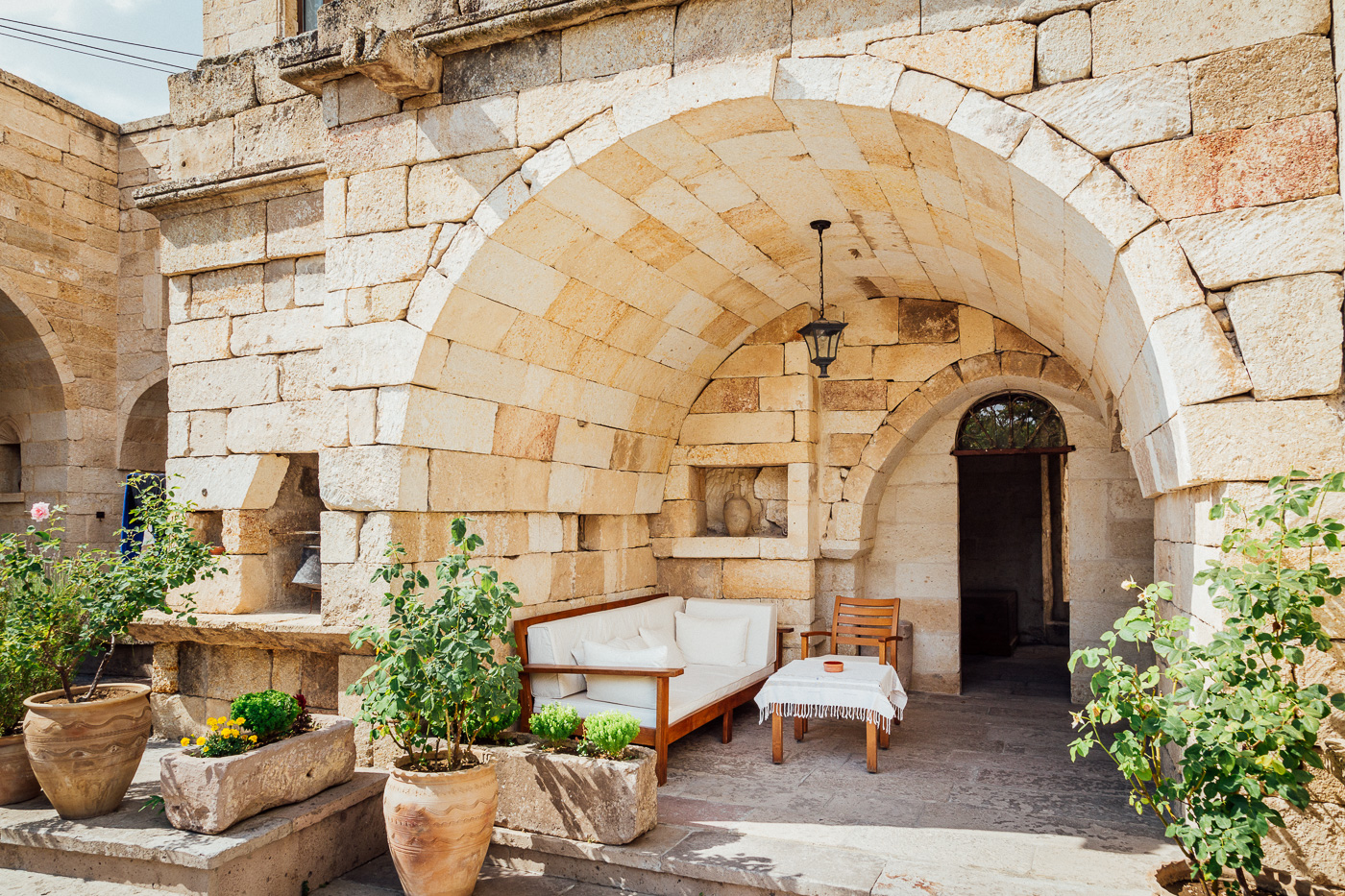 The location of the hotel is positioned on the hill leading away from Urgup towards Goreme, with a handful of really delicious restaurants within a 15 minute walk or 5 minute drive (6TL, Esbelli Evi will call a cab for you at any time). While we feared it would be a bit of an inconvenience at the time, in the end we were glad to be away from the hustle and bustle of Goreme at our own cave sanctuary to enjoy the quiet splendor of Cappadocia.
We can't wait to plan our return trip soon.
If You Go: Cave Hotel Logistics
What: One of Cappadocia's original cave suites. If a Cappadocia hot air balloon ride is the cake, a stay in a cave hotel is definitely the icing on the cake. Despite Esbelli Evi being one of Cappadocia's original cave hotels, it has maintained a level of homeyness, sophistication and charm that is difficult to match.
Where: Urgup, Cappadocia region, Turkey
When: Cappadocia is a unique and accessible region to visit regardless of time of year. We visited during high season (end of August) when many European tourists were also on holiday. While on the one hand, we were happy to visit during warmer weather and blue skies for our hot air balloon flight, the tour bus crowds at times were a bit of a nuisance. 
How: Cappadocia is well served by flight and bus from many Turkish towns and cities. Flights are the fastest way to arrive to Cappadocia (1 hour 15 minutes) from Istanbul and inexpensive if you book in advance (USD$30). Turkish Airlines flights leave from both the IST and SAW airports while Pegasus Airlines primarily only services out of SAW. Flights arrive at either the Nevşehir-Kapadokya Airport (NEV) or Kayseri's Erkilet Airport (ASR) where Esbelli Evi can help you arrange a 30-minute shuttle transport to their hotel. 
Esbelli Evi Cappadocia Cave Hotel
Our Cappadocia cave suite stay was provided by Esbelli Evi (+90 (384) 341 3395, esbelli@esbelli.com, www.esbelli.com). Contact Muge today to inquire about standard cave rooms and suites to complete your holiday in the Cappadocia region.