The sun is making its first appearances in the early morning sky as our hot air balloon floats to an easy 600 meters (2,000 feet) above the ground. Streaks of red, orange and yellow paint the waifs of clouds dotted along the horizon. Below, the Dr. Seusical lunar-like landscape of Cappadocia's famous fairy chimneys spans for as far as the eye can see, changing colors in the shadows as the sun makes its morning ascent. Everything below us is hushed and perfect.
On the skyline hundreds of multi-colored balloons are suspended in the air, oscillating slowly up and down with the air currents. The multitude of balloons, varying in size, shape, color and pattern, only add to the beauty of this moment. The scene is surreal.
We try not to lose sight of how fortunate we are to be exploring the world and experiencing new cultures, locations and travel adventures on a daily basis. Never was this hit home more than on our recent Cappadocia hot air balloon ride over these spectacularly strange moonlike landscapes on our recent visit to Turkey.
Despite having the digital equivalent of an hour in photos and video to share, it is impossible to fully capture the beauty of this scene. So instead we hope to do enough to inspire you with this post to visit Cappadocia, Turkey one day and witness it for yourselves.
A Land Called Kapadokya
Cappadocia (phonetically pronounced Kapadokya) was high on our bucket list a year ago when we started talking about the possibility of quitting it all to go travel. We had seen our friends' postcard photos with the hundreds of balloons suspended in flight above an otherworldly landscape. But learning the how and why it came to be made this destination even more intriguing.
The long and short of it is that the combination of volcanic eruptions with thousands of years of erosion are to thank for these incredible landscapes.  The soft tuff rock layers formed by volcanic eruptions of Mount Erciyes, Develi, Hasan, Melendiz and Keciboydoran some 65 million to 2 million years ago covered the countryside for miles.  As time went on, this soft tuff rock was eroded away, shaped and sculpted by the wind and rain. The end result was a series of deep gorges and dramatic towering pinnacles, cones, pillars and mushrooms of delicately balancing rocks (called fairy chimneys) that give the area its unique appearance.
To add to its allure, humans have performed equally incredible feats here adapting this rocky wonderland centuries ago into caves both to live in as well as to house their livestock, food, wine and belongings. Up until the 1950's, in fact, whole communities of people dwelled within these networks of cave systems both above and below ground. Weaknesses in the stability of the tuff rock forced people to move away from their cave villages. Today they are primarily used as store-rooms and luxury hotels, like the stunning cave hotel we stayed in Urgüp.
The Best Way To Experience Cappadocia: Hot Air Balloon Flight
Exploring the Pigeon and Red Valleys, Zelve Open Air Museum and Pasabagi Fairy Chimneys is absolutely a must by car and foot when in Cappadocia, and we recommend you venture out on your own for this. 
However, the absolute best way to experience this region (and I bet few would argue with this) is by hot air balloon flight.  As we had never been on a hot air balloon ride before it was a real treat to be initiated into the high flyers club with such a memorable experience. Now we're hooked!
Our Cappadocia Hot Air Balloon Adventure
Our morning started hours before take-off as we tiredly pulled ourselves from the comfort of our bed to the sound of a 3:30am wake up call. A shuttle picked us up at 4:10am and drove us to the Voyager Balloon office in Göreme where we checked in and fueled up on a light breakfast of pastries and coffee.
Next we were divided into our basket groups of 15-20 people and set off in vans to the launch site. All along the ten minute drive we watched as dozens of other balloons readied for flight,  crew members scurrying from one place to another making their final preparations. It was only building our anticipation for what was to come.
Once out of the van, we were only on the ground for another five to ten minutes of free time to watch as our ride being prepped for take-off.  It was a fascinating process to observe the force of the flames filing up the yards and yards of rippling silk as baskets were slowly stood into their upright positions. A quick safety briefing and we were guided into the basket to our seats for takeoff. 
Under the helm of veteran pilot and Voyager Balloon owner Halis, our hot air balloon carrying 16 took to the skies just before daybreak. The sky was softening from dark to paler shades of blue as our balloon effortlessly lifted off the ground, the earth slowly dropping away beneath us. Looking out we could see 15 other neighboring balloons rising in unison with us. 
Shortly thereafter we were treated to our first birds-eye views of the iconic Cappadocia landscape. And it was so much more incredible than we had even imagined!  
As we gained altitude and made our way across the Göreme valley, Halis pointed out various sites of interest and the best photo opportunities and told us about the history of hot air balloon flight in Cappadocia.
With the sun now fully above the horizon, the unique tuff rock structures and pigeon houses lit up taking on a look entirely different from what they had only 30 minutes prior.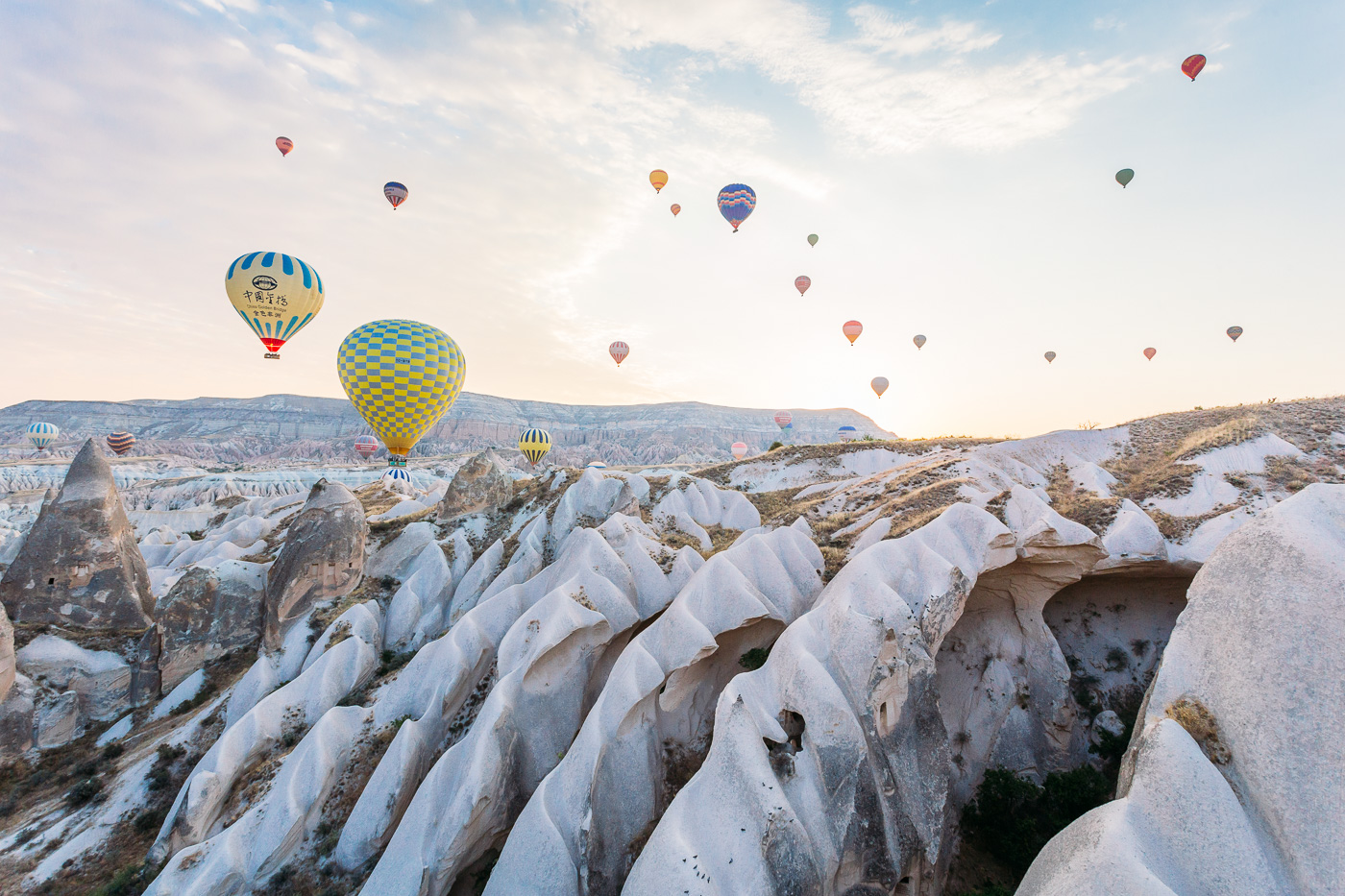 Before we knew it 45 minutes had flown by and our flight was almost coming to an end. Luckily the winds were working in our favor today, saving the best low pass-by through a valley of rock formations for last. First, we spun in a near 360 degree turn around the fairy chimneys providing us with an absolutely spectacular full panoramic view. With the rock pinnacles so close you could almost transport yourself back in time and imagine what it was like to live amongst the cave dwellers. Then, we lowered our altitude even further and maneuvered a close (but safe) fly-by in a valley of rock pillars. 
The end of our flight rapidly approaching, Halis mapped out a landing platform with the ground crew in a nearby crop field.  He reminded us of our landing procedures and asked us to hold on as he gently positioned the basket over and onto the back of a truck bed in one quick movement.  Our landing went off without a hitch and we were once again back on solid ground.  
The staff quickly set up a celebratory champagne (and sparkling juice) table to commemorate our flight for the morning and after popping the bubbly awarded each of us attendees with a certificate of completion. 
Before long, it was time to board the shuttle buses and return to our hotel. Although it wasn't yet 9:00am it felt like we had a full day's worth of memories already behind us. Our Cappadocia hot air balloon ride was an an incredible first flight experience and one I can't think of a better location to enjoy it in. 
Before You Go: Balloon Flight Safety
As with any other mode of transport, hot air balloons have had their share of crashes and mishaps in the past. For Cappadocia hot air balloon flights in particular safety should be of high concern as there are up to 120 balloons in the airspace on any given day.
We were really pleased when researching hot air balloon companies with the reviews and stellar safety record of Voyager Balloons. While there are an overwhelming number of balloon companies to choose from, it made sense for us to go with one that had a demonstrated safety track record. And they proved it from our initial briefing through to our perfect landing and disembarkment at the end of the flight, while consistently demonstrating the highest concern for the passengers' well-being. We also felt in reliable hands with Voyager being licensed by the Civil Aviation Authority and all pilots holding full commercial pilot licenses.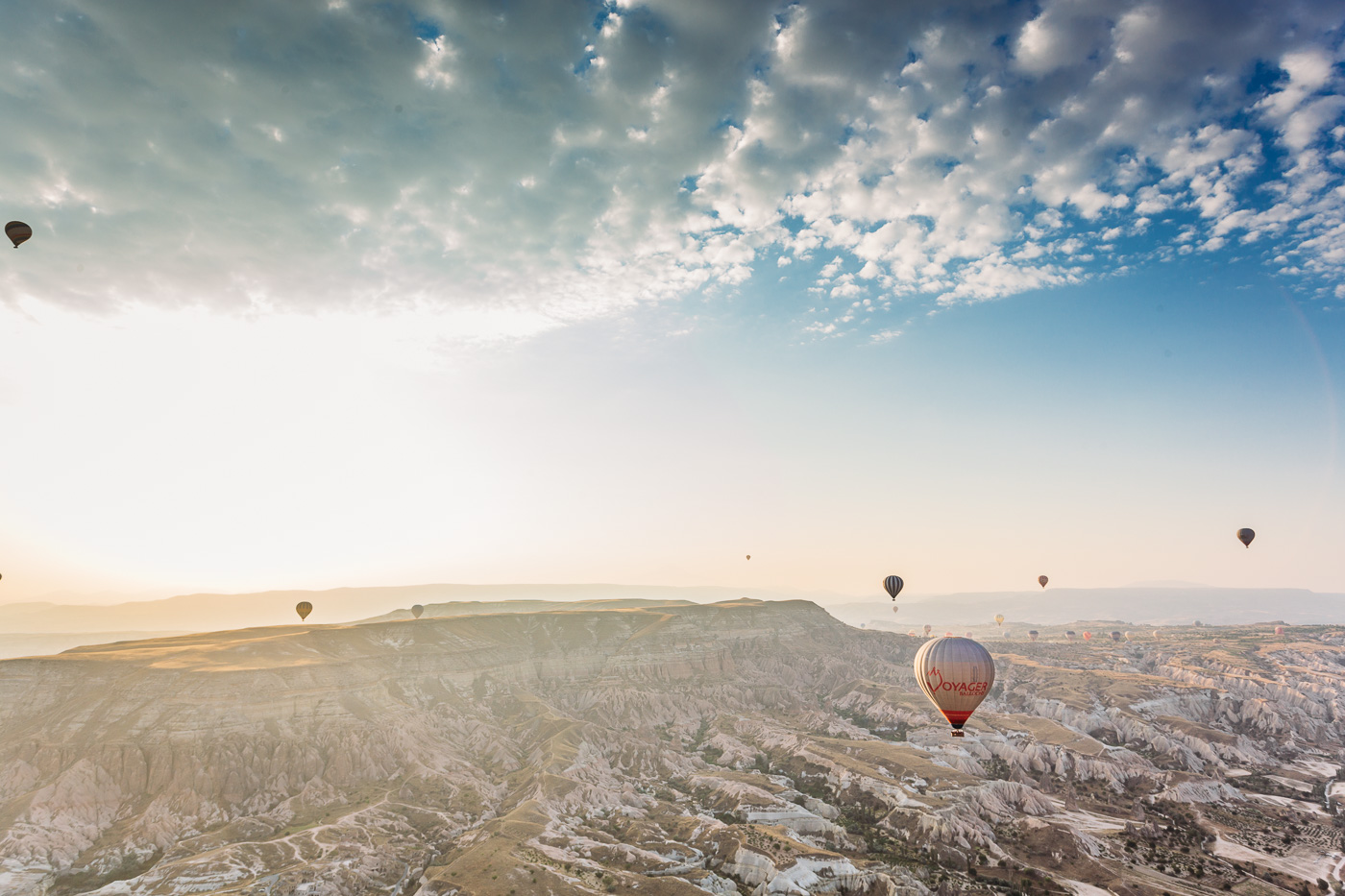 If You Go: Excursion Logistics
What: A hot air balloon ride is likely to be the highlight of any visit to the Cappadocia region. A flight lasts around 60 minutes taking off at sunrise. Flight packages will typically include shuttle transfer to and from your hotel, an early morning breakfast and post flight celebration returning you around 9am. Voyager Balloons offers three different flight packages to suit varying budgets and comfort levels. 
Where: Cappadocia region, Turkey; Hot air balloon companies will pick guests up from their hotels in the towns of Urgup, Goreme and Uchisar. For accommodations, we stayed at Esbelli Evi, a stunningly charming cave hotel on the outskirts of Urgup. 
When: Hot air balloons fly year round in Cappadocia weather permitting, including when there is snow covering the ground and warm jackets, hats and gloves are needed. Therefore the best time of year to visit depends on personal preference. While we visited during high season, we loved the clear blue skies and vibrant sunrise we experienced during September. Layers were needed for early morning but once in the sky following the warm air pockets we were quite comfortable and even took off our jackets.
Since flying is weather dependent plan on spending several days in Cappadocia and having a backup day to fly in case poor weather cancels your flight. If grounded due to weather, the good balloon companies will offer to reschedule your flight so it's no loss to you.
How: Cappadocia is well served by flight and bus from many Turkish towns and cities. There are direct buses from Istanbul (10-12 hours), Pammukkale (12 hours) and Antalya. We had pretty good experiences with Kamil Koc for longer distance rides during our time in Turkey. Flights are faster (1 hour 15 minutes) and inexpensive if you book in advance. Beware that many budget airlines including Pegasus leave from Sabiha Gökçen Airport (SAW) about an hour and a half outside of Istanbul. Flights will fly into either the Nevşehir-Kapadokya Airport (NEV) or Kayseri's Erkilet Airport (ASR).
Cost: As far as adventure activities go, hot air balloon rides are up there in terms of price for length of activity. For 60-90 minutes of flight, a standard ride will cost around $180USD per person in a basket holding a maximum of 28 people (though more typically 20 people per basket). Despite the price we definitely both agree this once-in-a-lifetime experience is a worthy splurge if you can make it work with your budget.
Cappadocia Hot Air Balloon Ride Logistics
The Cappadocia Hot Air Balloon Flight was provided by Voyager Balloons (+90 384 271 3030, fly@voyagerballoons.com, www.voyagerballoons.com). Hour-long sunrise balloon ride packages start at $180 USD (160 Euro). Contact M. Halis Aydogan to learn more about standard, comfort and deluxe flights during your visit to Cappadocia.  
Have you ever gone hot air ballooning? Let us know what's on your flight bucket list?