Bogota by Bike
Unpolished. Energetic. Entrepreneurial.
A city on the rise and yet still entrenched in its past struggles.  Today we had the opportunity to experience the real Bogota while riding bikes through its chaotic streets.
For several days now, we've stuck to the (relatively) well worn tourist streets of Bogota's historic La Candelaria district.  So we were excited about the opportunity to venture out by bike to some lesser known (to tourists) neighborhoods to get a bit of a taste for life in Bogota.

Plaza de Bolivar 
We started with a bit of chaotic riding amongst cars, motorcycles and pedestrians through La Candelaria to arrive at Bolivar Square.
Here thousands of teachers from around the country had gathered to protest low-wages and unfair compensation structure after three months of persistent strikes.
Plaza de Bolivar is an ideal spot to hold a protest as it is home to the Palace of Justice, the National Capitol and Bogota's mayor and has seen its share of revolutions and riots in the last 100 years.
Mercardo de Paloquemao
After winding through parts of the financial and industrial districts, we ended up at Bogota's second largest mercado where we had the opportunity to try more than ten unique Colombian fruits.
Among them were granadilla, lulo, pitahaya, borojo, guayaba, pitahaya, and zapote.
Guanabana was our favorite.
Grafiteros 
Throughout the day we stopped to admire street graffiti.
Street art is prevalent throughout La Candelaria and along the main stretchs of Calle 26 leading to the airport.  So we were surprised to learn that it is a relatively new to the city.  Most of which has been installed within the last 5 years.
Much of the street art has cultural and political significance.  One of the more recent works depicts the riots of agricultural workers in 2013 when 200,000 farmers, truckers and miners blocked all roads in and out of several major Colombian cities.  What started as peaceful protest for farmers' rights related to not using genetically modified seed (engineered by Monsanto as a part of US-Colombian free trade) quickly escalated into a serious standoff between military troops and civilians.
In a second mural, the grafiteros depicted Hacienda Napoles, one of drug lord Pablo Escobar's large country estates, where he created his own fantasy land complete with a herd of concrete dinosaurs, a bullfighting ring and private zoo including four hippos.  In this painting the hippo symbolically represents Colombia's drug trafficking and the rat represents the government feeding hippo or the drug trade.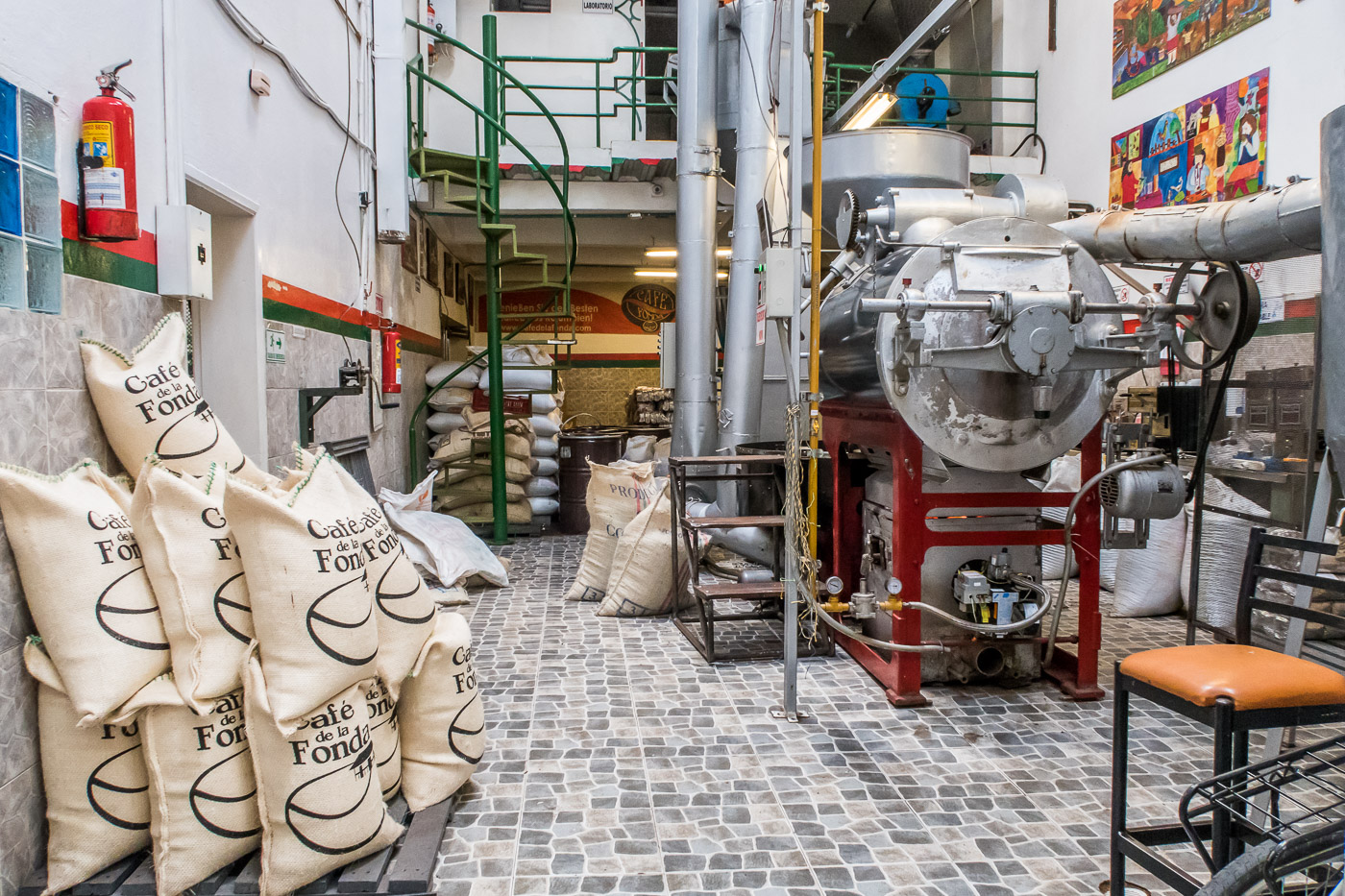 Colombian Coffee
While we didn't make it to an official coffee plantation while in Colombia, we had the opportunity to stop at one of Bogots'd oldest coffee roasters, Cafe de la Fonda, to observe the roasting process and enjoy a cup of joe.
Tejo & Cervezas
On our last stop we walked through an unassuming coffee shop to a large enclosed sporting area where suddenly and unexpectedly a loud explosive noise filled the room.  The explosion was followed by cheers and clinks of beer bottles.
Welcome to tejo, the Colombian sport of throwing rocks at gunpowder.
Tejo involves throwing pucks from a distance of 50 feet towards a metal tube surrounded by mud and small triangles of gunpowder sacks (called mechas). When the puck hits the gunpowder sacks it causes a loud explosion.  For every explosion you get a point.
As newbies, we mostly saw our tejos richocheting all over the place.  Turns out it is much harder than it looks.
Breakdown
Cost: 35,000COP per person ($14.30)
Duration: 4 hours
Distance: 19 km
Office Location: Bogota Bike Tours, Carrera 3 # 12-72, La Candelaria, Bogotá, Cundinamarca, Colombia
Activity Level: Moderate (not very physically demanding but a bit of an adrenalin rush for having to swerve in and out of traffic and pedestrians)