For a self-guided excursion on Isla Santa Cruz, Bahia Tortuga (Tortuga Bay Beach) was an awesome and economical way to spend a day. To add to its allure, this pristine beach was nearly empty making it feel at times as though we had the place to ourselves.
To get to Tortuga Bay, we walked from the main road (Charles Darwin Ave) to Charles Binford and followed this northwest until the road ends and the foot path begins. After a steep ascent to the visitors center, we had to sign our names and passport numbers in at their office before hitting the trail. (This is required of all areas in the Galapagos where visitation is allowed without a naturalist guide.)
Then we started off on a 1.5 mile stone paved footpath through a forest of cacti, matasarno trees and palo santo trees. Our 25 minute walk in the hot mid-day sun was soon rewarded with our first views of the beautiful stretch of secluded beach.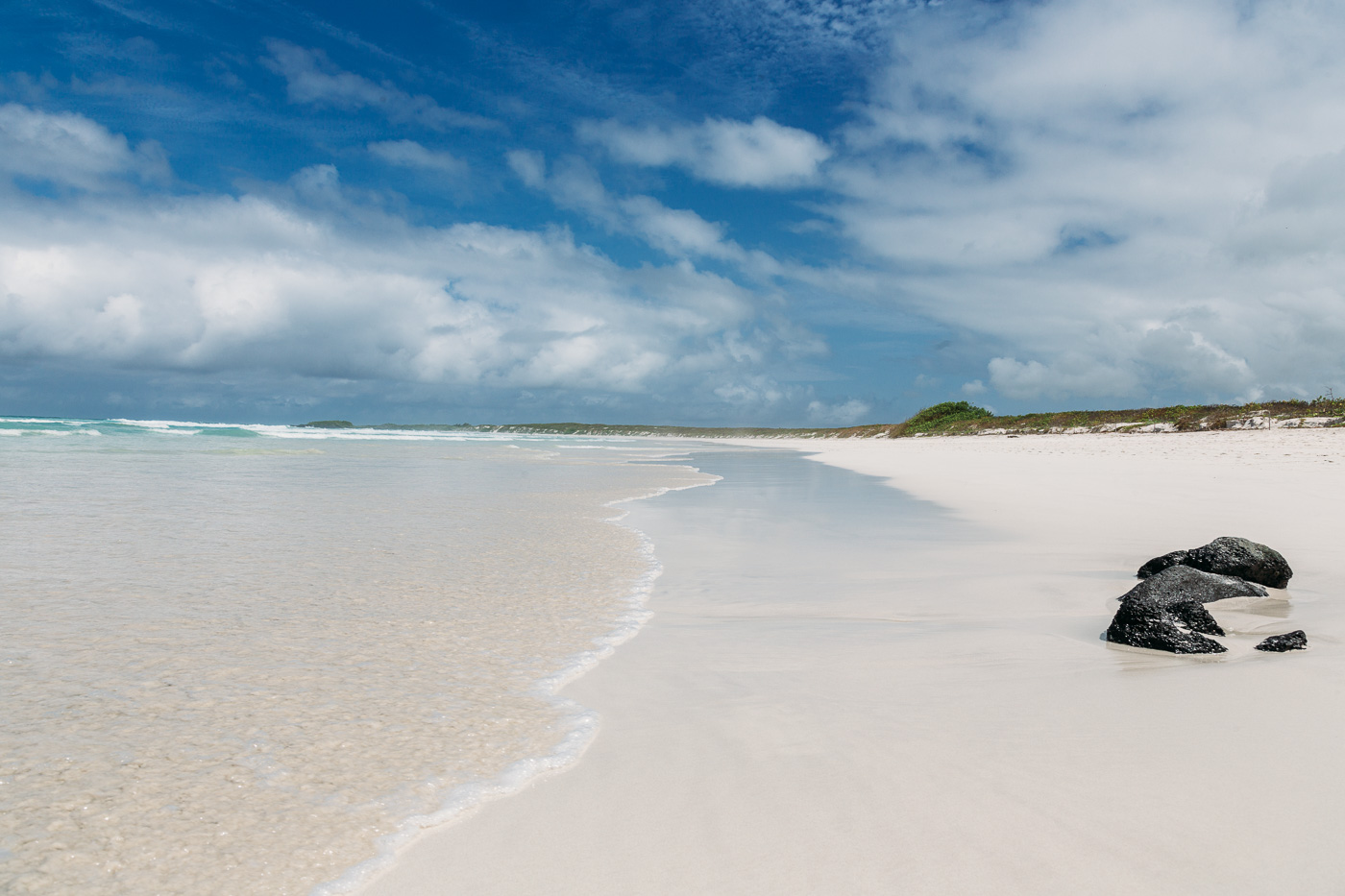 STUNNING BEACHES
We'd read reviews on Trip Advisor boasting that Tortuga Bay's first beach is one of the prettiest in the world. Despite having high expectations, the it did not disappoint. This soft, white sandy stretch along Santa Cruz's southern coast makes a gradual descent into the Pacific ocean creating a beautiful aqua marine color against the sets of rolling waves.
We were forewarned at the office not to swim or snorkel at this first beach due to some unruly currents which have been known to thrash tourists around. So instead we enjoyed the view of the waves from the sand.
KAYAKS & TURTLE SPOTTING

After walking another 15 minutes to the end of the first beach, we reached the second beach which was better for swimming and snorkeling. This second beach was quite different in look and feel, tucked away in a mangrove forest with two peninsulas flanking either side.
After some lazying around in the warm waters and snorkeling practice, we rented a kayak for $20 for 1.5 hours and set out to see if we could spot the sea turtles, rays and white tip sharks. Unfortunately the weather started to turn on us, making the water choppy and reducing our visibility. Consequently we didn't see any of the larger marine animals along the coves although we did get to swim with some brilliantly colored reef fish.
IGUANA FOREST

On our walk back, we stopped at the iguana forest to lazy around with the large marine iguanas who were drying themselves on shore. They were so relaxed around people we could get quite close to them without so much as a turn of their heads.
TURTLE BREEDING CENTER ("Fausto Llerena")

Upon return to Puerto Ayora, disappointed that we were unsuccessful in our kayak adventure to see marine turtles, we decided we walk to the other side of town to visit the Santa Cruz's turtle breeding center (Centro de Crianza "Fausto Llerena").
Another 20 minute walk east to the end of Charles Darwin Avenue, we arrived at the breeding center. The information center was closed by the time we arrived but we could still walk past the various corrals where the baby turtles were being incubated and reared. The breeding centers exist to help repopulate various species of turtles who have been impacted by overexploitation for meat as well as the introduction of non-native predators such as dogs, rats and pigs to the islands. They are held at the breeding center up until the age of five at which time they are repatriated to their native habitats.
The breeding center is also home to Galapagos giant tortoises, the world's largest living tortoises. These tortoises live on average more than 100 years. We observed one famous tortoise, Super Diego, in action; he is known for trying to mate all the time, even when it is not high breeding season.
Seeing these slow, tranquil, fascinating creatures was a great way to end a relaxing and cheap day on Santa Cruz.
---
DAY TRIP LOGISTICS
Departure point: Puerto Ayora, Isla Santa Cruz / Galapagos Islands, Ecuador
Departure time: Whenever you feel like it, but check on tide schedules as the beach dramatically disappears during high tide making it more difficult to enjoy the beach or see the marine life
Duration: Bahia Tortuga is a half day excursion, the Turtle Breeding Center takes 1-2 hours
Hiking distance: Bahia Tortuga is 3 miles round trip, Turtle Breeding Center is a 15 minute walk from the main port
Cost: Tortuga Bay Beach and the Turtle Breeding Center are free; kayak rental costs $20 for 1-1.5 hours and snorkel gear rental (if not negotiated with another trip) costs $5 per person
TIPS & TRICKS
Apply bug repellent before you leave your hotel. The bugs weren't too bad during the hike but once we hit the beach we were constantly swatting horse flys away. They especially love to nip at you once you've emerged from the water after snorkeling or swimming.
Bring everything you need for the day – including snacks, sunscreen and lots of water. There are no amenities or kiosks at the beach.
Ask around for high and low-tide schedules. We got a later than usual start since we needed to spend the morning accessing internet for work so arrived at Tortuga Bay's first beach around 11am. Had we know the tide schedule we would have tried to arrive even earlier as the beach had all but disappeared by the time we left around 3:00pm.
Negotiate free snorkel gear rental as a part of other day trip excursion packages. We got ours free thanks to our booking to Isla Seymour Norte.
Rent a kayak while the tides are lower. By the time we set off with our kayak the waves were much stronger and the sky was clouding over making it more difficult to see sharks, turtles and manta rays swimming below.