This is what we had been waiting for!
In the five years that Adam and I have known each other we have always talked about traveling to Peru and hiking to Machu Picchu. It had been at the top of our bucket list for so long it felt surreal to finally be embarking on this adventure together.
Salkantay Trek
Not having booked our tickets far enough in advance, the option to hike the actual Inca trail was out of the question. (Apparently tickets for this trek sell out six months in advance!) However, we think it worked out for the best as we enjoyed absolutely stunning scenery in almost complete solitude on the Salkantay trail and got to spend 5 days with an amazing cast of characters from around the world – Victoria & Martin from England, Kirsten & Piers from South Africa, Chelsea & Logan from Germany/Australia, and Wilson, our Peruvian trekking guide.
The Salkantay trek follows along the Vilcabamba mountain range, passing through dramatically varied landscapes from the glacial ice and snow fields of Salkantay ("Savage Mountain") to jungly cloud forests to the rocky Incan trails leading to Machu Picchu. Here's a taste of our five day adventure: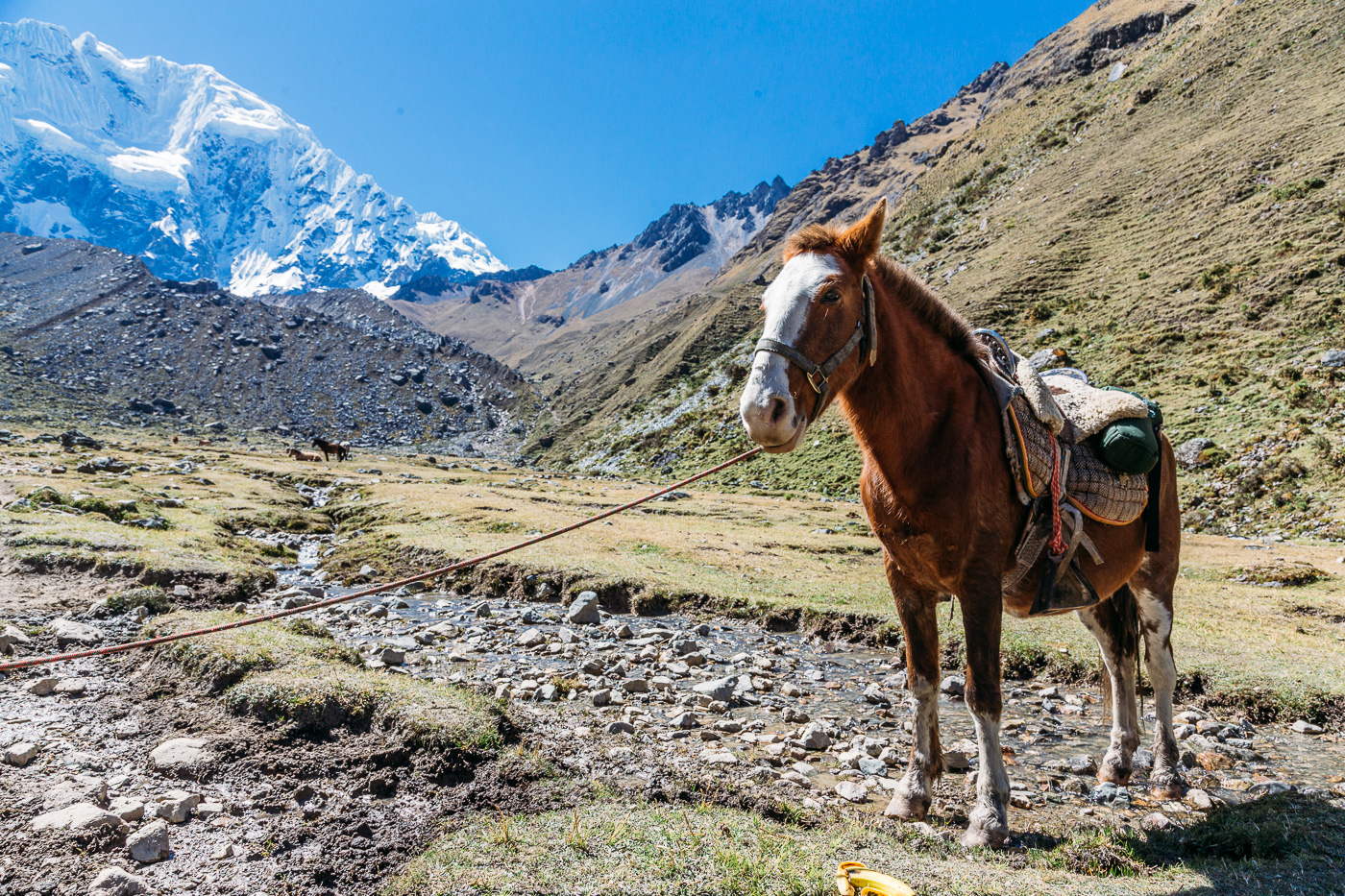 Salkantay Trek Day 1 Highlights
Itinerary: Soraypampa > Salkantay Pampa > Salkantay Pass > Huayracmachay
Walking distance: 15 kilometers / 9 miles
Elevation gain: 850 meters / 2,789 feet
Elevation loss: 850 meters / 2,789 feet
Camping site elevation:3,800 meters / 12,467 feet
Our first day of the trek was probably our favorite in terms of scenery, aside from actually visiting Machu Picchu.
We started very early (we were picked up from our hotel at 4:30am) where we drove for three hours to our starting point at Soraypampa. From here we hiked up and over the Salkantay pass, gaining and then losing 850 meters in elevation. At this altitude the hiking was slow going but at the top we were rewarded with absolutely spectacular views of the Salkantay (6,215 meters) and Humantay (5,900 meters) mountains. Wilson, our guide, led us in a special ceremonial offering to the Pachamama at the top of the pass with the cracking of avalanches from the Salkantay glacial peak in the background.
Descending into camp that first night, the flog hung heavy over a field of boulders making the landscape majestic and eery at the same time. The wind picked up and it was a chilly -10 C at our campsite by dinner time. We were thankful to enjoy dinner, prepared for us by our wonderful chef Donato, from the comfort of a dining tent. After dinner, much to our surprise, the fog had lifted and Wilson was able to point out a handful of southern hemisphere constellations before we all retired to bed.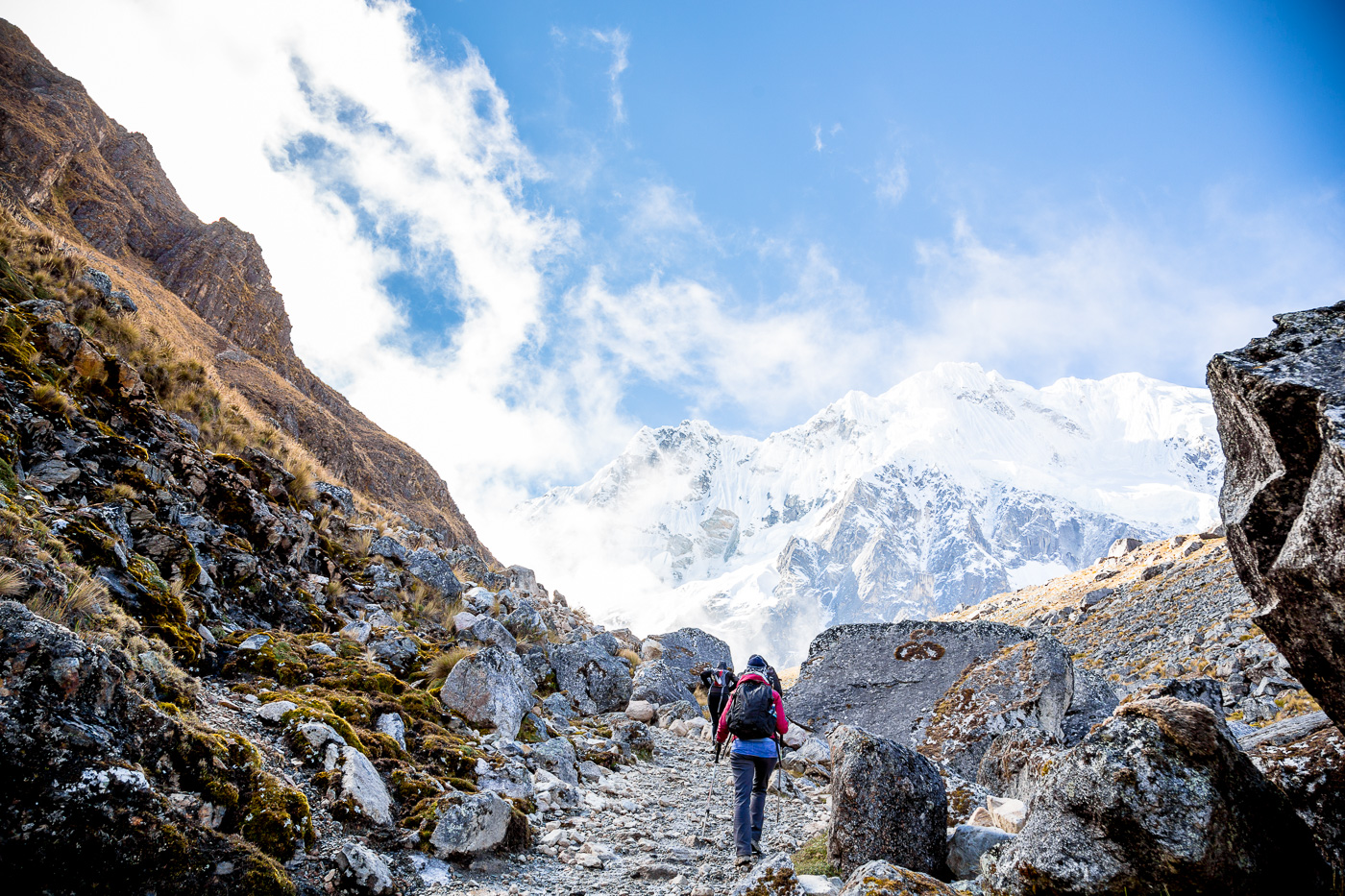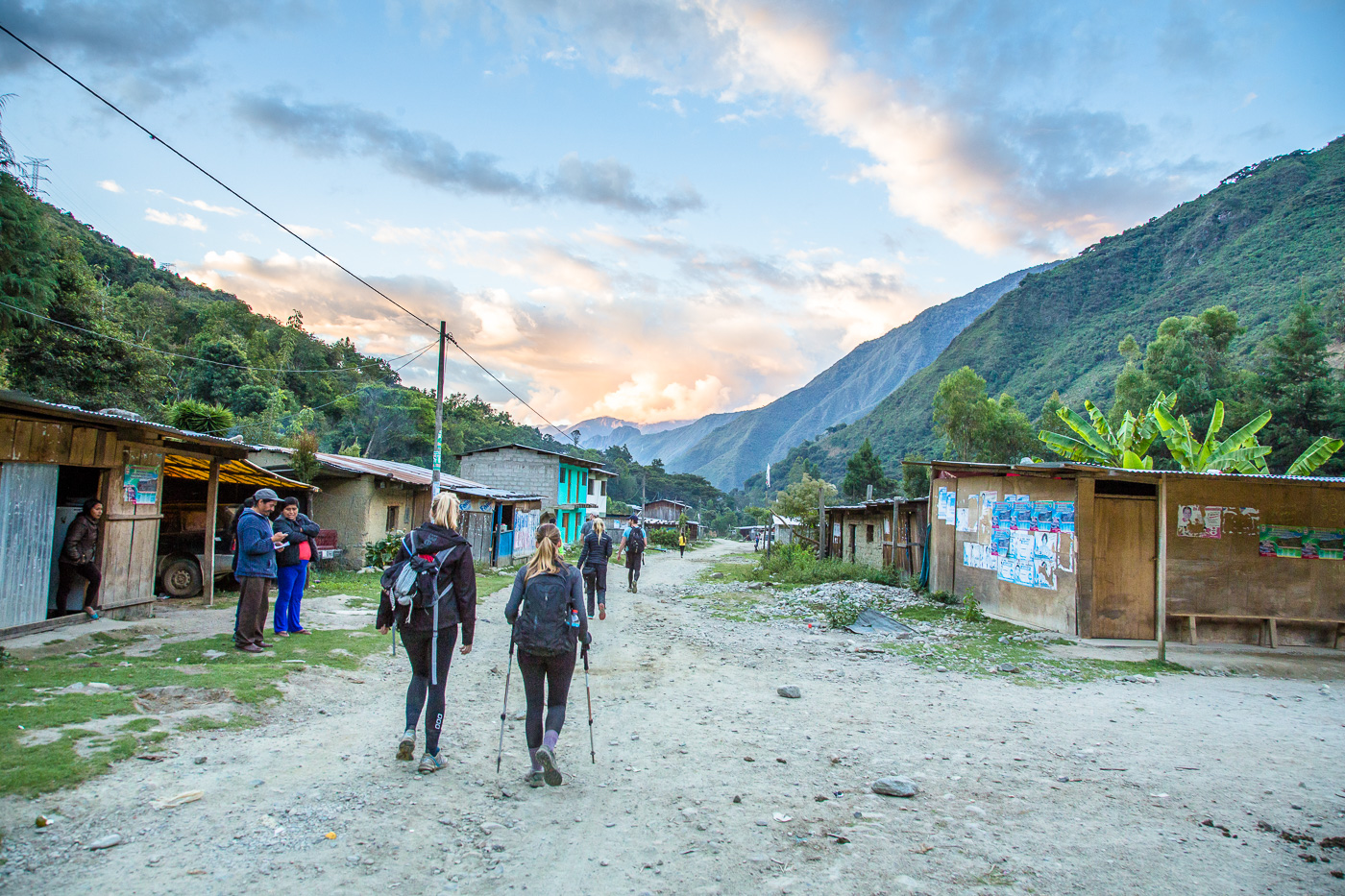 Salkantay Trek Day 2 Highlights
Itinerary: Wayracmachay > Chaullay > Colpapampa > La Playa
Walking distance: 22 kilometers / 14 miles
Elevation loss: 1,400 meters / 4,593 feet
Campsite elevation: 2,200 meters / 7,217 feet
The most memorable thing about Day #2 was that it was LONG (and somewhat miserable for Adam). Having really strained his IT band during our Colca Canyon trek, downhill walking was very painful on his right knee. So a full 22-kilometer, 9+ hour day of downhill switchbacks was grueling to say the least. I'm really proud of him for suffering through the entirety of Day 2.
By the time we reached lunch at Colpapampa, the weather had warmed considerably and we were able to shed layers of clothes down to short sleeves. For most of the day we walked through lush green jungle environs with an array of beautiful flora and fauna (which Adam didn't like to photograph). The scenery was nice but stressed about Adam's knee we were excited when we finally arrived at our campsite at La Playa dirty, stinky and tired. We were thrilled to have Day 2 in the books! 
Salkantay Trek Day 3 Highlights
Itinerary: La Playa > Lucamabamba Coffee Farm > Inca Trail > Llactapata > Llactapata Mirador
Walking distance: 12 kilometers / 7.5 miles
Elevation gain: 400 meters / 1,312 feet
Campsite elevation: 2,700 meters / 8,758 feet
Day 3 was memorable because it was the first time we got to lay eyes on the majestic Machu Picchu (from afar).
The first half of our day was spent climbing uphill to get us up and over a mountain. For this we followed an original Incan trail. If there is one thing we were certain about after Day 3, it was that the Incans were incredibly fit people. Their trails seemed to have been made for madmen and marathon runners with little concern for convenience. Luckily our uphill climb was broken up by stops at an organic coffee farm and waterfall.
Once at the top of the mountain, it was a short walk downhill to Llactapata, a lesser visited Incan ruins site. Breaking through the thick canopied forest to the clearing where Llactapata sits suddenly we could see across the Santa Teresa valley below to the mountains upon which Machu Picchu sits. Flanking either side of Machu Pichu were Wayna Picchu (Huaynapichu) (which we would be climbing our last day) and Machu Picchu Mountain. We were rewarded with this breathtaking view for more than an hour as we laid on the grass in front of Llactapata and listened to Wilson tell us about the history of the Incan empire.
From Llactapata, we walked another 30 minutes to our (almost empty) and perfectly picturesque campsite which had equally stunning views of the Machu Picchu ruins. Our tents were already set up for us in a row facing the valley and mules grazed nearby. We arrived early afternoon and had the rest of the day to kick back in our tents with cold beers and sodas, play cards and enjoy our private view across the Santa Teresa valley of the lost Incan city. For dinner, Donato even treated us with a cake, which he baked in his makeshift campsite tent. It was the perfect end to the day.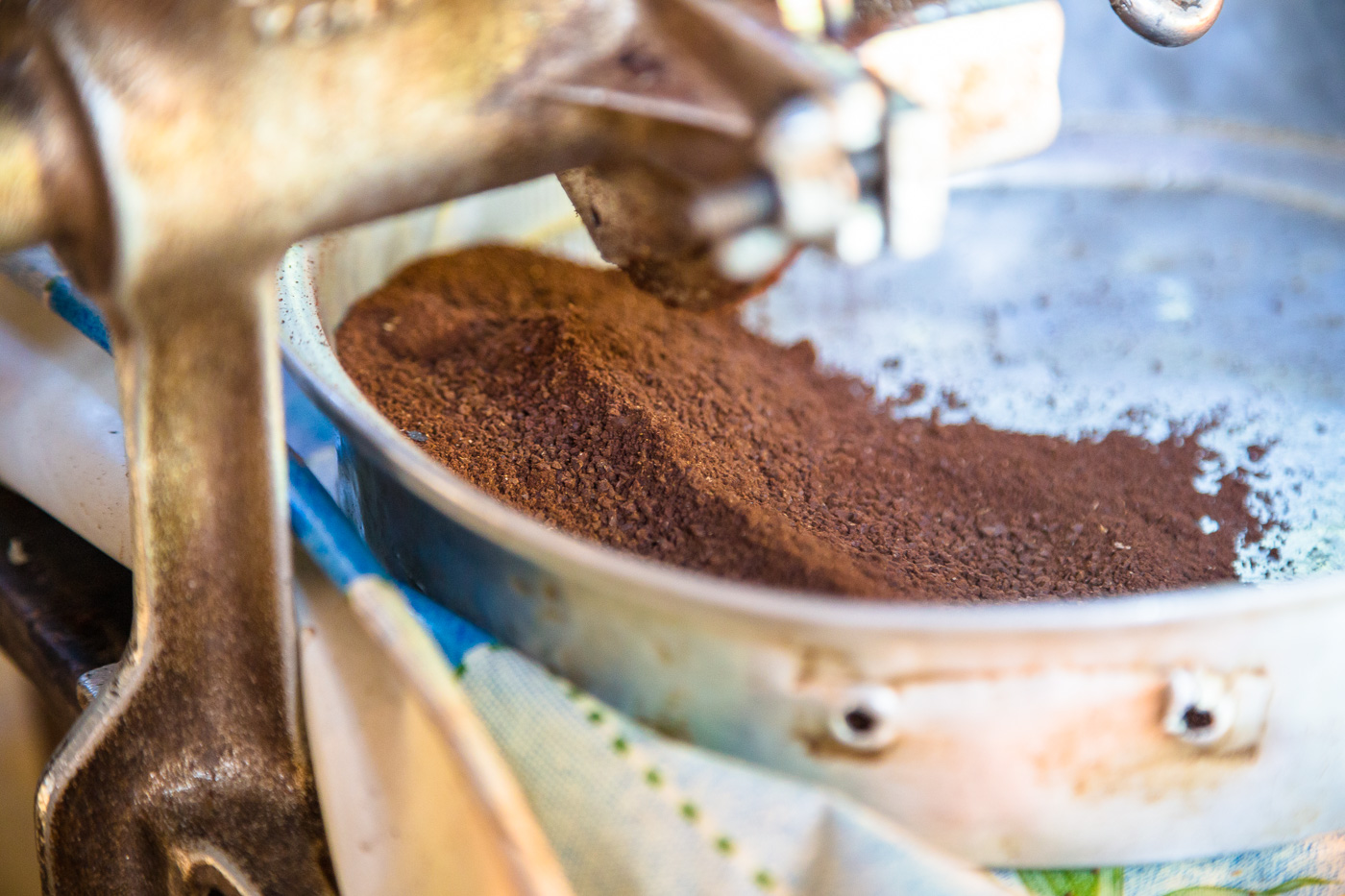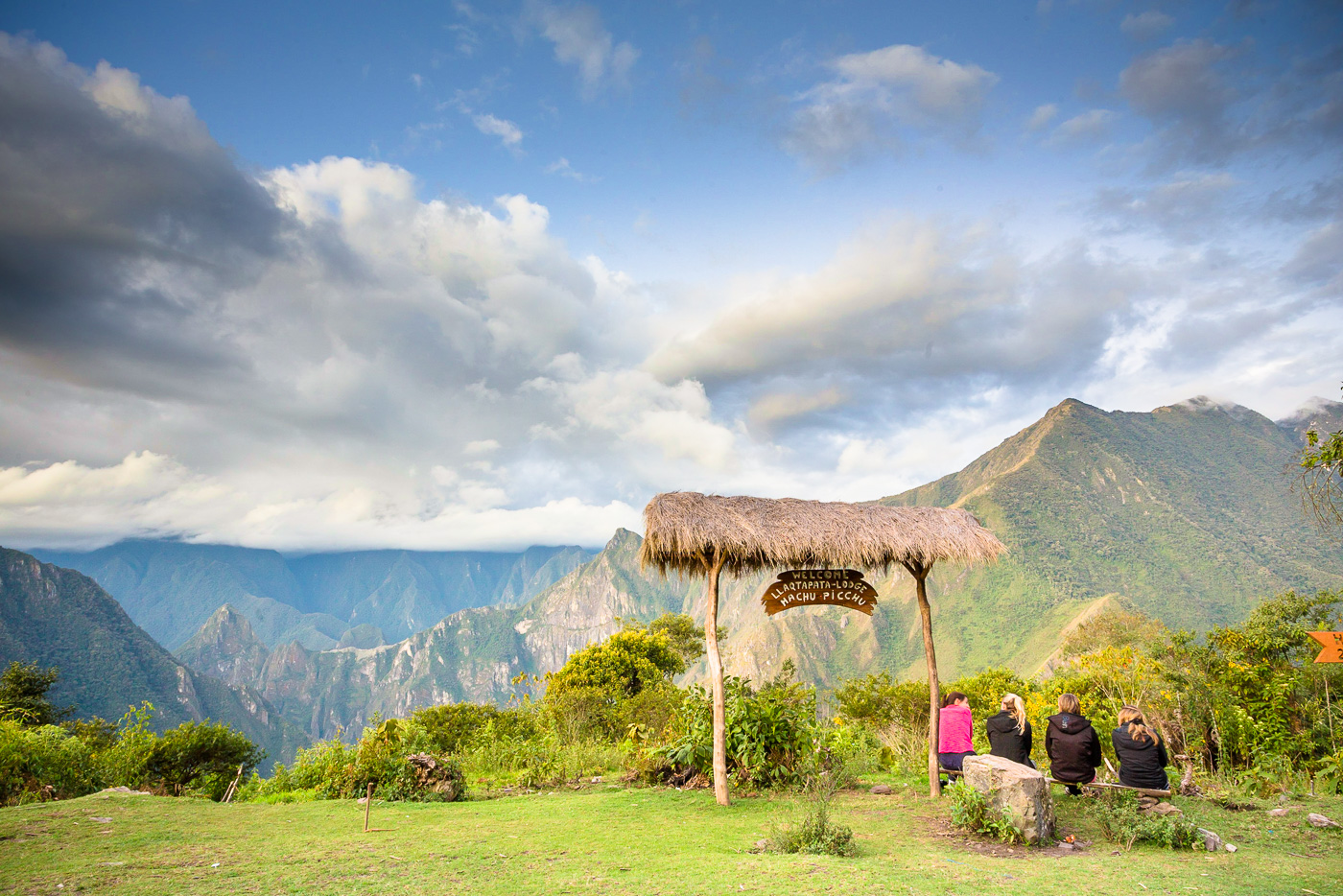 Salkantay Trek Day 4 Highlights
Itinerary: Llactapata Mirador > Hidroelectrica > Aguas Calientes
Walking distance: 15 kilometers / 9 miles
Elevation loss: 700 meters / 2,297 feet
Hotel elevation: 2,000 meters / 6,560 feet
Our fourth and final day of hiking before arriving at Machu Picchu felt like a bit of a tease. Having slept across the valley from Machu Picchu the night before, we were so eager to finally be at our destination. However we had another five-six hours of hiking first including several hours downhill to get us to the bottom of the valley.
Once down the valley we arrived at the hydroelectric station, which generates electricity for the entire Cusco region. From here we walked along the railroad tracks to Aguas Calientes for what seemed like an eternity (but was really only three hours).
Walking up to Aguas Calientes was a bit of a shock back to reality. After three and a half serene days of just our trekking group and crew, suddenly there were people everywhere. Aguas Calientes was bustling with thousands of tourists and a plethora of restaurants, hotels and knick-knack shops to cater to them.
We checked into our hotel and enjoyed a long hot (and much needed) shower and an episode of How I Met Your Mother before putting our smelly, dirty clothes back on for dinner in town. It was after dinner that we also said goodbye to our Green Machine trekking crew. Despite the somewhat awkward mandated tipping ceremony, we were so grateful for the amazing team of young men who journeyed Salkantay with us and made our lives easy and comfortable, especially Lionel and Donato.
We finished off the night with some Cusequeno beers and a couple of rounds of Shit Head (card game) before retiring to bed for an early morning at Machu Picchu! 
Salkantay Trek Day 5 Highlights – Finally to Machu Picchu
After having spent four days trekking towards Machu Picchu, our final destination was finally within reach. We awoke early (though not as early as Wilson who graciously got up even earlier to stand in line for us) to catch a 30 minute bus ride up to Machu Picchu.
Slowly we made our way through the crowded ticketing area and into the gates of Machu Picchu. Up another sprint of a hill, Wilson led us to the perfect lookout spot to watch the morning sun light up Machu Picchu.
See Adam's stunning Machu Picchu and Wayna Picchu photography.
Four or five short hours later and it was already time to catch the bus back to Aguas Calientes. Here we said our almost final goodbyes to Wilson and enjoyed lunch before boarding the Peru Rail train to Ollantaytambo. We entertained ourselves with a few more rounds of cards before catching the bus from Ollantaytambo to Cusco where we all parted ways with our new group of friends. 
Amazing Trekking Companions
Adam and I both agree our trek to Machu Picchu was made all the more special by the awesome group of people we had the privilege of spending time with over these five days. A huge thank you to Vicky, Martin, Kirsten, Piers, Chelsea, Logan, Wilson and Lionel! We enjoyed all the hours of card games and countless conversations about Australian spandex fashion trends, British comedians and celebrity culture, NHS dental care, home renovation projects, Amazonian wildlife, life in Cape Town, racism in the US and South Africa, the Whit Sundays, Peruvian potatoes, the school system in Germany, the US penal system, Australian mining and nuclear energy probing, teaching English in Vietnam, Africa Burns, and much, much more. You guys rock!