The guidebooks were adamant, you can't visit Arequipa, Peru without making a side-trip to Colca Canyon.  Colca Cayon is one of the world's deepest canyons, twice as deep as the Grand Canyon.
And we have to agree – Colca Canyon and its surrounds are stunning. However the experience of getting there, then hiking into and out of the canyon was a ton of work making our biggest regret not spending an extra day while we were there to relax enjoy the scenery. 
MAGNIFICENT ANDEAN CONDORS

We booked our trip through our rafting company Cusipata. However, as tends to happen in Peru, we were passed off to another tour company Andean Peru who was the actual operator. For this trek we had to pack and carry everything into and out of the canyon with us. So we tried to keep our bags as light as possible (though the over-packer in me struggles with this.)
Our adventure started very early. We were picked up by an already jam-packed bus of travelers at 3:30am. The hope of sleeping on the long 6-hour journey to Colca was shattered by the cold, bumpy and twisty turny ride. Several hours in we stopped for a light continental breakfast before proceeding to La Cruz del Condor (locally known as Chaglla).
A highly touristed site, we were dropped at a large rocky lookout point overflowing with eager tourists hoping to get a glimpse of the fabled Andean condor. We didn't have to wait but five minutes before the first of these magnificent birds started soaring high overhead, gliding in circles with the thermal air currents that rise from the canyon.
With a wingspan of up to 10.5 feet and weighing up to 33 pounds, the Andean condors are among the largest birds in the world able to fly. Due to their size, these vultures rely on the air currents to effortlessly glide rather than fly through the air.
In total our guide said we saw 12 different magnificent condors soaring that morning.
THE LONG DESCENT INTO CANYON DEL COLCA

Our van dropped us at San Miguel Pampas, an all but nonexistent town except for a bathroom lady who was making a slaying off of antsy hikers. Adam and I were joined on the two-day trek by seven others (four Germans, two French and a Canadian. All but the Canadian were long-term travelers so we had fun exchanging stories and tips. We were led by our guide Marisol ("Sol" for short). From the start, Marisol was a no-nonsense kind of guide. She liked to move fast and didn't have the patience to wait for those of us who moved slower.
From our drop point at San Miguel Pampas, we descended from 3,300 meters above sea level to 2,100 meters above sea level using only steep narrow switchbacks on a loose gravel/sand path. Somewhere along the way Adam tweaked the tendons near his right knee, an injury that has sadly slowed him down on all downhill treks since.
It took us three and a half hours to get down the canyon to the bridge and another 45 minutes mostly uphill before we reached our lunch spot at San Juan de Chuccho. The restaurant was set in a charming village with a friendly kiss-loving alpaca. We feasted on a delicious quinoa soup, chicken and rice and replenished our fluids by downing a 2L bottle of water.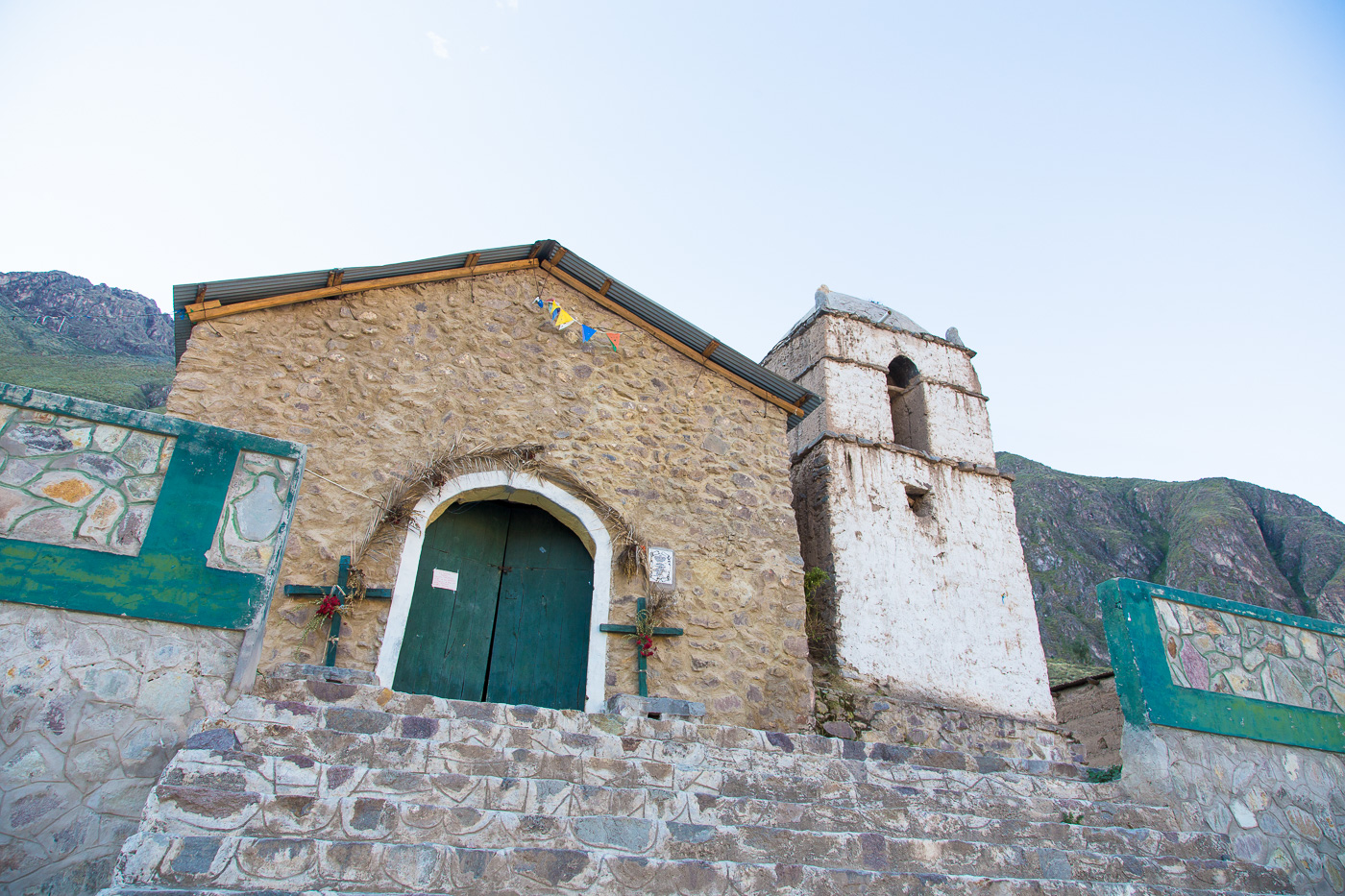 EXPLORING THE CANYON VILLAGES

Refueled and ready for another four to five hours of hiking, we continued to Cosñirhua and Malata, small towns in the valley that were in complete honesty not much to see. Our guide at one point late in the afternoon indicated that there was a short-cut to get us to Sangalle (aka The Oasis), our resting place for the night. In hindsight we all wished we had pressed her to let us take the shortcut as the longer route made us hike halfway out of the canyon again for the sole reward of slightly cheaper water bottles at the top. (Advice to other trekkers – take the shortcut! You can get to Sangalle before dusk and enjoy the swimming pool.)
From this small tienda, it was time to start descending into the deepest part of the canyon to reach Sangalle, a village sitting at 1,900 meters above sea level. By this time Adam had overstressed his knee to the point he was using walking sticks borrowed from our guide Sol as crutches to get him down each switchback. Needless to say it was slow going. We arrived to Sangalle around 5:45pm, just in time for the sun to go down. Unfortunately this meant we missed pool time at our hotel as well as warm solar heated showers. It was a bit of a long wait for dinner at 7:30 before we all crashed in our very basic accommodations for the night to rest up before another early morning.
AN EARLY MORNING HIKE OUT OF THE CANYON

Wake up call was at 4:00am for a 4:30am start to hiking out of the canyon. We had to work for our breakfast this morning by hiking back to 3,900 meters. Sol estimated it would take us 3hours to reach the top and another 30 minutes to get to the town where breakfast was. Unfortunately we weren't instructed to bring headlamps so most of us were walking in the dark up the steep, rocky, winding switchbacks until daylight broke.
It was slow and tiring going, especially for Adam with his throbbing knee, but we made it out without having to call for the donkeys to give us a ride. At the top of the canyon, looking back down at where we had started we felt a huge sense of accomplishment for our morning effort.
At Cabanaconde, we enjoyed a warm breakfast before retiring to the van again for the long ride home.
WORTHWHILE PITSTOPS ON THE RIDE HOME

The stops on our journey home were some of my favorite parts of our two-day trek, including two view points of pre-Inca agricultural terraces (Antahuilque and Maca), a national reserve for South American camelids (including llamas, alpacas and vicuñas) and the Patapampa pass at 4,910 meters above sea level which provided stunning views of the surrounding volcanoes. Our group decided to skip the hot springs at Chivay which would have been an added cost and an extra hour before reaching home.
We were returned to our hostels in Arequipa dirty and tired around 6:00pm at which point we gladly welcomed a shower and an early bedtime. 
---
EXCURSION LOGISTICS

Departure point: Arequipa, Peru
Departure time: 3:30am
Duration: 2 or 3 days (consider the 3 day to make the travel and trek worth it), 22 kilometers (14 miles)
Method of Transport: Tourist van and a lot of trekking
Included: Transport to and from the base of Colca Canyon, two breakfasts, one lunch, one dinner, basic lodging, naturalist guide
Cost: 85 soles per person (includes park entrance fee for Colca Canyon)
TIPS & TRICKS
Consider booking a three day rather than a two day excursion. While we were ultimately fine completing this in two days, the three-day trek follows the same route as the two-day but is more relaxed and allows you time to enjoy the canyon rather than feeling like you have to rush the entire time.
Bring snacks, especially for the second morning hike out of the canyon as breakfast a steep hike away.
Carry enough water to get you to lunch on day one. You can purchase water at several other tiendas throughout the hike. Also be sure to purchase some the night before your trek out of the canyon as there will be nothing available for purchase until breakfast.
Bring a headlamp and warm clothes for the evening when the temperatures drop.
If possible, book your excursion directly through an operator instead of an agency (third-party) so you know exactly what you are getting and who you are going with.
This hike is very do-able without a guide as the trails are well-marked and worn. If you are up for navigating yourself, consider buying a map and catching a local bus out to Colca Canyon and explore at your own pace.