Of all our stops in Peru, Arequipa is the city we could see ourselves getting stuck in for a while. Peru's White City boasts some of the prettiest natural surrounds and wild terrain that we have seen in the country including active volcanoes, high-altitude deserts, roaring rivers and deep canyons. Not to mention the colonial architecture of the city center itself, the laid back Arequipenos, and the authentic Peruvian vibe. We enjoyed our four relaxing days in Arequipa en route to Cusco and Machu Picchu. 
EXPLORING THE WHITE CITY
From the moment we were dropped off at our hostel we could sense the sophistication and charm of Arequipa. The city center is lined with tall colonial buildings constructed using local white volcanic rock (called sillar). Though the city sits in the direct path of destructive earthquakes and volcanic eruptions, creating the need for constant rebuilding and repair, it has managed to maintain a beautiful façade.
We spent the majority of our time wandering around the Plaza de Armas, home to Le Catedral which stretches the full length of the plaza, and nearby Iglesia de la Compania and Iglesia de San Francisco. On our more relaxed days, we'd get lost sitting on park benches watching the locals feed a frenzy of pigeons, eating great food in shady courtyards and sipping delectable chocolate beverages on rooftop balconies while admiring the towering volcanoes El Misti (5,800 meters) and Chachani (6,070 meters).
Due to both laziness and cost, we decided to skip the Monasterio de Santa Catalina and the Museo Sanctuary (home to Juanita, the Ice Maiden) though both were recommended.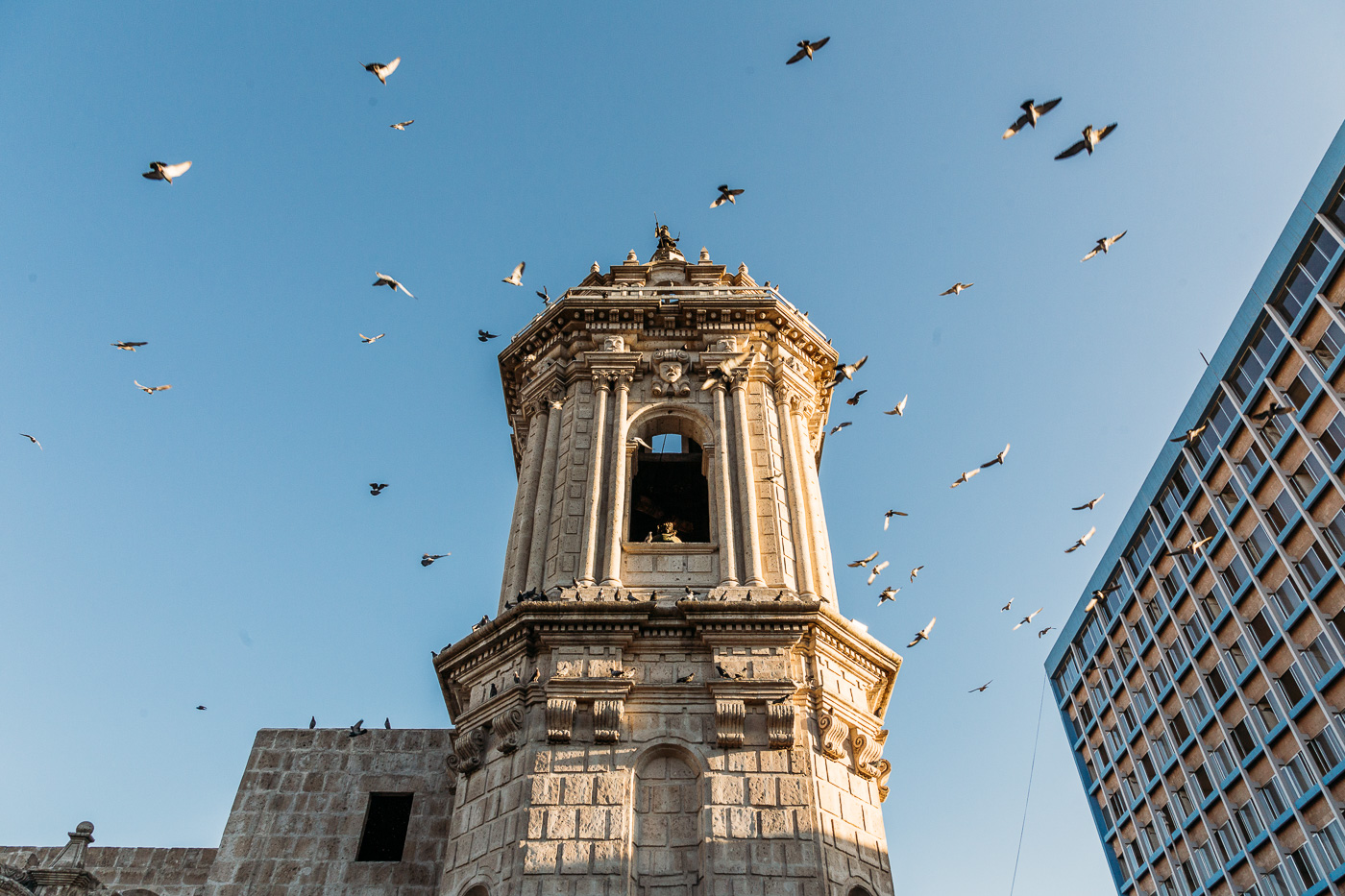 A PERUVIAN COOKING EXPERIENCE
Coming from Ecuador and Cuba, we've been pleasantly impressed with the flavors of the cuisine in Peru. Being the food lovers and eaters that we are we decided to try out a cooking class while in Arequipa, a city that is known next to Lima for excellent eats. We booked with Arequipa's original cooking class, Peruvian Cooking Experience, and added a market tour and pisco sour making experience. Unfortunately I fell ill partway through the market tour so Adam had to manage cooking for the both of us.
The first dish was a potato-based layer cake called Causa Rellena. It involves a mix of colorful filling flavors including sautéed onion, tomato, avocado, parsley, and chicken, all combined in a mayonnaise-based sauce. However, it is the potato that is most important in this dish. In Peru, land of more than 3,000 different varietals of potato, they use papa amarilla, which is a yellow-fleshed potato. The origins of this dish in Peru seem to be contested but in most recent history women were said to have made it (for the cause, aka "causa") for the Peruvian army defending the southern territories against Chilean invasion during the late 1800's.
For the main dish, Adam learned how to make Lomo Saltado, a delicious stir-fry of prime steak or alpaca cuts, peppers, onions, and tomatoes sautéed in vegetable oil. Once cooked, a spash of soy sauce, vinegar and pisco (a locally made fermented grape liquor) were added to create a bit of flame. Most important (for Adam) was the addition of some crispy fried papas frittas to the mix. Despite being an excellent cook already, Adam learned a few tips on flaming the meat. Throughout our time in Peru, lomo saltado remained one of our favorite meals.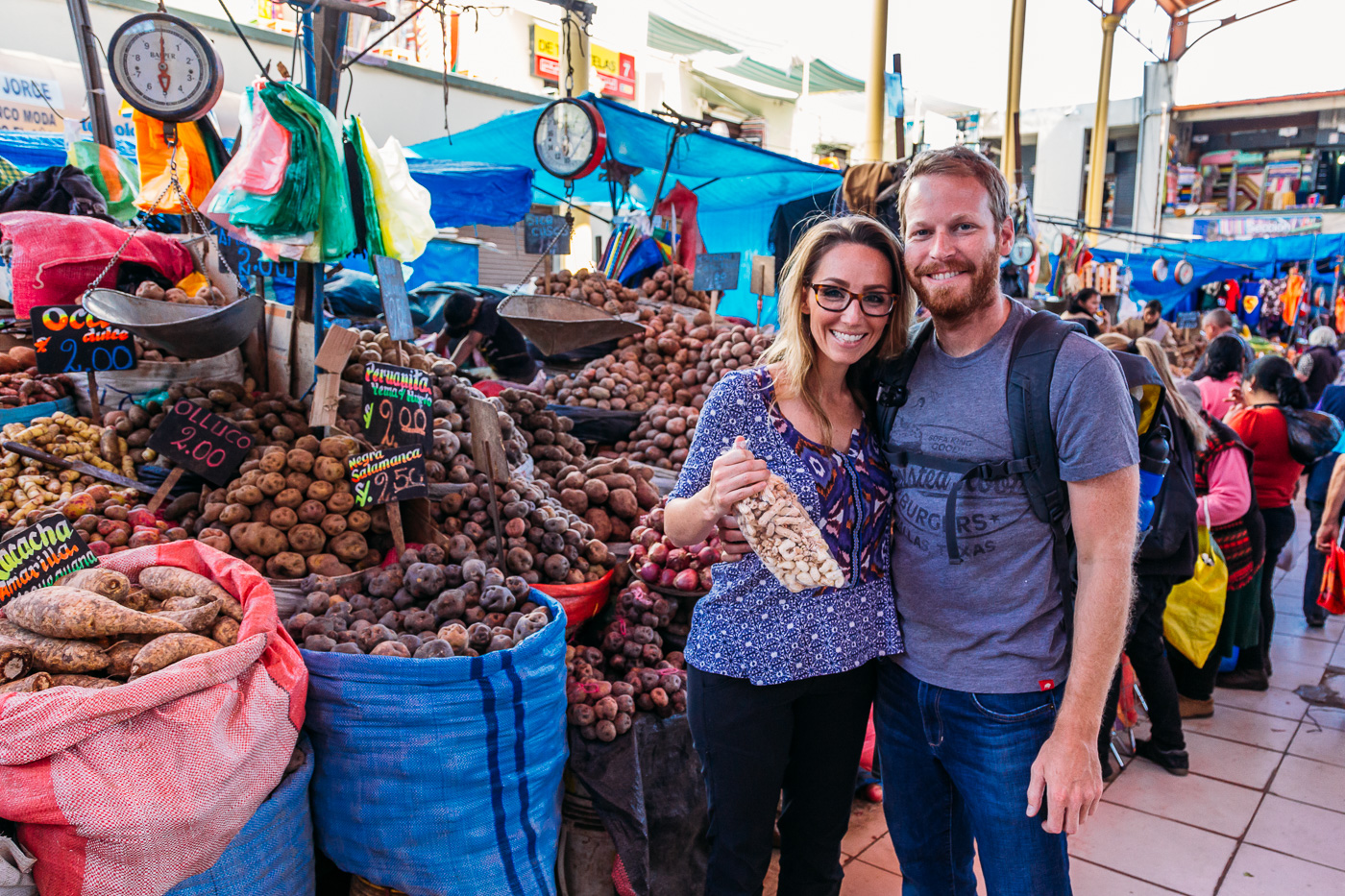 Excursion Logistics
Company: Peruvian Cooking Experience
Departure point: Arequipa, Peru
Class times: 10:00am market tour, 11:00am cooking class
Duration: 3 hours
Included: Guide to the local market, professional chef and chef assistants, appetizer, main dish, desert, drinks, pisco sour
Cost: 90 soles per person for cooking class, market tour and pisco sour making (65 soles if solo cooking tour)
THE RAPIDS OF RIO CHILI
Just a few miles outside of Arequipa's city center, the waters of Rio Chili rage from the runoff of nearby El Misti and Chachani. So we suited up (literally in wetsuits, booties, helmets and life jackets) with local outfitter Cusipata for a couple hour run down the river.
We were joined on our boat by a first-timer from Hong Kong who was so excited about rafting he said he would be booking the same trip again the next day. For the most part we thought the river was tame, excepting a few Class IV rapids. It was a fun two hour excursion putting us back in Arequipa in time for an afternoon stroll and sunset on the plaza.
Excursion Logistics
Tour operator: Cusipata
Departure point: Arequipa, Peru
Departure time: 9am, 11am (recommended for best water temperatures) and 2pm
Duration: 2 hours
Method of transport: Tourist van, rafting
Included: Transport to and from Rio Chili, wetsuits, booties, helmets and life vests, experienced rafting guide, snack
Cost: 60 soles per person 
WORTH A STOPOVER
Whether you are into scaling volcanoes, trekking canyons, rafting white water, or eating delicious cuisine, Arequipa seems to have something for every one and is a city we would highly recommend for a short (or long) stopover.