Pulling up to the dive site after a 3-hour boat ride from Koh Kood, Thailand we are more than ready to suit up and jump in. Below us lies a 117-meter sunken beauty known as the HTMS Chang. On the surface all that marks the point of the wreck are two red rubber buoys which we use to anchor our boat to. But peering over the side into the brilliant blue waters below we can make out the top of the wreck site, a circular platform 1.5 meters (5 feet) in diameter complete with rusty chains and barnacles galore. Around it swim literally thousands of fish, different schools of black and silver, flitting this way and that around their new playground. 
We are the first to arrive to the dive site but rather than rush to jump and descend, in true relaxed Koh Kood Divers fashion, we take our time, some aboard going for a swim first before suiting up. It is the perfect leisurely way to start our low-key day at sea exploring Thailand's largest wreck dive, the HTMS Chang.
Diving the HTMS Chang
As we make our initial descent, rays of mid-morning sun illuminate the water creating shadows and streaks of light leading to the top of the wreck. We use the rope as our guide to reach the crow's nest, the ship's highest platform, then continue to descend to the upper deck of the ship. It is here where we can start to see growth and life. Although the HTMS Chang has only been submerged for three years, most of the ship is now covered over with a thick layer of rust and barnacles. In its smaller enclosed spaces life is flourishing even more; large clams and spiny anemones have taken hold and fish seek refuge. 
While the sight is magnificent from our current vantage point we press on making our way over the length of the entire vessel before pulling back into the deep blue to admire the scene from afar. 
By now other dive boats have arrived so the HTMS Chang is engulfed in a cloud of bubbles as divers explore every penetrable crevice of the ship.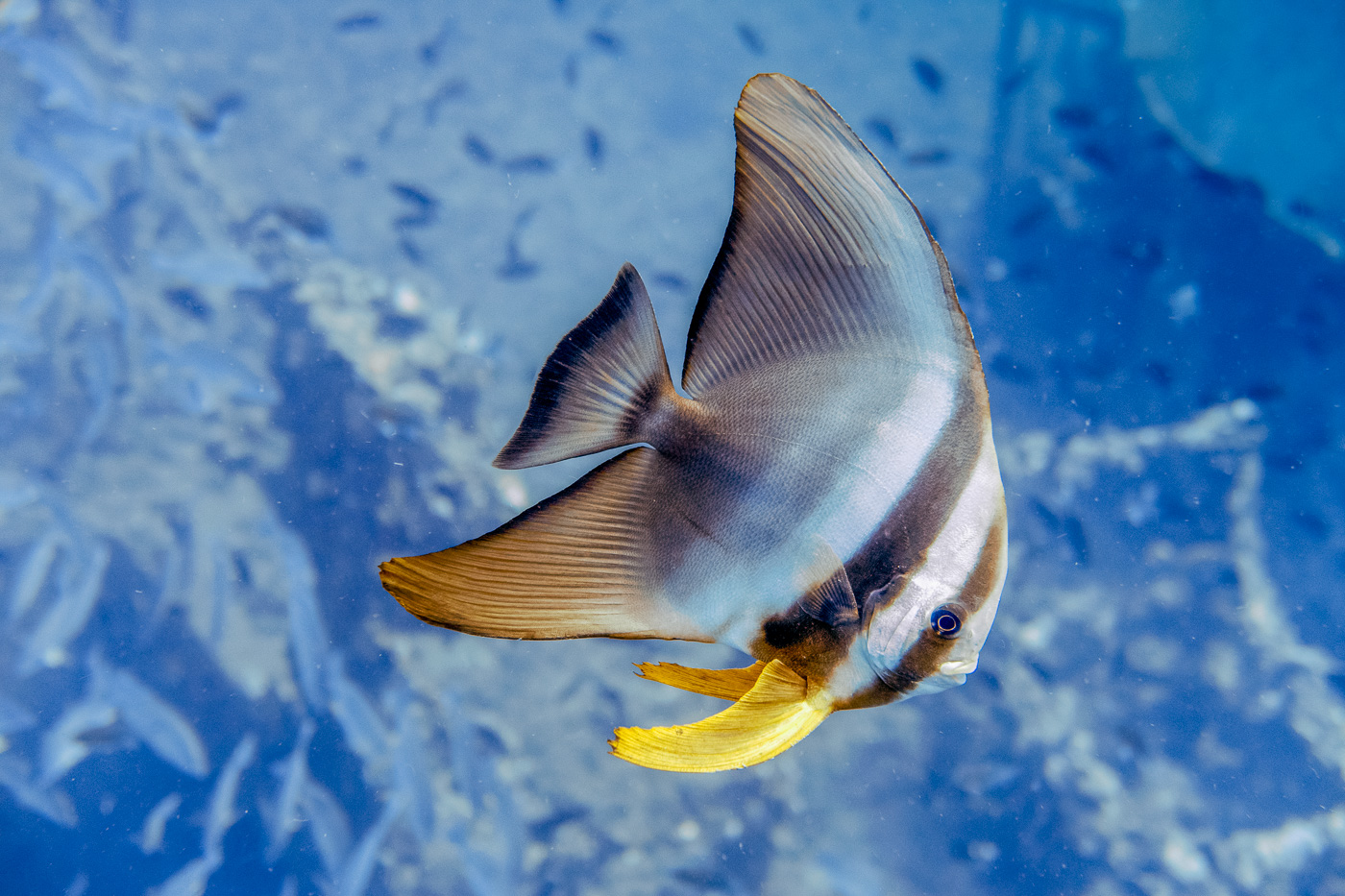 It is here, a little further out from the HTMS Chang, that schools of batfish and small barracudas swim. While the barracudas move together in silent fluidity away from us, the batfish remain. Their disproportionately slender profile is at odds with the rotund size of their black, white and gray striped bodies. They like to stay still, swimming against the currents as they curiously inspect the divers at their home. They quickly become our favorite fish friends on this particular dive. 
Far sooner than I am ready, we are performing our safety stop at the crows nest and returning to the boat for lunch. Lucky for us, we have a chance to visit the site again on our second dive.
Due to the great distance we traveled from Koh Kood to reach the HTMS Chang that morning, the plan was to spend both of our dives at the wreck site. Now familiar with the vessel, the HTMS Chang becomes much more of a playground for our dive group the second time around as we dodge in, through and around its mighty steel structures. A highlight of the second dive for me is ducking into some of the upper level cabins including the Captain's control room which is already overgrown and teeming with sea life. Meanwhile the advanced divers from from our boat go deeper and further into the ship hold's, exploring the pitch black cabin rooms and cargo holds where light barely enters. 
Our only disappointment was feeling like the second dive path was too similar to the first. With how massive the ship is we wish we had gone a bit deeper and been able to explore more sides of the ship than what we did. Regardless, the HTMS Chang was an awesome wreck site to experience while diving in Thailand and offers eager divers something unique and different from the usual reef dives.
About the HTMS Chang
The HTMS Chang was sunk on November 22, 2012 four miles off the coast of Koh Chang, Thailand for the purpose of making an artificial scuba diving reef. At 117 meters long and 15 meters wide (383 feet x 50 feet), it is one of the largest wreck dives in Thailand with 3 main decks and 7 sub decks to be explored for those with advanced certifications and experience.
This former tank landing ship was commissioned by the United States Navy in 1944 for use during World War II. Known as the LTS-898 (USS Lincoln County), she was very active during the war, shuttling supplies and troops between the Philippines and Japan and participating in the Okinawa invasion. The LTS-898 later went on to provide emergency medical equipment during the Korean War and run exercises in the Western Pacific, Alaska and the Arctic.
In 1961, the LTS-898 was turned over to the government of Thailand for service with the Royal Thai Navy. Under her new name, the 712 HTMS Chang, she became a transport vessel for troops and supplies for Thailand for the next 50 years.
In 2012, the Royal Thai Navy, in conjunction with a handful of local Koh Chang dive operators, decided that the HTMS Chang was better served sunken as an artificial reef.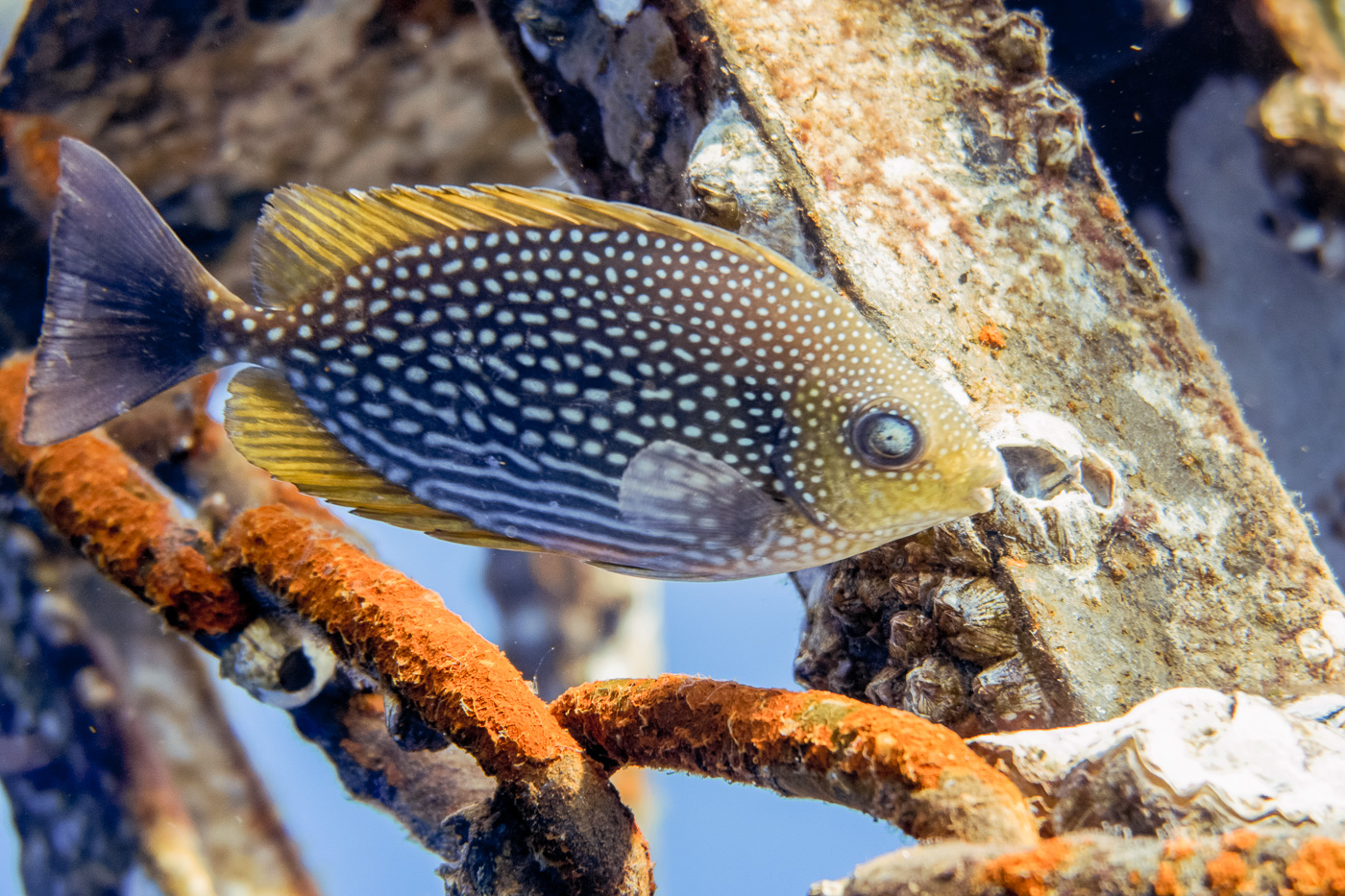 The Makings of an Artificial Reef

As far as artificial reefs go, the HTMS Chang has years before it blossoms into the beauty of some of its older Southeast Asian counterparts (like our personal favorite the USS Liberty Wreck dive in Tulamben, Bali, Indonesia). So don't embark on this dive with the expectation of exploring a well developed coral systems and its accompanying small macro-life. This dive is all about getting to swim in, on and around the massive ship with schools of unrecognizable fish.

Having said that, the wreck site seems to be coming along quickly from when it was sunk only three years ago.  Where once shiny railings were, a thick layer of rust and barnacles have taken hold. We can't wait to see the HTMS Chang in 10 or 20 years time.
Koh Kood Diving
We embarked for the HTMS Chang from the island of Koh Kood, where we were relaxing over the 2015/2016 holidays. Koh Kood is not a destination known for its scuba diving. Though, to be fair, Koh Kood is not known for much of anything.
Somehow this unspoiled paradise has managed to fly below the radar of most Thailand tourists and hold on to its unsullied beaches, flourishing corals and undeveloped charm. Think quaint beachfront bungalows, perfect coves of white sand shaded by rows of palm, calm crystal-clear blue seas, refreshing frozen mango and pineapple shakes and not a beach tout in sight! Koh Kood offers just enough infrastructure and amenities to be comfortable while somehow still being undiscovered enough that you can claim a beach all to yourself for an afternoon. This is exactly why we love Koh Kood and wanted to linger here a bit longer than usual.
And if you are like us, itching to dive at every opportunity, Koh Kood promises to deliver flourishing unspoiled corals and a variety of macro-life, though its reefs are a little light on larger fish life compared to what we've seen at Koh Haa or on our Similan Islands liveaboard in Thailand. It is also a great place to take dive courses as the waters are shallow with little to no current. There are twelve different dive sites around Koh Kood to explore of which we heard Hin Loy is the best.
Three dive operators are based on Koh Kood and offer daily excursions. We choose to go with Koh Kood Divers due to the high praise they received on their Trip Advisor reviews. We enjoyed meeting the Dutch father/son duo, Bill and Jesse, and spending a long day on the boat with the rest of their easy-going, fun team. Koh Kood Divers organizes dive trips to the HTMS Chang at guest request so if diving Koh Kood looks like the perfect adventure for you shoot them an email or give them a call to get a date scheduled. 
If You Go: Diving Koh Kood & The HTMS Chang
What: The HTMS Chang is an exciting new Thailand wreck dive site, the largest in the country, located on the Gulf of Thailand. This former Thai Royal Navy and United States Navy ship was submerged in late 2012 to develop an artificial reef for divers in the area and offers an experience for all levels of divers. 
Where: The HTMS Chang lies four miles off the coastline of Koh Chang on the Gulf of Thailand. It is most commonly reached from Koh Chang, though dive operators from Koh Kood (aka Koh Kut) and Pattaya also run regular trips. We are especially fond of Koh Kood for its laid back atmosphere and unspoiled beauty. Check out S Beach Resort, A Na Ley or Siam for reasonably priced beachside bungalows.
When: This site is suitable for diving year round, although the ideal weather moths are between November and May when seas are calm and visibility is the best (reportedly up to 50 meters though it was only 10-20 during our dive).
How: The HTMS Chang was sunk for the purposes of scuba diving although occasionally snorkelers frequent the site as well. Check out Koh Kood Divers located on Koh Kood if you are thinking about taking some quality beach and scuba time during your trip to the Gulf of Thailand.
Cost: Due to its distance from Koh Kood, the HTMS Chang wreck dive costs 4,500 Baht per person (US$124) which includes the boat trip out there, two tanks, breakfast, lunch, afternoon snack and dive master guide. As a basis for comparison, two regular fun dives around Koh Kood cost 3,000 Baht (US$82).
Our HTMS Chang wreck dive was provided by Koh Kood Divers (+66 85 698 4122, infokohkooddivers@gmail.com, www.kohkooddivers.com). As you consider your options for scuba diving Koh Kood make sure to reach out to Bob, Jesse and their fun team to discuss scuba diving sites in the area.