There is a stillness and serenity to Bolivia's Isla del Sol that is hard to find elsewhere along the South American gringo trail. As the revered birthplace of the sun, Inca myth and legend run strong here. And it is easy to see why with the gorgeous Lake Titicaca shimmering in all its glory and expansiveness around it.
We opted for a self-guided overnight tour of the island starting with a 3-hour boat ride to the north side and finishing with a 2-hour boat ride back to Copacabana from the south. In between, we explored 11th – 15th century Inca ruins, walked a barren stretch of path affording us spectacular views of Bolivia's distant Cordillera Real peaks, and enjoyed hours of silence as we sipped cold beers and gazed across the glistening Lake Titicaca.
Had we known how peaceful and relaxing it was going to be we would have brought a good book along and stayed another night or two.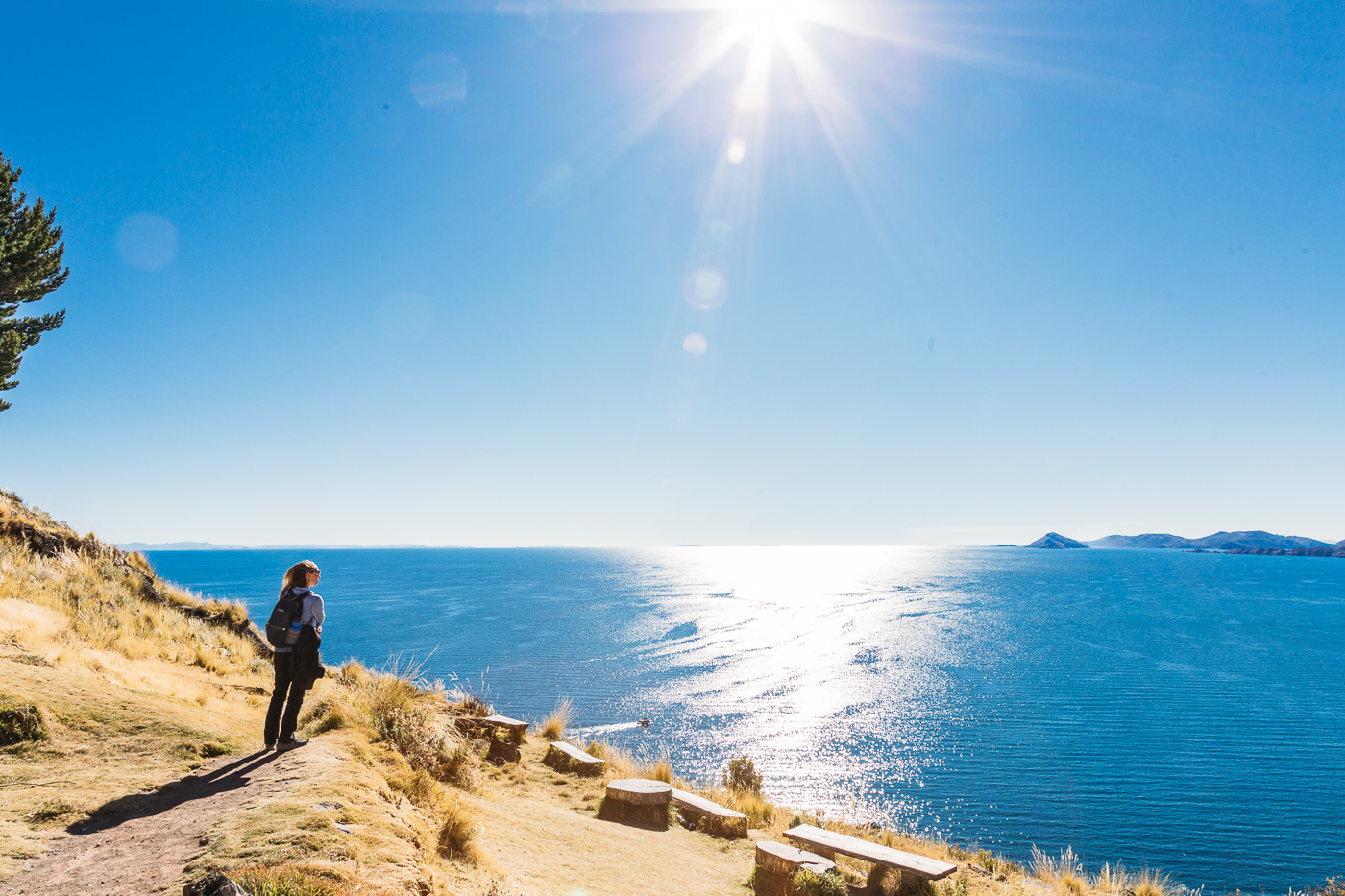 CATCHING A BOAT TO CHALLAPAMPA
There are more shops in Copacabana, Bolivia trying to sell ferry tickets than you can count. Much to our surprise, it was not cheaper to buy direct through the boat operators. Haggle hard for your tickets and you should be able to get them for 20 bolivianos one way.
The ferry schedule revolves around bus arrival and departure from Puno and La Paz, with departure times in the early morning and late afternoon. You can choose to be dropped in the South or in the North. We really liked our route from North to South.
Purchase at least a few hours before your departure and show up early if you want your choice of seat. They pack every inch of the boats, including outdoor rooftop seating which can be cold depending on the time of day.
INCA RUINS AT CHALLAPAMPA
From our drop point at the docks of Challapampa, we followed the steep path upwards towards the ruins. We were met about halfway by a community member who collected the 15 boliviano fee for entering the north side of the island. These small fees are commonplace on Isla del Sol and are collected to support the local community of 800 or so families. This fee should also get you into the small but quaint Museum of Gold in Challapampa, which features sacrificial artifacts of gold found in the bottom of Lake Titicaca.
A local Spanish-speaking guide working for tips was quick to initiate a tour with our boatload. Had we spoke better Spanish we probably would have followed along as our guide book didn't do these highly revered ruins justice.
Instead we took our time to explore the area ourselves, stopping at the Inca Table where (primarily animal) sacrifices were made to the Inca gods, the Sacred Rock (or Rock of the Puma) where the center of human creation is believed to have started with the footprints of Adam and Eve, and the Chincana Labryinth, the quarters of Inca priests with its spring of mystical healing powers.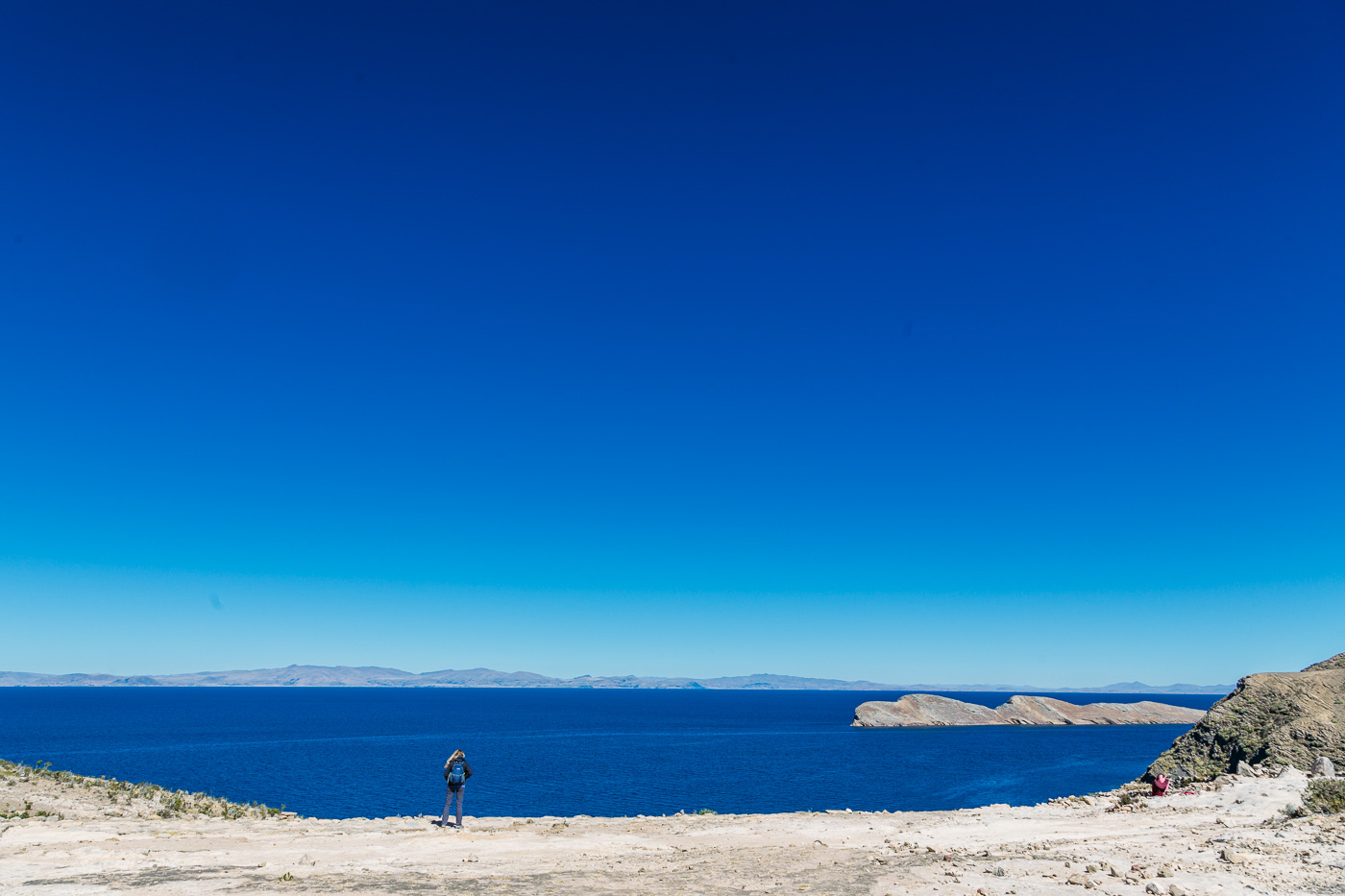 THE WALK FROM NORTH TO SOUTH
Our favorite part of the trip was walking the Inca road from Challapampa in the north to Yumani in the south, stopping to enjoy the incredible views of Lake Titicaca and the snow capped Andes along the way.
We were warned the 3-4 hour walk would be tough – not necessarily because of technical difficulty but because of the sun and altitude of the island at 3,800 meters (12,500 feet). Luckily we had recently spent a lot of time hiking at high altitudes, including Salkantay and Colca Canyon in Peru, so didn't struggle with altitude sickness at all.
A word of advice for this hike – pack light and bring water and snacks. If possible leave your big packs in Copacabana and only bring an overnight pack. While you can find small tiendas along the way, they are few and far between so it was nice to have some Pringles and Skittles to feast on when we wanted to take a scenic break.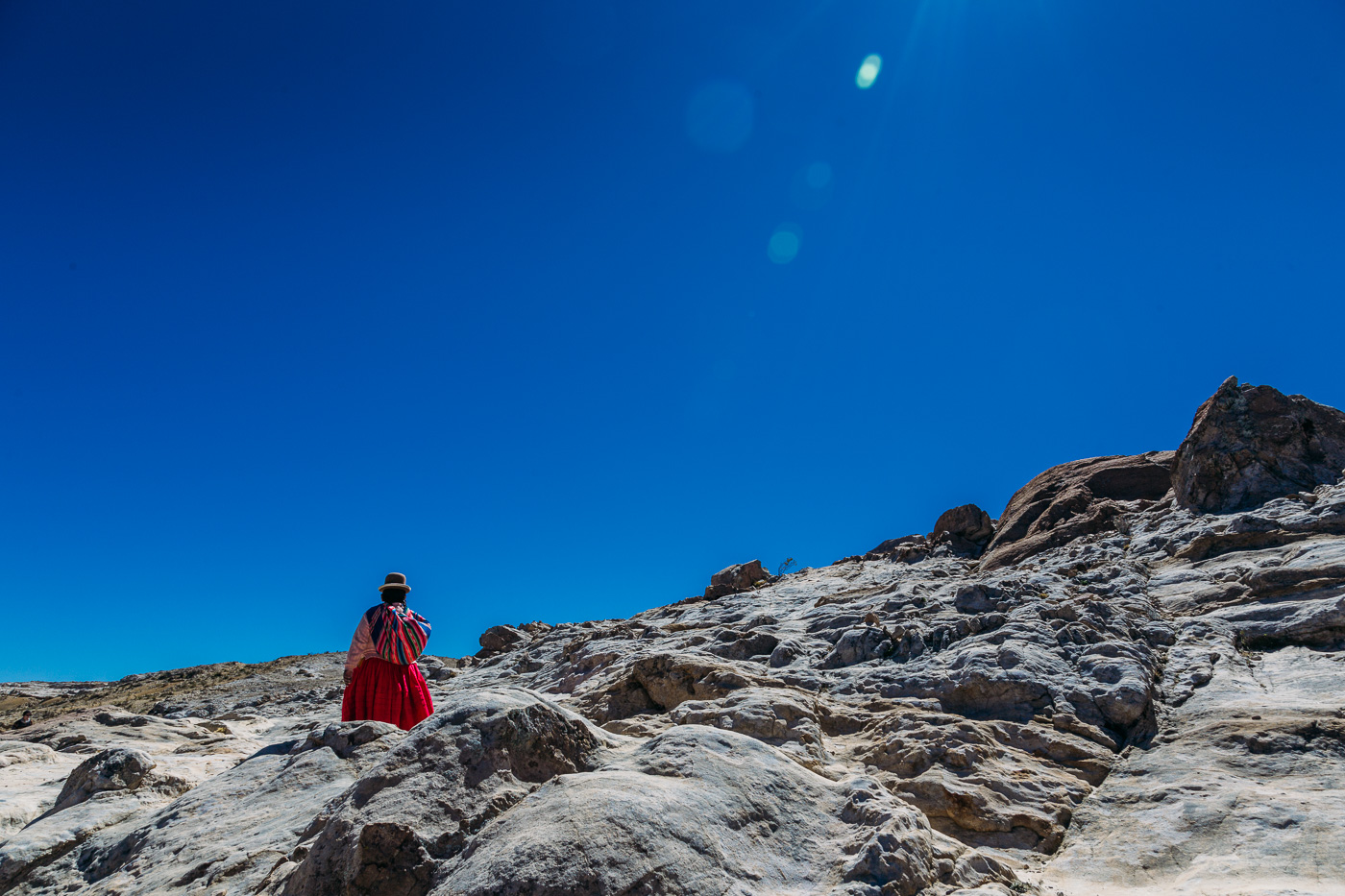 A NIGHT AT YUMANI
Perched on the face of the cliff at the southern end of Isla del Sol, Yumani is the island's largest and most developed village. Here you can find an array of hostels offering cheap accommodations and simple set menus. You will have to pay another 5 bolivianos fee to enter the south side of the island.
We showed up around 3:30pm in the afternoon and after speaking with a few hostel owners settled into a very basic room for 60 bolivianos per night ($9USD).
Not thinking we would have this much down time, we didn't bring anything with us to read and internet was basically unavailable. So for hours we sat on the balcony of our hostel sipping beers and watched the boats as they silently coasted across the glistening expanse of the world's highest navigable lake. It was the perfect environment to completely disconnect from the world for a night.
By sundown it was very cold and like most hotels in Yumani ours didn't offer heaters. So dinner came early – we splurged on a delicious meal at Casa de Luna for 90 bolivianos ($13 USD) – before retiring to bed.
RETURN FERRY TO COPACABANA
The next morning, our ferry left the docks at 9:30am. We bid farewell to the mystical Isla del Sol and enjoyed our last peaceful boat ride back to the hustle of Copacabana.
---
EXCURSION LOGISTICS
Departure point: Copacabana, Bolivia
Departure times: Boats depart for both Yumani and Challapampa around 8:30am and 4:30pm; Morning return time from Yumani was 9:30am
Duration: 3-hour boat ride to/from Challapampa, 2-hour boat ride to/from Yumani, 3-4 hour hike from north to south
Included: All do-it-yourself, which we'd highly recommend
Cost: 40 bolivianos for roundtrip transport per person, 20 bolivianos entrance fee per person, 60 bolivianos for a hostel