"Not another step!"

I screamed in my head as I felt Rocay tug me a few more inches forward with the safety rope. I wanted to shout it at the top of my lungs but I was too exhausted.  It would have been wasted energy anyway. Rocay didn't seem to care how tired I was or that I wanted to take a break.
I could tell his patience was wearing thin. After all, each week he attempted to summit Huayna Potosi, Bolivia's majestic 6,088 meter glacial peak only two hours from La Paz, at least twice with pairs of ambitious tourists in tow.
For him, today was just another day at the office. For me, this ice climb was proving to be one of the hardest endeavors of my life.
"I don't care," I thought to myself. "I need a rest."
The palms of my hands started to cramp as I fumbled with my ice pick through my oversized gloves. I planted the ice pick as firmly as I could in the steep upward sloping ice bank to my left and used it as a crutch to take some of the weight off of my legs. Now standing still I could feel the biting cold of the wind whipping against my face. A chill swept over my body as I stared off into the blackness of the night.
It wasn't the physical exhaustion that was doing me in, although I could feel every heavy step in my ill-fitted boots and crampons. It was my mental state.
In that moment I was questioning everything: My own judgment for letting Adam talk me into this climb. Rocay's judgment for pushing me as fast as he was. The travel agency's judgment for letting an inexperienced ice climber like myself attempt such a quest.
I questioned whether my lungs and legs could push through the last few hours of altitude to get me to the top. I questioned whether I even wanted to get to the top.
After Salkantay and Colca Canyon in Peru we were on a trekking high. We couldn't get enough. And what better place to trek than Bolivia with its more than 2,700 soaring peaks.
Adam knew the second he heard the words ice climb and 20,000 foot glacier that he was in. I took a little more convincing. Despite being from Colorado I am not one for cold weather sports and it is no secret how clumsy I am. The worst case scenarios of losing my footing and tumbling down the side of a glacier kept playing through my head. However, we were reassured that you didn't need any technical experience to climb Huayna Potosi, just a heck of a lot of determination.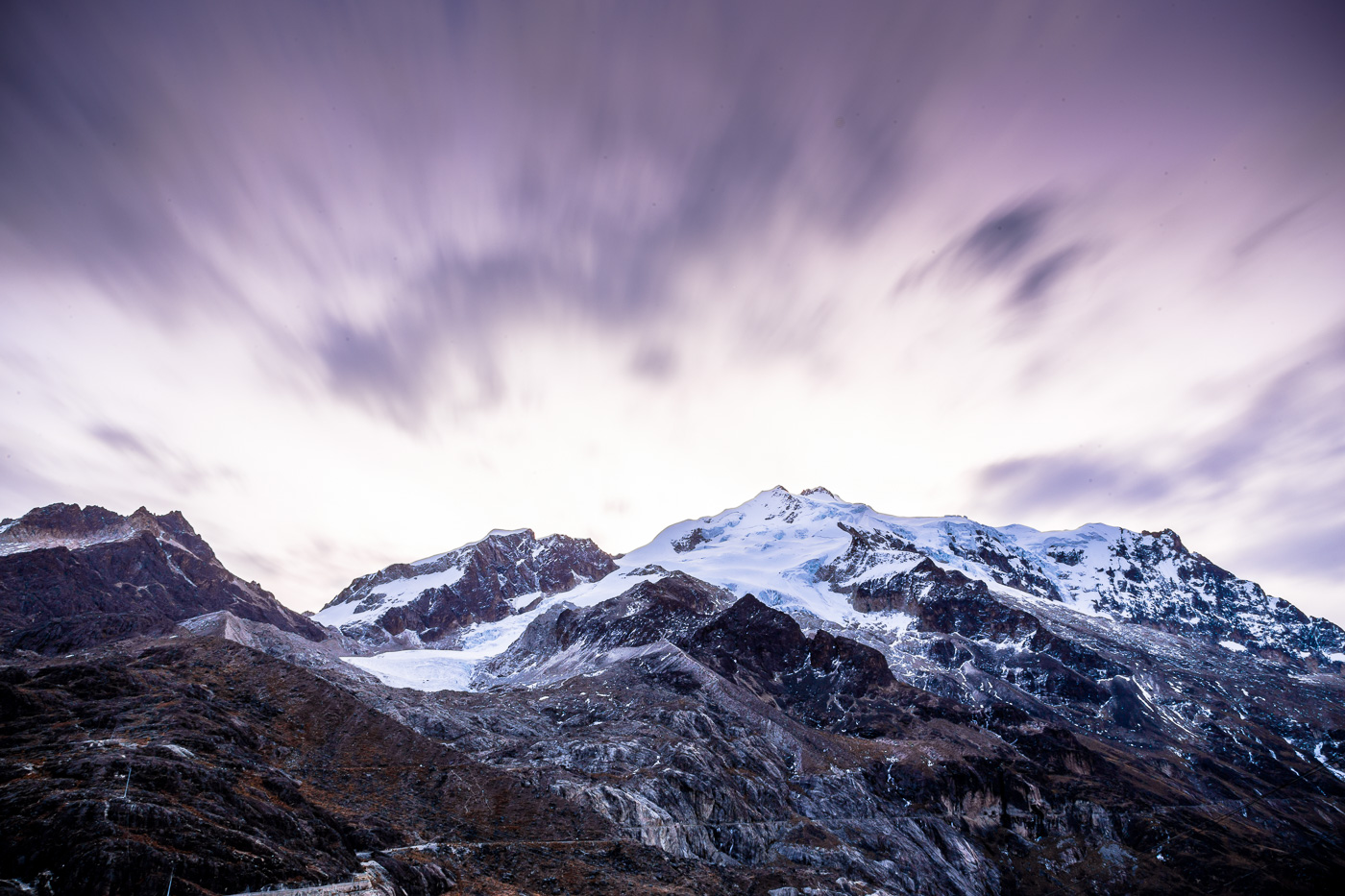 THE ALLURE OF CLIMBING A 20,000 FOOT PEAK
Our journey to that moment on the side of the mountain started two days prior when we were picked up from the Huayna Potosi Travel Agency office in La Paz and shuttled to their supply warehouse to gear up. We were each outfitted with a backpack full of equipment – boots, crampons, helmets, ice picks, gloves, snow pants and snow jackets. We would be hiking it all with us, either on our backs or on our bodies.
We drove a short two hours away from La Paz to Zongo Pass in the Cordillera Real. It was here at 4,700 meters that we would be making our home for the night at Campo Alto. Though Huayna Potosi can be summited in two days, it is recommended that newbies and those unaccustomed to the altitude spend an extra day at base camp getting acclimatized. 
A FIRST ATTEMPT AT ICE CLIMBING
After settling into the refugio and enjoying a hot meal, we suited up with our new adventure companions Adam and Luis and set off for a day of ice climbing practice at the Huayna Potosi glacier.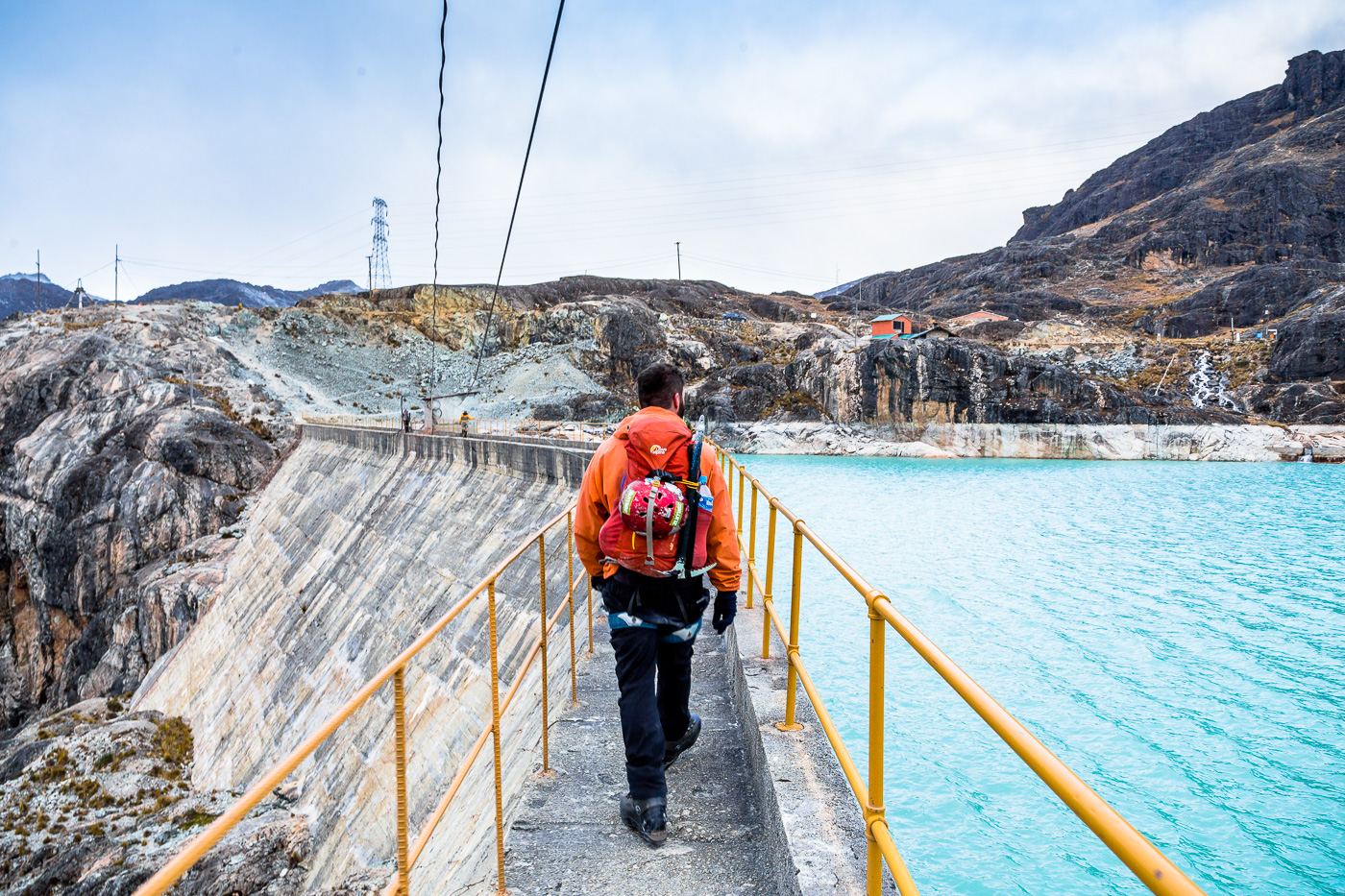 All four of us being new to ice climbing, Rocay had his work cut out for him. He showed us how to put on our gear then demonstrated the three styles of steps to employ while wearing our crampons. He did all of this speaking virtually no English and with our knowledge of climbing Spanish being nonexistent we were grateful to have Luis, a native Bolivian, on the climb with us to help translate.
We took turns practicing and playing around on the glacier, awkwardly maneuvering ourselves up and down the vertical ice walls and slowing gaining confidence in our steps. It was an hour of good fun, though after only a few minutes of practice I was panting heavily!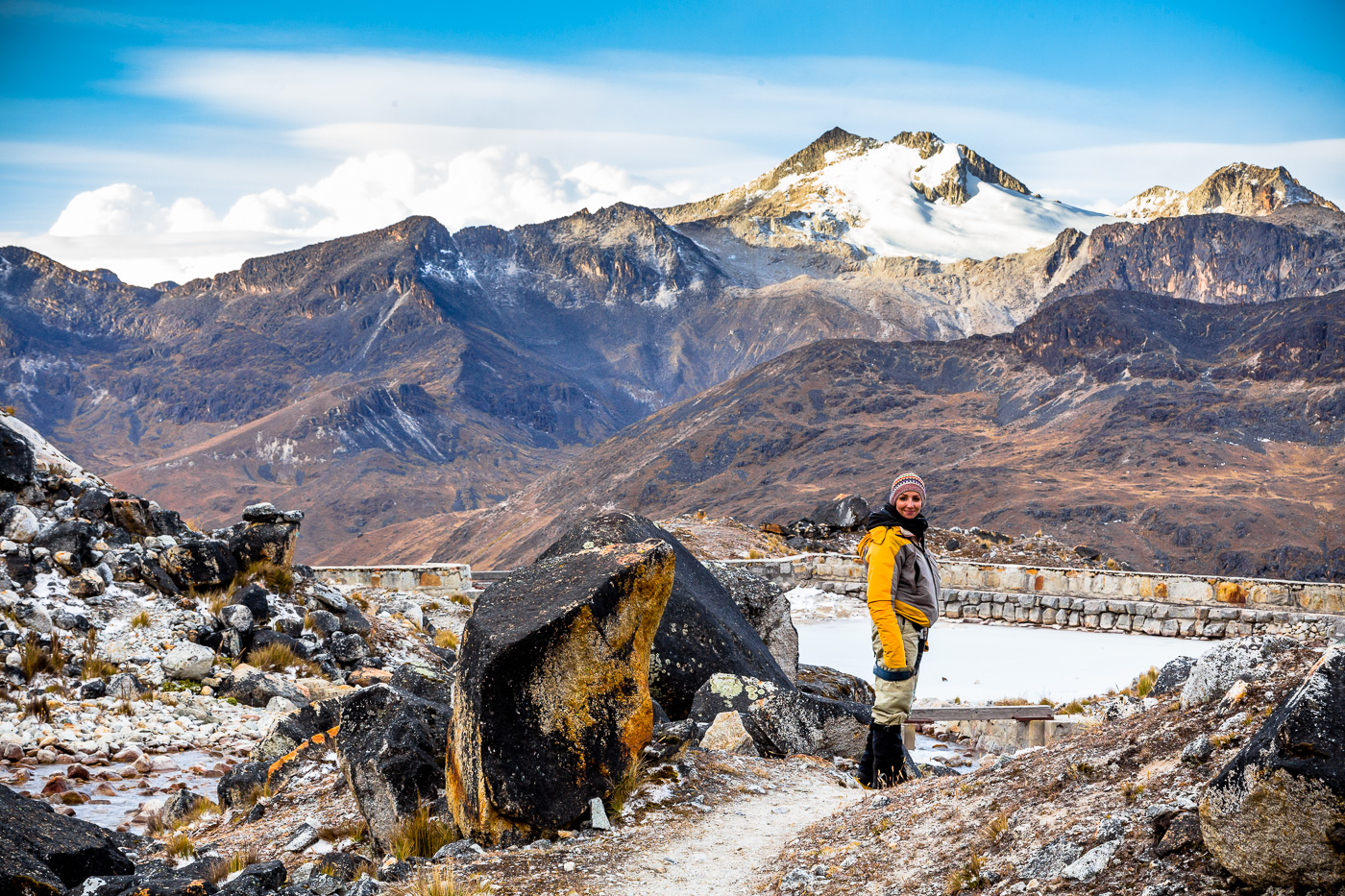 Once again back at the refugio we huddled around the fire with the other guests, waiting for dinner to be served. Also staying at the lodge was a quartet of Spaniards, mountaineering friends of more than 40 years, who had summited Huayna Potosi together during the 1980's. Now in their 60's they were back to reclaim their summit victory. Hearing their tales of climbing and knowing that they were again going to attempt to summit Huayna Potosi gave us both hope and inspiration for our upcoming climb.
HIKING TO HIGH CAMP
Our second day of trekking started out with a leisurely morning at Campo Alto. Around mid-day we packed our bags full of gear and after a farewell sendoff from our Spaniard compatriots set out for high camp.
The refugio and our Spaniard friends were soon far behind us as we made our way up the steep and rocky slope. The hike was tiring but fulfilling. On dry ground, wearing my sneakers I felt strong, capable and confident.
That was until we hit the boulder field some 30 minutes from high camp when my fortitude, patience and sanity were tested during that last push as I struggled to maneuver around the rocky and steep precipice with my backpack full of gear. It was thanks to Adam and Rocay that I finished the hike to be able to enjoy the spectacular view from our home for the night.
YURTS, NOODLES & 6PM BEDTIME
After taking in our gorgeous surrounds, we settled into the sturdy orange metal yurt that would protect us from the elements for the next few hours. Rocay and the other guide prepared a feast of broth, unidentifiable meat block and noodles which despite my hunger I could barely stomach due to the altitude. 
Before the sun had even started to set Rocay bid us goodnight and instructed us to go to bed. We would be waking up at half past one o'clock to get ready for our ascent.
Anxious and restless my body resisted my mind's pleas to sleep. I tossed and turned in my sleeping bag, trying hard to fight the cold off of my toes as I clenched the hand warmers my mom had brought to us in Cusco. Above me the deepening blue sky in the skylight signaled I was losing precious hours of sleep. I had barely fallen into slumber when the alarm startled us awake to signal it was time to get our equipment on.
Within half an hour of our wake up call we were geared up in our crampons and snow attire, caffeinated and initiating our climb. Only two hours after that I would come face to face with my breaking point. 
TESTING MY LIMITS WHILE ASCENDING HUAYNA POTOSI
So there I found myself – wedged between Adam and Rocay on the side of a steep snowy incline still some two hours from the summit. I was mentally and physically exhausted. Unfortunately the three of us were tethered together by a safety rope. If any one of us needed to turn around, we would all have to turn around smashing all hope of summiting for the other two.
Those few minutes of contemplation led to a rare defining moment in my life. If I mentally allowed myself to I could have quit right there at that very spot on the mountain, still hours before summit and daylight. Luckily for me, with encouragement from Adam, I recollected my wits and tried to shut everything else out but the thought of the view from the summit. I switched off the part of my brain that was screaming to stop and doubting my ability to make it to the top and instead mentally decided we would be summiting that morning, even if it was one slow step at a time.
And so it went – left foot, right foot, left foot, right foot.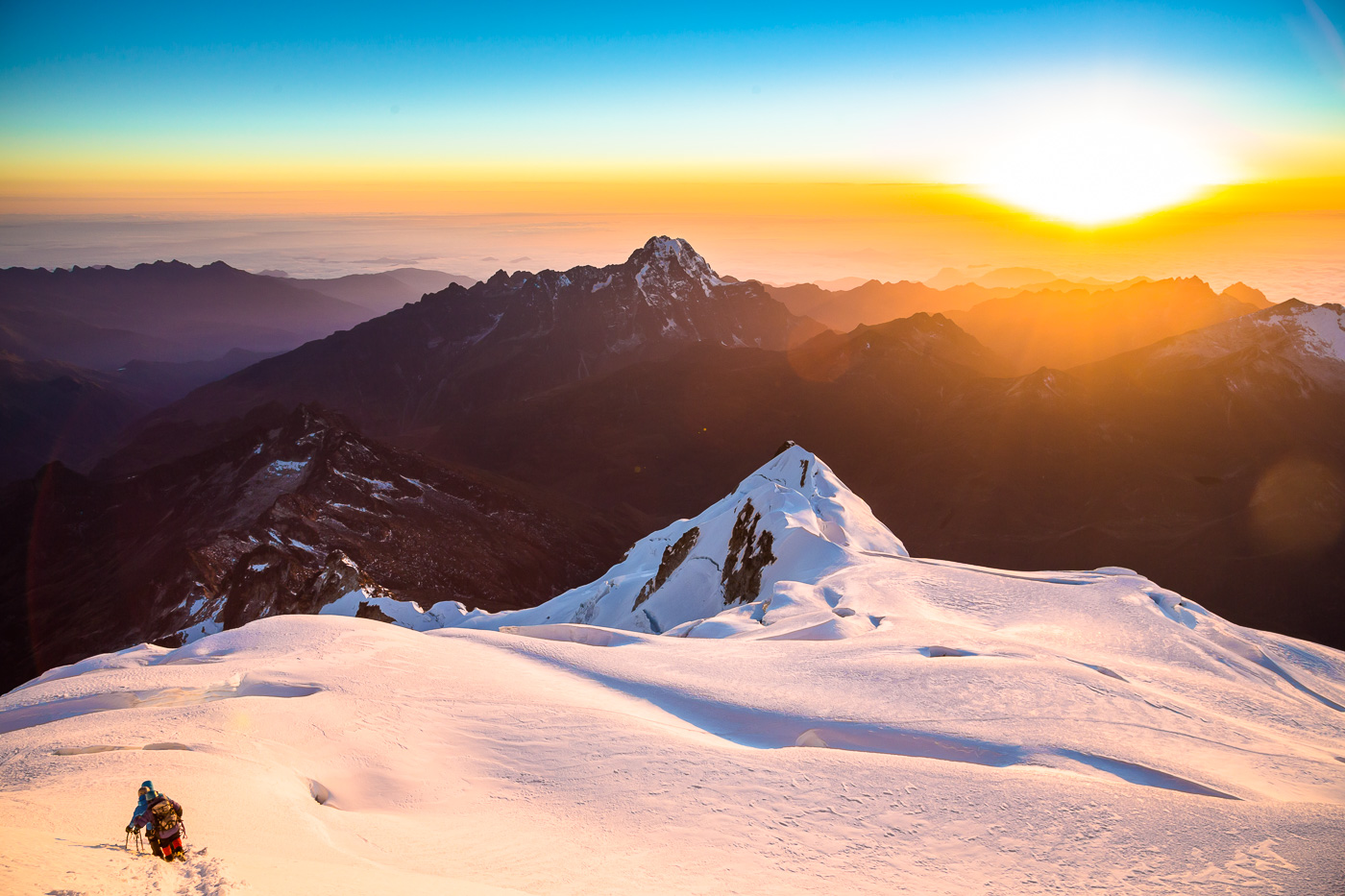 THE VIEW FROM 6,088 METERS
On our final ascent, which included an intensely steep switchback up to Pico Norte, the going was very slow. With the air thin and our energy running on empty, we were moving at the pace of three steps forward then rest, three steps forward then rest.
To pass the time, and more likely to entertain themselves while they waited for us to crawl up the mountain, our guides initiated a howling competition. Though not something I would normally participate in being as reserved as I am I joined in. It was such a liberating feeling being at the top of the world as the sun was just coming up over the horizon howling at the top of my lungs.
Finally, after what seemed like an eternity later but was realistically only 30 minutes or so, we took our final tiring steps to reach the summit. It was 5:44am and the sun was just peaking up over the horizon. Together we stopped to enjoy the most epic sunrise with brilliant hues of reds, oranges and yellows lighting up the Cordillera mountain range below.
From our vantage point at 19,976 feet, the horizon stretched for as far as our eyes could see in every direction from Lake Titicaca to peaks Illimani and Illampu to La Paz. The views from the top, though short lived due to the intense wind and cold, were worth every second of struggle leading up to that moment. 
It wasn't long before we were making our descent back to high camp and base camp for our return to La Paz later that afternoon. Compared to our slow crawl up the mountain, we were racing down it. Now in broad daylight we were able to see the path we had just spent hours climbing in the pitch dark. 
VICTORY & LIFE LESSONS
Far more valuable than the success of summiting Huayna Potosi, what I accomplished that morning was an acknowledgement of how far I can push myself to achieve a goal.
Like many things in life, trekking is more than half a mental game. Huayna Potosi helped me prove to myself that when I put my mind to it I can overcome pain and discomfort to achieve something truly amazing.