It was a dramatic end to our Bolivian adventure – three days off-roading in a Land Cruiser through some of the most unusual landscapes this world has to offer.
Salar de Uyuni and the Colored Lagoons of Bolivia's southwestern altiplano offer the lucky onlooker a true feast for the eyes, from the whimsical expanse of the world's largest salt flat, to the sequence of orange, blue, turquoise and white lagoons, to the field of spewing volcanic geisers and fumerolas, to the Salvador Dali-esque desert landscapes. This is an adventure seeker's paradise and a photographer's heaven on earth. 
Adventure Awaits on Bolivia's Altiplano
From the start our Uyuni salt flats and lagoon tour through Bolivia's southwestern altiplano had all the ingredients of an adventure travel disaster: A 4×4 piled precariously high with luggage and gasoline tanks forging its own roads through rough terrain. A non-existent heater and a broken speedometer. A coca leaf addicted driver who spoke virtually no English. A winter wind so biting it chills you to the bone. A car full of seven strangers from five countries packed shoulder to shoulder for three long-days across Bolivia's barren southwest territory.
Yet it was all of this and more that made our three-day, two-night excursion off-roading such an adventurous experience. Juan turned out to be an excellent and very safe driver maneuvering us with ease across salt flats, rocky plains and mud and dirt roads. He also had an awesomely large collection of 1980's rock classics which we enjoyed singing along to at the end of a long-day in the car. We communicated with our other travel companions, including Hamish from England, Katarina from Germany, and Gus and Maxamilion from Argentina, using a mix of Spanish, English and German as we traveled through Bolivia's Reserva Nacional de Fauna Andina Eduardo Avaroa and the Salar de Uyuni. Together we slept in hotels built entirely of salt, broke bread amongst flamingos, climbed 30 meter high rock formations, stripped down to our swim trunks in sub zero temps and posed awkwardly as we tried to snap the perfect perspective photo.
These are the highlights of our recent adventure.
DAY 1 HIGHLIGHTS:
Train Graveyard, Colchani, Salar de Uyuni, Isla Incawasi, Salt Hotel
Train Graveyard
Positioned just outside of Uyuni town, this bizarre train graveyard draws tourists to it in droves to be able to climb and pose for pics on top of a sea of ancient cabooses. What once was the burgeoning hub of railway activity for Bolivia's mining industry during the first half of the 20th century today is a messy expanse of overturned rail cars and and rotting train engines long-since cleaned out for their parts and left to rust. While very overcrowded (you wouldn't know it by the pictures Adam managed to take) it was still an interesting first stop on our adventure.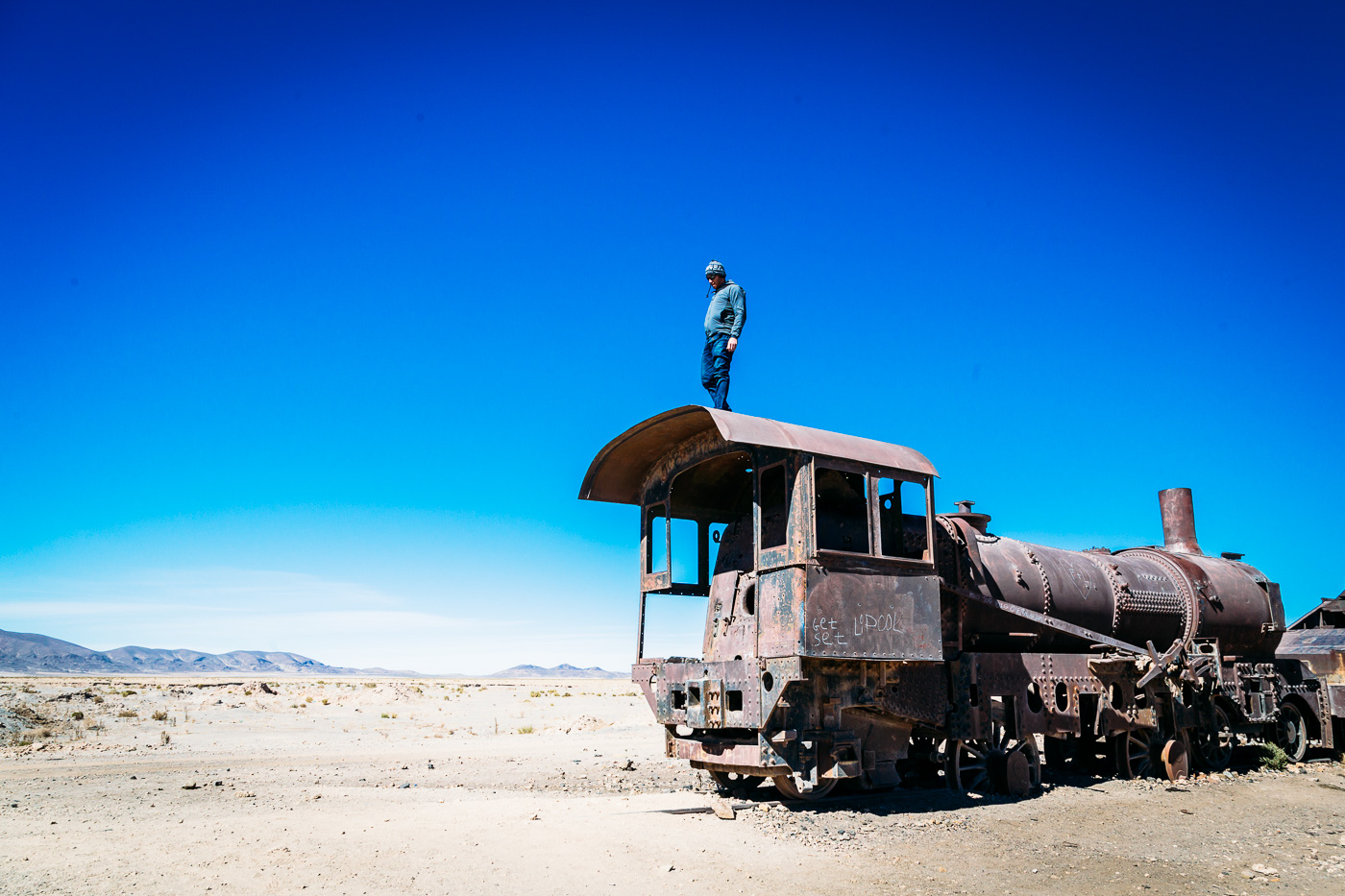 Colchani
There isn't much to see or do in Colchani, a small gateway town to Salar de Uyuni, except buy trinkets and eat delicious saltenos. However it is home to the Salar's salt cooperative where they process the salt. Of the 10 billon tons of salt contained in the expansive Salar de Uyuni, less than 25,000 tons are extracted annually and extraction rights are given exclusively to this cooperative.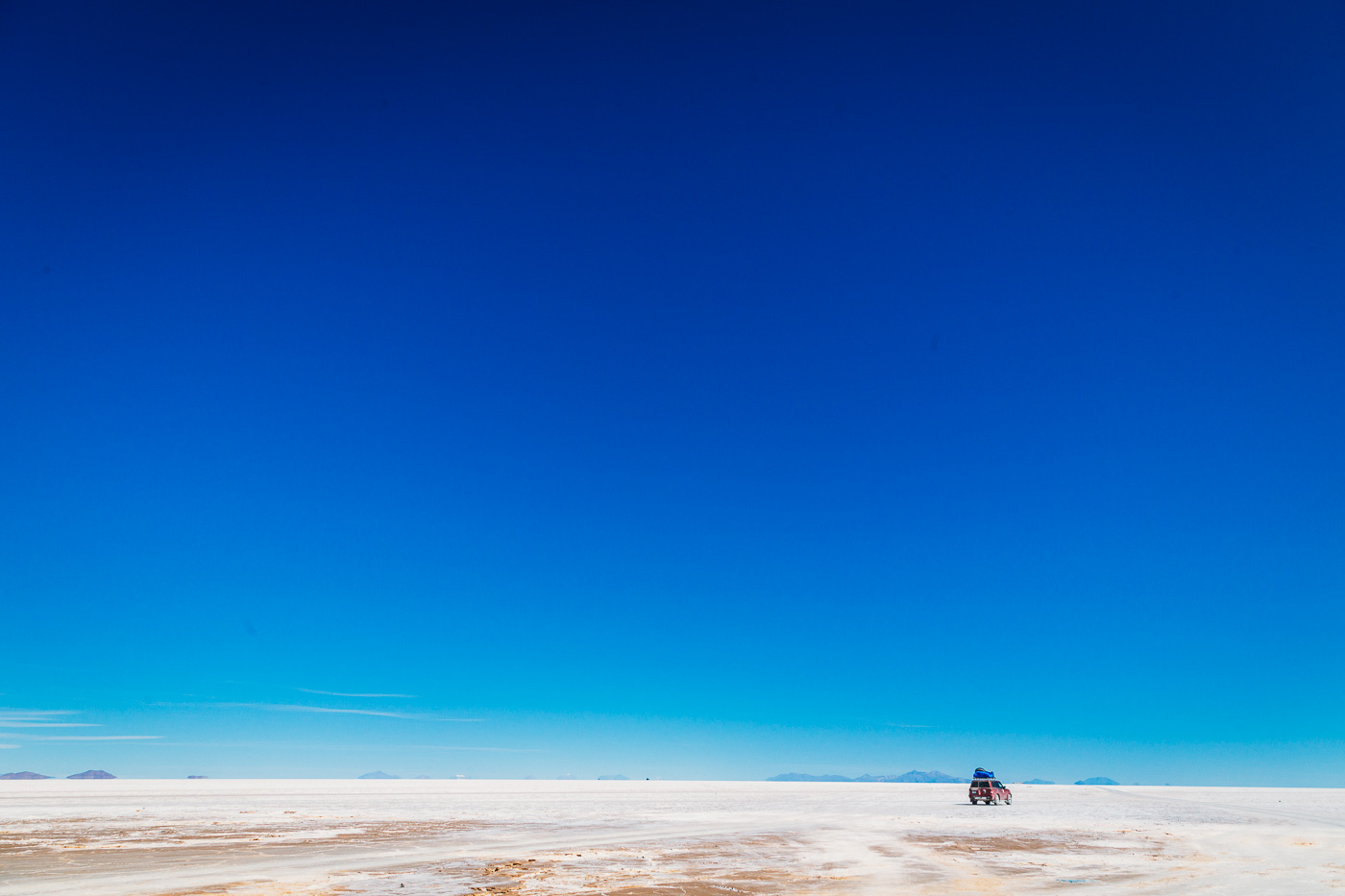 Salar de Uyuni (Uyuni Salt Flats)
Sitting at an elevation of nearly 12,000 feet, Bolivia's Salar de Uyuni (Uyuni Salt Flats) is the world's largest salt flat. It blankets a staggering 4,086 square miles (10,592 square kilometers), 100 times the size of the United States' Bonneville Salt Flats. And you can feel the expansiveness of it as you make your way across its blinding white salt-encrusted surface where there's nothing else to see on the horizon except other passing 4x4s.
Surprising to us was how much lithium Salar de Uyuni also contains. Bolivia holds an estimated 40-50% of the world's total lithium reserves. Though we weren't entirely clear based on our Spanglish conversation, it seems like to date the local community has been able to fend off foreign interests from large-scale lithium extraction.
And of course it is a must-do while on any Uyuni salt flat tour to try your hand at perspective photos. We were quite surprised at how difficult these were to get right and disappointed by how little time we had to experiment with them. Nonetheless, a great opportunity to get creative and silly for an hour as you weirdly bend and pose for the camera.
If you time your trip right, you can take even more magnificent photos of a flooded Salar plain that magically reflects the sky surface.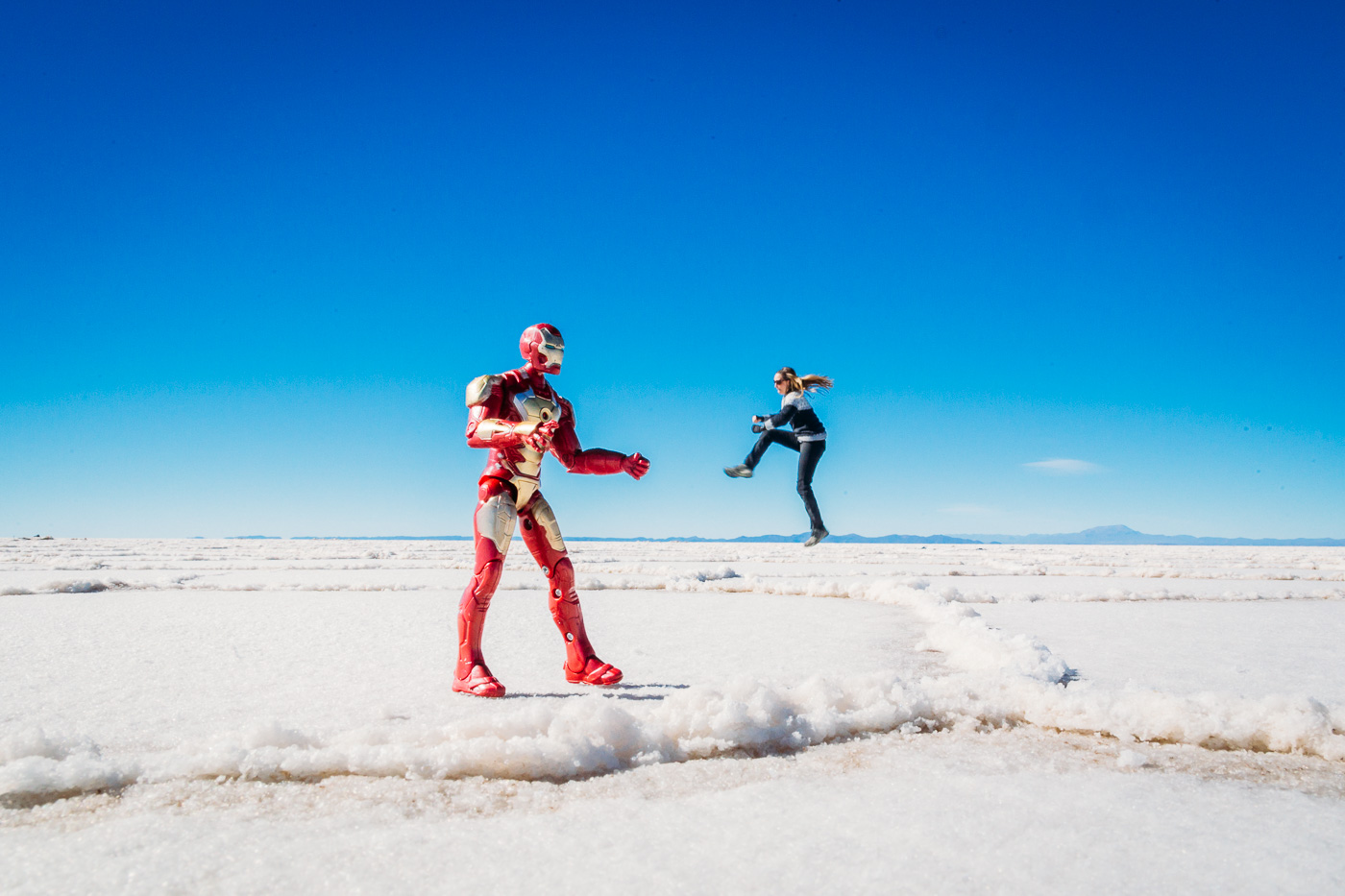 Isla Inkawasi
Also known as Incahausi (Quechuan for Inca house), this unique volcanic island protruding from the middle of Salar de Uyuni is home to a forest of prehistoric gigantic cacti. The island's soil and coral fossil deposits tell the story of the island – once a volcano – that became submerged in a lake some 40,000 years ago. If you pay an additional 15 Bolivianos each, you can walk the entire circumference of the island as well as use the toilets. We enjoyed climbing to the highest point on the island around dusk for a better view of the expansive salt flats.

DAY 2 HIGHLIGHTS:
Chuguana Desert & Ollague Volcano, Laguna Cañapa, Laguna Hedionda, Laguna Chiarcota, Laguna Ramaditas, Siloli Desert & Arbol de Piedra, Laguna Colorada, Reserva Eduardo Abaroa
Chuguana Desert & Ollagüe Volcano
Towering more than a mile above its flat surrounds, the active Ollagüe Volcano can be seen emitting smoke on a near-daily basis (except the day we were visiting).

Laguna Cañapa
As one of your many lake stops, hopefully you'll have the opportunity to spend a bit of time picnicking at the gorgeous Laguna Cañapa.  Here flocks of flamingos dominate the landscape and are the perfect subjects of study as you munch on a delicious home-cooked meal.
Siloli Desert & Árbol de Piedra
It's at the rolling sand dunes of the Siloli desert that you can observe the unusual stone tree Árbol de Piedra. Apparently this lone-standing volcanic rock has taken its unique shape as a result of the iron content in its upper layers. The strong desert winds cut into rock more sharply at its base where there is less iron thus giving it its unique tree-like shape.
It was here in the Siloli desert that Adam also really enjoyed exploring and climbing the boulders with new friends Hamish and Kat.
Laguna Colorada
A late afternoon arrival at Laguna Colorada will afford you stunning views of this striking lake with its orange opaque waters standing in stark contrast to the white borax deposits and brown rocky landscape. The orange hue of the lake is enhanced when the microorganisms and species of algae in the water are affected by sunlight and wind.
The near extinct Jame's flamingo (locally known as the puna flamingo) is one of the few species to call Laguna Colorado home. Dotted against the hued burnt orange and white lagoon and rolling brown mountains, these flamingos are mesmerizing to watch as they bob their heads in and out of the water for food. We spent several hours here, hunkered down at the base of the hill to protect us from the wind, enjoying the serenity of Laguna Colorada.
Laguna Colorada is located within the Eduardo Avaroa Andean Fauna National Reserve close to the border with Chile. Upon entering the Eduardo Avaroa Andean Fauna National Reserve you must pay an additional 150 Bolivianos park entrance fee. The reserve covers an area of just over 714,000 hectares (1.7 million acres) and is home to many of the lagoons on the tour.
DAY 3 HIGHLIGHTS:
Reserva Eduardo Abaroa Sol de Mañana Geisers & Thermas de Polques Hot Springs, Dali Desert, Laguna Blanca & Laguna Verde at Licancabur Volcano, Valley of Rocks
Sol de Mañana Geisers
It is early in the morning (much too early and far too cold to be awake) when you start your journey towards the Sol de Mañana Geisers and Termas de Polques hot springs.
First up on the agenda are the magnificent Sol de Mañana geisers and geothermal field. Exposing yet another bizarre and unique side of this region, the geisers put on a show – constantly raging, oozing and fuming noxious gas smells through their muddy crevices.

Termas de Polques Hot Springs
Thirty to forty minutes from the Sol de Mañana geothermal field are the Termas de Polques hot springs.
While not for the faint of heart, the small hot springs pool allows those daring enough to strip to their bathers in the sub-zero temps the chance for a much needed warm dip and bath.  The hot springs should only set you back 6 bolivianos.
Laguna Blanca & Laguna Verde at Licancabur Volcano
Laguna Blanco, or White Lake, owes its milky tone to the borax in the lake.  Laguna Verde, or Green Lake, gets its turquoise hues from the arsenic, lead, copper and other minerals in its murky waters.  It is also the chemical composition of the water that keeps it from freezing at sub-zero temps.
Both are perfectly backdropped by the snow-capped Licancabur Volcano towering at 5,868 meters above sea level.  This particular volcano straddles the Chile and Bolivian borders with a frozen crater lake in its middle, one of the highest lakes in the world.
Valley of Rocks
The final stop on our tour en route back to Uyuni was the Valley of the Rocks. This area is a true bouldering paradise.  We found a nice spot completely isolated from other tourists to enjoy lunch before starting our long journey back to Uyuni.
---
EXCURSION LOGISTICS
Departure Point: Uyuni
Cost: Depends on whether you want to pay up for an English speaking guide. Other than that the accommodations and itinerary doesn't vary much from one operator to the next. We paid 850 Bolivianos per person with sleeping bag (pre-booked) with Esmeraldes Tours but really had no guidance from our driver on where we were going or what we were seeing. If it is important to you have have it all explained, Red Planet seems to be the best choice for English-guided tours.
Getting There: Uyuni is not the most comfortable place to get to. Unless you can afford to fly you will likely be on a 12-hour overnight bus from La Paz.
When to Go: If you can time your trip correctly for Bolivia's rainy season, you'll have the opportunity to see the salt flats at their finest. With several inches of water sitting on the surface of the salt the water reflects the sky and clouds giving it a dreamy, mirror like appearance.